Best Fruit Machine Slot Games to Play in June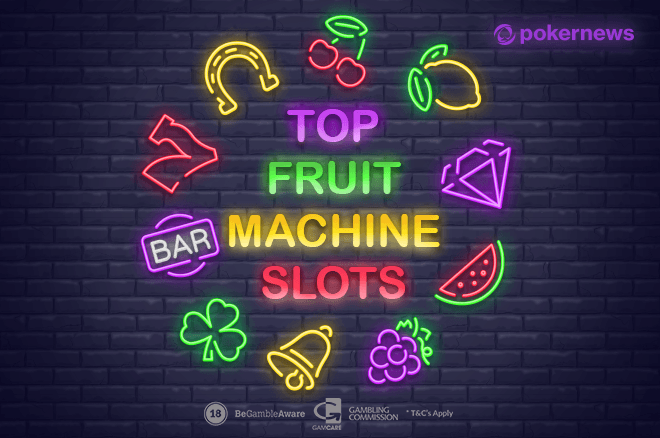 The best way to boost your fruit intake is to play some fruit-themed slot games!
Want to know the best fruit slot machines you can play in May 2018? Look no further than this article where we have collected the juiciest slots in existence.
Even better - you can play all these games at FairPlay Casino, both for fun and for real money.
Now, drop everything you are doing and have a vitamin-indulged break with fun and colorful slot machines.
Orange you glad to have found this list?
Fruit Zen
You don't have to choose between your usual slots session and meditation - you can do both things when playing Fruit Zen.
Developed by BetSoft, Fruit Zen truly lives up to its name. It is a slots game where you spin fruits on the reels while listening to relaxing music and looking at a calming background.
The gameplay is fairly simple - there are five reels and 10 paylines, and you have to collect matching fruits to win some cash. There's also the valuable Wild symbol that triggers a free spin if it lands on the second, third, or fourth reel.
You can play Fruit Zen either in demo mode or for real money - the choice is yours!
---
Fruit Abduction
When it comes to fruit slots, there are not many ways to create an original game.
That's what I thought before I discovered Fruit Abduction, which just has to be one of the best fruit slot machines I've ever seen.
This is a combination of the fruit and space themes by PariPlay. The background depicts starry galaxies with an occasional flying saucer floating around.
The reels feature all kinds of fruit like cherries, bananas, pineapples, and oranges. The game itself is fairly simple - you play it with five reels and 25 fixed paylines. You can also collect wilds, bonuses, and scatters.
Get your cosmic dose of vitamin C and potassium by spinning the reels of Fruit Abduction - one of the most creative fruit slots you can play this month.
---
Monkey Madness
It's time for some monkey business.
Open Monkey Madness by Pragmatic Play for a wild adventure in the jungle.
Played on three reels and nine paylines, it is one of the simplest fruit slot machines around - and that makes it perfect for beginners. Fully loaded with bananas, pineapples, toucans, and monkeys, this slot will definitely brighten up your day.
Even though the game features are extremely simple, there are some neat ways to hit big wins. The game makes everything very clear by providing a pay table on the left side of the screen. Here you can see all the winning combinations and how much money you can win.
So, wait no longer and spin some juicy reels at Monkey Madness and don't forget to make yourself a tasty piña colada while you're at it!
---
Fruit Bonanza
Fruit Bonanza is one of the most classic-looking fruit slots on this list. It looks just like any popular slot machine at a brick-and-mortar casino, where you could spend a good hour or two spinning the juiciest fruits in the world.
Even better - Fruit Bonanza is a progressive slot, meaning that it hides a huge progressive jackpot to be won. Who knows - maybe you'll be the lucky one on your first try?
Now here are some technicalities. This game was created by Play'n GO and it offers five reels and nine paylines. The symbols depict a full fruit cocktail: cherries, oranges, pineapples, and strawberries. There's also a horseshoe for good luck!
---
Wild Cherry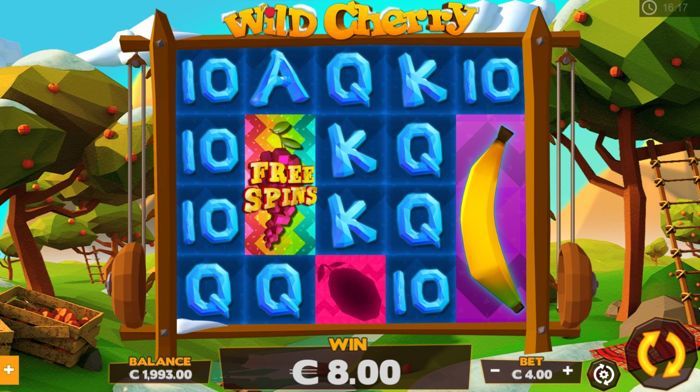 This game truly puts the cherry on top when it comes to overall casino experience.
Attention, everyone - this is my favourite fruit slot at FairPlay Casino, and not only because of the graphics.
Wild Cherry by PariPlay offers lots and lots of possibilities to win. It even gives the instructions on all the bonuses at the beginning of the game.
You see, it's not just your ordinary slot about fruits. Sure, with all the lemons, grapes, oranges, and other fruits on the reels you might be inclined to think so - but let's look at the gameplay to prove how unique Wild Cherry really is.
Let's begin with the scatter symbols.
Collect three of them for some free spins! Then, if you get the Orange of Fortune, you get to spin the Bonus Wheel with plenty of different prizes. Here you can win up to 20 free games and up to 200x your bet - not to mention free respins!
Furthermore, if you collect cherries, you multiply your winnings.
And when life gives you lemons on the row of the Juice Palms, you instantly get a cash reward!
In total, the games features 40 pay lines. And that's a lot more than you might expect from a simple fruit machine.
---
Fruit Boxes
The time is ripe to play some Fruit Boxes by iSoftBet.
This is yet another game featuring a monkey and set in the jungle - a classic combination for a fruit machine slot if you ask me.
This game is a bit more creative with the fruits. Instead of the usual cherries and lemons we get mangoes, bananas, pineapples, coconuts, and… carambolas!
What's more, Fruit Boxes is quite generous with the bonuses.
Three or more bonus symbols on the reels will activate the Fruit Box bonus. This slot bonus allows you to win up to 50 free spins in one go. Select boxes to reveal the number of spins underneath them.
The scatter symbol will pay you anywhere on the reels, and the Wild symbol replaces all the other symbols, giving you the chance for bigger wins.
If you've never played Fruit Boxes, you're missing out big!
---
Fruit vs Candy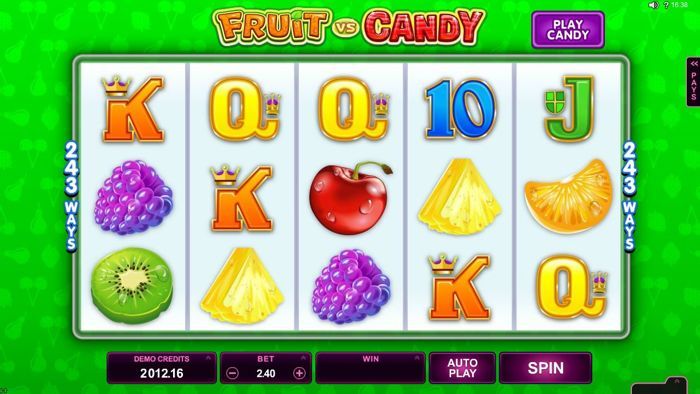 Now this is what I call good graphics!
Fruit vs Candy is a sweet game by Microgaming. I've never seen juicier fruits in a slots game before - just look how ripe and tasty they look!
This slot machine is a unique choice on this list. I could even say that it's one of the best fruit slot machines in any casino.
Just as you open Fruit vs Candy, you get to choose which side you want to play on - the fruit or the candy. But don't worry - you can switch between the sides anytime when you play.
Now then, what's the difference between the two?
It all comes down to free spins. If you play with the fruit, your free spins contain the Cash Stash feature. On the other hand, the candy gives you free spins with the Sweet Reel feature.
To switch between the sides, simply click on the button that says either "Play fruit" or "Play Candy". And that's it!
Now it's up to you to collect as many matching symbols as possible.
Will you make a healthy choice?
---
Ninja Fruits
What do ninjas and fruits have in common?
Nothing.
But Play'n GO created this slot anyway.
And we are here to enjoy its bizarre premise! Just look at the symbols on the reels: the sharp contrast between juicy fruits and anime-inspired ninjas is mind-boggling. When it comes to fruits, we have pineapples, strawberries, oranges, plums, and watermelons.
The other symbols depict samurais, ninjas, and geishas. What else could you possibly need?
However, even though the graphics are simply out of this world, the gameplay itself is fairly simple. The game features the standard five reels, and you need to gather matching images to win.
Luckily, there are some features to make winning easier. When you get the bonus symbol, the game multiplies your total bet up to 150 times. There's also the Extra Scatter symbol that helps you collect winning combinations.
So, don't waste your time and try Ninja Fruits - especially if you've already got tired of the regular fruit slots.
---
Cherry Trio
Cherry Trio by iSoftBet is the most modern looking fruit slot on this list. However, this might sound strange to you as the game depicts a classic slot machine that you can find at a land-based casino.
You just have to see it for yourself to truly understand what the developers created.
Even if the game features only five paylines, it managed to keep my eyes peeled to the screen for half an hour - and I even wasn't playing with real money this time!
The graphics are truly beautiful here. You play with all the retro symbols like bars, lucky sevens, diamonds, and, of course, cherries.
You'll find this gem at FairPlay Casino - just like every other fruit slot machine on this list!