Chino Rheem Takes Down Epic Poker Main Event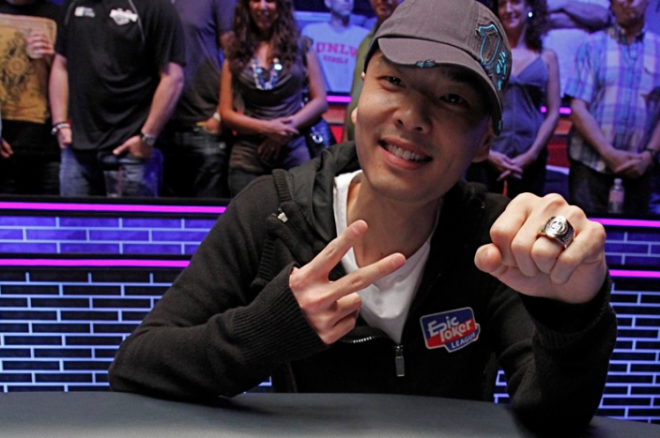 David 'Chino' Rheem has emerged victorious in the first ever Epic Poker League Main Event and took home $1,000,000 for his first place finish. What makes his victory even more special is that Rheem had to battle against some of poker's finest on what was one of the most toughest final tables in poker history.
When play was down to six-handed at the final table, Rheem was joined by five other well known names in Erik Seidel, Hasan Habib, Huck Seed, Jason Mercier and Gavin Smith. It would take a marathon session of 10 hours for five eliminations to take place leaving one man Chino Rheem as champion.
First elimination was 1996 WSOP Main Event winner Huck Seed who was on the short stack when play at the final table started. Seed, with pocket Jacks
moved all in preflop with just about 900,000 in chips and was called by Jason Mercier who held
. A huge roar went up from Mercier's entourage when a King came on the flop
. A few pros in the form of Vanessa Selbst, Brent Hanks, Dan O'Brien and others were also cheering Mercier along. No further help for Seed on the turn
or the river
and he finishes in 6th place.
Next to go was Gavin Smith in 5th place and the man who sent him to the rails was once again Jason Mercier. Action in that particular had began when Mercier from UTG raised to 60,000 which was flat-called by Seidel. It eventually got folded around to Smith who moved all in for about 600,000. Mercier followed that up with his own all in reraise which prompted Seidel to quickly throw his cards into the muck. The cards opened up to reveal pair of Nines
for Smith which was brutally dominated by the pocket Queens
of Mercier. The flop of
only served to strengthen Mercier's hand further and knock Smith out of the tournament. This was followed by Hasan Habib's elimination by Chino Rheem. Habib who began as chip leader when the final table started moved all in for 600,000 after an initial raise by Rheem to 70,000. A snap call by Rheem who held
against Habib's
. A nothing flop
followed by the Kh on the turn left Habib praying for that miracle one-outer along with the crowd who had also got behind him, but it was not to be. A brick
on the river meant it was time for Habib to go home. It was now time for 3-handed action with Chino Rheem, Jason Mercier and Erik Seidel. Nothing to choose between the three players in terms of chips or talent. They all had clearly brought their best game to this final table.
Fan favourite Jason Mercier undoubtedly had the largest support with the biggest rail rooting for him. A lost race between his pocket fives against Seidel's big slick left Mercier in pretty bad shape. Shortly thereafter in a battle of the blinds, Mercier from the small blind moved the rest of his stack into the middle with
and was called by Seidel in the big blind with the
. With nothing on the board to help the youngest player at the final table and his exit in 3rd place set up the stage for an exciting battle between Seidel and Rheem.
It took almost 50 hands to get to the point where both players got all of their money in. Prior to this hand, Rheem has been steadily chipping away Seidel's stack and had him confortably covered in chips and card when Rheem showed
to Seidel's
. Both players hit their ace on the flop but Rheem's King kicker held up through the hand making an eventual flush on the river and gaining him the victory in the Main Event of the Epic Poker League! Along with his million dollar payday, Rheem also received the first-ever Epic League championship ring presented to him by the league's commissioner Annie Duke.
Final Table Results
| Place | Player | Prize |
| --- | --- | --- |
| 1 | Chino Rheem | $1,000,000 |
| 2 | Erik Seidel | $604,330 |
| 3 | Jason Mercier | $360,970 |
| 4 | Hasan Habib | $237,560 |
| 5 | Gavin Smith | $154,260 |
| 6 | Huck Seed | $107,980 |