Qualify For The PokerStars World Cup of Poker During VIP Mega Month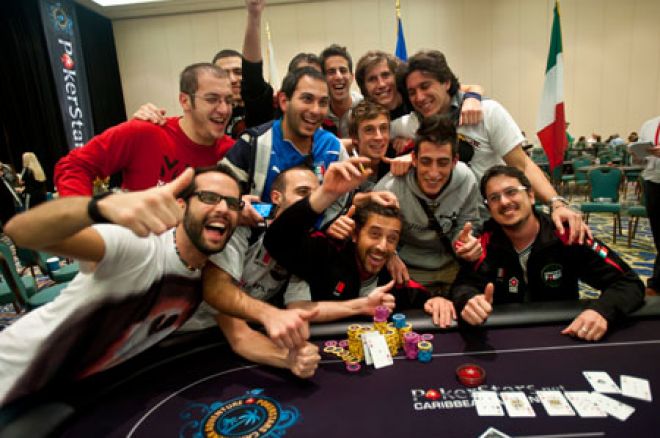 Poker as a sport is primarily about being the lone wolf. It focuses heavily on individuals doing battle on the felt by themselves. So once in a while when that rare opportunity does turn up to represent your country in a team poker event, then you have to grab it with both hands. For the eighth consecutive year, PokerStars has announced the World Cup of Poker. The yearly event pits teams of amateurs and pros from every country against each other to play for cash and more importantly the honour and glory of representing one's nation. The final table of this exciting team event will take place live at the PCA in January.
There are 4 positions you can represent your country as - Goalkeeper, Defender, Midfielder or Striker, by qualifying exclusively at PokerStars. Stage 1 qualifiers will take place between August 20-21, with buy-ins ranging between free, $11, and invite only for TLB winners.
Players who win the Stage 1 qualifier from their respective country will move onto the knockout Stage 2 where these rounds will see the seven best teams progressing to the live final at the 2012 PokerStars Caribbean Adventure in January.
Qualify During VIP Club Mega Month
And besides playing for your country, there's more incentives in the form of the PokerStars VIP Club Mega Month. Throughout August, players have been able to leapfrog the VIP rankings as PokerStars has reduced the qualification requirements by 90%!
Which means that you can now fast track your way to Platinum Star VIP for just 750 VPPs in August, instead of the usual 7,500 points. Similarly 300 points instead of 3000 will get you to Gold Star and get up to Silver Star for a mere 75 points instead of 750.
If you sign up to PokerStars through PokerNews India, not only can you participate in this promotion, you can also qualify for any future exclusive promotions we have with PokerStars (The value of which has been in the hundreds of thousands over the last few years), and a 100% up to $600 first deposit bonus. Don't forget to use marketing code "INPNEWS".