25,000 PokerNews Showdown is awaiting at Poker770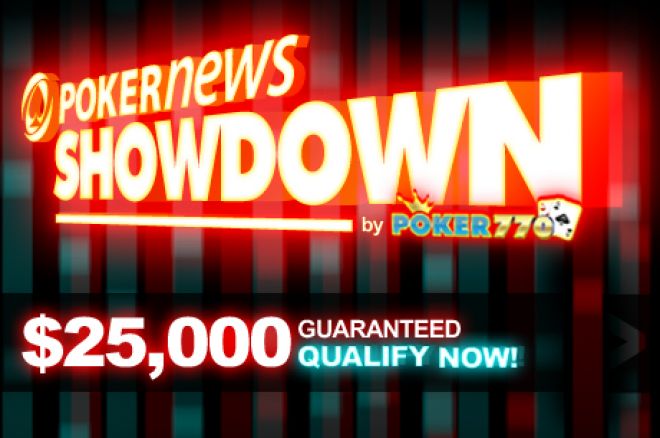 Here's your chance of turning less than $10 into a share of a $25,000 prizepool! And its as simple as downloading Poker770 via PokerNews India and putting 2100 CET on Oct. 28 in your diary as the day of the exclusive $7.70 rebuy event with a $25,000 guarantee.
How It Works
The event is run as $7.70+$0.77 rebuy tournament with a guaranteed $25,000 prize pool. The field will be capped at 3,000 players and rebuys are limited to 10 per player until the first break, and there is one add-on. That means the most this tournament could cost any one player is under $100, which is still tremendous value for such a hefty guarantee.
A look at the numbers will suggest that there is very likely going to be an overlay in this event and as such it offers huge value to our players.
Qualify Now
If you aren't convinced as to whether you should play yet, how about you consider that entry into this tournament could cost you absolutely nothing.
You can win your seat in the PokerNews India $25K Showdown in daily freerolls and if you happened to miss out in those, there will also be satellites costing just $0.77+$.07. The only thing as good as turning a freeroll into a big cash prize is transforming less than one dollar into thousands of dollars.
Freeroll Satellites
Daily at 1600 CET — 10 seats guaranteed; Minimum of 10 players to start.

Freeroll for Australia
Tuesday and Saturday at 1100 CET — 10 seats guaranteed; minimum of 10 players to start.
Cash Satellites
$0.77+$.07, Daily at 2100 CET — 1 seat guaranteed, additional seat for every 10 Players
Don't miss out! Visit Poker770 now.
While this tournament is open to anyone, regardless of where they signed up to Poker770, there is extra incentive to sign up to Poker770 through PokerNews as, not only will you be eligible for the inevitable exclusive promotions in the future, you will also be eligible for a 200% up to €1,400 first deposit bonus when you use the bonus code "inpnews".
Bounty Pro770
While we are sure by now you have enough reason to download Poker770 , how about the added incentive of a potential $50,000 payday and the chance for a 1 year sponsorship just for playing in the daily Bounty Pro770 tournament?
It will only cost €5 to take part in the daily bounty tournaments, and along with playing for your share of the prizepool, there will also be two Poker770 pros taking part in each tournament and you will be awarded depending on how many pros you manage to knock out in a single week.
Knocking out one pro will land you a quick $100 for your effort and the prize will increase as you start crushing more Poker770 pros throughout a single week period. Manage to knock out 4 pros in the same week and not only will you receive $50,000 cash, but you will also be infiltrated into Team 770 with a 1 year pro sponsorship deal.
The $50,000 cash prize would be nice and could change your life, but there would be nothing more thrilling than being deemed a "poker pro" for a year, so if that sounds good to you, use the bonus code "inpnews" and sign up to Poker770 through PokerNews now!
If you experience any problems with this or any of our promotions, please contact our Ticketed Promo Support System.