Ashutosh Naik reigns supreme at IPS 8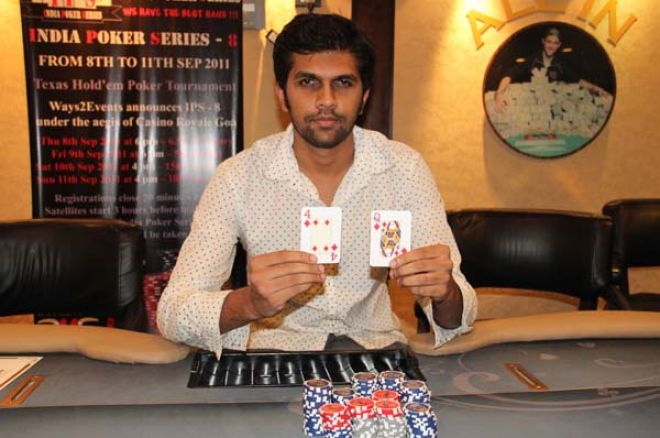 It was a dream weekend for Ashutosh Naik at the recently concluded Chapter 8 of the India Poker Series. This recently turned pro from the garden city of Bangalore has been on quite the roll recently making 6 final tables in the last 7 tournaments he has participated in and hit a purple patch in the last IPS. Naik made sure that his fledgling career got off to a tremendous start by making all four final tables and taking down two titles including the IPS Main Event.
The 8th Chapter of IPS kicked off with the 6.5k Re-entry Freezeout. In this concept devised by the organisers, INR 1500 would be kept aside from each buy-in and go towards the Flight for the Main Event whereby for every 10 players, one player would earn a seat into Saturday night's 15k Main Event. This tournament saw a total of 64 players participate and Ashutosh Naik warmed up for his weekend explosion by finishing in 7th place:-
1st - Vignesh Ganapati
2nd - Amit Varma
3rd - Kapil Dhand
The Friday night tournament at the IPS is their 5k Rebuy which has been their weekend mainstay featuring the highest numbers and therefore prize pools (outside of the Main Event). This event drew 72 players and was the first win of the weekend for Ashutosh Naik:-
1st - Ashutosh Naik
2nd - Kunal Chandra
3rd - Deepak Sitlani
Saturday was the featured Main Event with a buy-in of INR 15000 and this event saw 62 participants. Thursday's winner Vigesh Ganapati who won his free seat into the Main Event made his second final table of IPS 8. It was a pretty well known final table with 5 past winners sitting down to play for the win and this is what finally happened:-
1st - Ashutosh Naik
2nd - Rajesh Arul
3rd - Anand Dalmia
The final tournament on Sunday was a bit of a change at the IPS as this time a Freezeout tournament featuring a buy-in of INR 10,000 would close out the weekend. A field of 60 players sat down to battle their way to the title including Ashutosh Naik who finished in 6th. After about 9 hours of play, here's what the top 3 looked like:-
1st - Saliesh Lohia
2nd - Ankush Agarwala
3rd - Kechit Goyal
While the big cities dominated most of the weekend at the IPS 8, one man Ashutosh Naik made sure Bangalore's flag was flying high taking home two titles and a boatload of cash! PokerNews India would like to congratulate to Ashutosh on his fine performance as well as all the other winners on the weekend.
The next chapter of the India Poker Series takes place in November and more details can be found on their website.
Are you following us on Twitter yet?!