The Weekly Turbo: Full Tilt Poker Statement, Team PokerStars Online, and More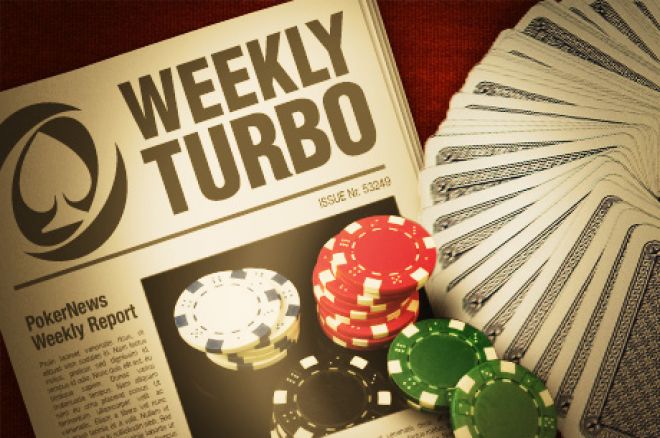 For the week's top stories in poker from India and around the world, you've come to the right place. In this edition of the Weekly Turbo, the World Gaming Festival in Goa, a new statement by Full Tilt Poker, the newest member of Team PokerStars Online, and more.
Full Tilt Poker Statement
On Wednesday, beleaguered online poker room Full Tilt Poker released its latest statement to PokerStrategy.com. The statement speaks about the current financial issues being faced by the company as well as their strategy to tackle them. According to the press release, decisions taken by parent company Pocket Kings Ltd. could affect approximately 250 positions due to the implementation of the new cost optimization program.
Here is the statement in its entirety:
"On April 15th 2011 the United States Department of Justice unsealed a federal indictment against a number of individuals employed by major online poker operators. After the issuance of that indictment and a related civil case brought by the United States government, Full Tilt Poker withdrew from the US market. Then in a related action, on June 29th, 2011, Full Tilt Poker had its operating licenses suspended by the Alderney Gambling Control Commission."
"As a result, Pocket Kings Ltd. (provider of marketing and technology services to Full Tilt Poker) has adopted a cost optimization program and estimates that they need to reduce their costs by approximately €12m. This program is intended to streamline the company's operations in order to better position itself for future growth and profitability in Full Tilt Poker's markets outside of the U.S."
"If all of the required cost savings were to be achieved through redundancies, approximately 250 positions could be affected; however the exact number cannot be confirmed until the conclusion of a consultation process with its workforce."
"Notwithstanding the foregoing, Pocket Kings firmly believes it has a very strong future in Full Tilt Poker's Non-US Markets, and is fully committed to ensuring Full Tilt Poker restores the site and repay players in full. To this end, Full Tilt Poker has retained Sea Port Group Securities, LLC as its financial advisor with regard to raising capital and/or assisting in securing a strategic partner in order to fund continued operations of Full Tilt Poker's non-U.S. business. The Company is in active discussions with several parties and will provide a further statement in due course."
Behind Closed Doors
The Alderney Gambling Control Commission will hold its hearing regarding Full Tilt Poker on Sept. 19 — four days after its "deadline." The public may have been allowed at the first hearing in July, but there will be no such luck this time around. The AGCC released a statement today announcing that the hearing will take place "in camera" which we guess is a fancy way to say "behind closed doors." We're pretty sure the public is a little fired up about this, but there's also someone else who doesn't agree with this decision, executive director of the AGCC, Andre Wilsenach.
"I am pleased that the FTP hearing will continue as scheduled, as was argued on my behalf. However, I am disappointed with the tribunal's decision that, notwithstanding my arguments to the contrary, the hearing will be held in private. I believe the public has a right to know the reasoning behind the decisions to suspend FTP's licences and call a hearing, and to hear the evidence that will be put forward on my behalf," Wilsenach said in the press release.
"It is my understanding that the tribunal conducted a difficult balancing exercise of the interests of the various parties, taking into account the legal arguments for and against further postponing the hearing, and for and against allowing the public to attend the proceedings."
GamblingControl.org has more.
Saab Gets Booked
Back in January, when the story first broke, we told you that David Saab was busted in Australia for attempting to import 21 kilograms (~46 pounds) of cocaine. Saab, along with Francis Hughes and Robert Reemus tried to smuggle the cocaine in a shipment of steel machine parts that were boated in from Vancouver.
Last Tuesday, the three men were given a combined 30-year jail sentence after they plead guilty. Reemus and Hughes got the lighter sentences at eight-years a minimum of five years. Judge Liz Gaynor sentenced Saab to a 10-year minimum sentence and in her statement mentioned that this was because Saab was the "chief organizer of the operation," noting that he stood to gain $110,000 for the shipment.
According to the Herald Sun, Gaynor told Saab "the 'illusory world you have constructed for yourself' had been shattered by his arrest, as had his 'delusions of wealth.'"
Find out more about the sentencing at HeraldSun.com.au.
German State Legalizes Online Poker
Germany has 16 states, or Länder. One of them, Schleswig-Holstein, recently passed legislation that will legalize and regulate online poker.
The new legislation allows for betting exchange, sports books, poker and all casino games except roulette, blackjack, and baccarat, according to eGaming Review. The law will go into effect Jan. 1, 2012, and licenses will be valid beginning March 1. The state will also impose a 20 percent tax on gross profits.
After the news, Befair released a statement saying, "Schleswig-Holstein's new online gambling treaty is a welcome piece of legislation geared towards creating a genuinely open, transparent and responsible online gambling market in Germany. We are pleased that it has today passed through the state parliament and we look forward to applying for a license to operate there."
"We are now hopeful that the other 15 German states will make the required amendments to their proposed State Treaty, in order to bring it into line with EU law and with the law passed in S-H today," it continued. "Betfair is committed to participating in the online gambling market in Germany, ready and willing to pay taxes there and offer German consumers competitive, innovative and safe products."
Read more at EGRMagazine.com.
Let's Get Ready to Ruuummmbbblllleeeee!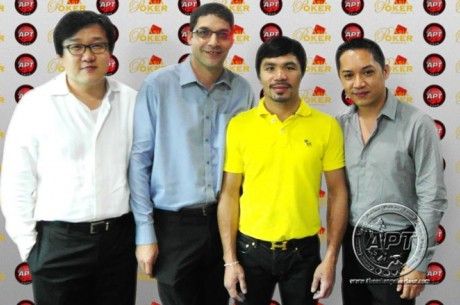 Manny Pacquiao and the Asian Poker Tour are joining forces. From Dec. 7 through 12, the APT is holding Manny Pacquiao World Poker Event at the Pan Pacific Hotel's Asia Poker Sports Club in Malate, Philippines. The deal was signed last week, and will become an official APT Accredited Event given the approval from the Philippine Amusement and Gaming Corporation.
"The APT is obviously proud to be ensuring its popular and trusted protocol is followed at the Manny Pacquiao World Poker Event. I'm sure it will be a pleasure working with such a respected personality as Manny and we're looking forward to seeing a large turnout come December 7," said APT tournament director Lloyd Fontillas.
Pacquiao, who is a ten-time world boxing title holder, is a supporter of poker in the region. The event will feature a PHP 500,000 High Roller, PHP 11,000 Pot-Limit Omaha event, and PHP 50,000 buy-in Main Event.

If you want to find out more, check out TheAsianPokerTour.com.
World Gaming Federation starts this week
The World Gaming Federation (WGF) will have its inaugural event taking place from 23rd - 26th September onboard Casino Royale in Panjim, Goa. The WGF will feature 5 games including Roulette, Blackjack, Indian flush, Baccarat and of course Poker.
All games have a buy-in of INR 100,000 (US$ 2078) each and the organisers have promised a total guaranteed prize pool of INR 5 crores (just over US$ 1 million) with 1 crore (US$ 207,000) being the guaranteed amount in each game.
An exciting time for Indian high rollers who will have an opportunity to compete for these massive prizes. More details on the event can be found on their website.