The Weekly Turbo: PokerStars EPT Loutraki, Royal Flush Girls Leave, and More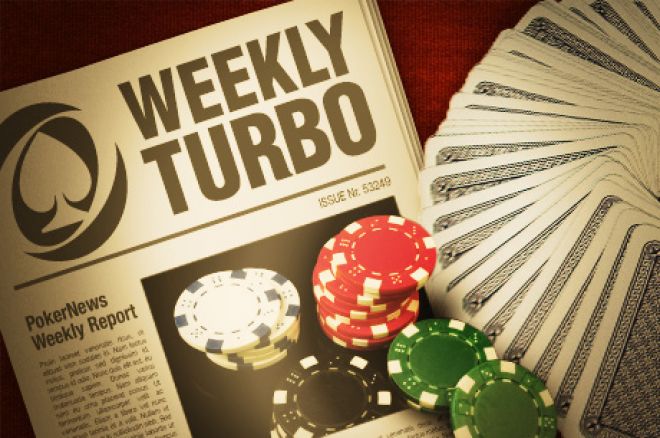 For the week's top stories in poker from India and around the world, you've come to the right place. Find out more about some of top stories this week where PokerStars European Poker Tour announced a new stop on Season 8 of the tour, a couple of Royal Flush Girls move on, and more.
It's All Greek to Us
On Thursday, PokerStars.net announced a new stop to the eighth season of the European Poker Tour. From Nov. 15 through 20, the EPT will be stopping at Club Hotel Casino Loutraki in Greece.
"This is great news that the EPT will visit Greece. I'm truly excited to have such a prestigious tournament taking place in my country. Fellow Greek players have an opportunity to compete in a high calibre tournament with large numbers, and players visiting Greece will enjoy the beautiful Greek landmarks and famous hospitality," said Greek pro George "gkap13" Kapalas.
The five star beach resort will host the EPT's debut in Greece with a five-day €4,400 Main Event and a myriad of side events. This EPT stop was planned after two successful PokerStars sponsored Greek Poker Cup events were held earlier this year.
"We are very happy to extend our strategic partnership with PokerStars.net, after two very successful Greek Poker Cup tournaments. The EPT's debut in Greece is a very exciting development for Loutraki as a top tourist destination, for our casino, and for Greek poker in general," said CHCL general manager Alexandros Doukas.
Find out more about this exciting new stop on the PokerStars Blog.
Iglesias and Banzer Depart
If you're a Royal Flush Girl fan, specifically Melanie Iglesias and Michelle Banzer, you might want to sit down for this. On Monday night, both Iglesias and Banzer announced they were leaving the World Poker Tour.
Iglesias was the first to make the announcement via Twitter:
I have officially resigned from the World Poker Tour. No questions at the moment, please. Thank you.

— Melanie Iglesias (@MelanieIglesias)
Shortly thereafter, Banzer also announced her resignation:
After careful consideration I've come to a decision to officially resign from the World Poker Tour. It's been an eventful run. All the best

— Michelle Banzer (@MichelleBanzer)
The ladies received plenty of comments regarding their departure, most of their fans saying they would cease watching the WPT broadcasts. Hello guys, we know these two ladies are awesome, but you're forgetting the rest of the RFGs.
No reasons were given, Iglesias only tweeted this response to one of her followers:
@yubintherapist The 2 new girls are nice! Love them! But WPT & I had our differences along with other things I'm not allowed to speak on. =(

— Melanie Iglesias (@MelanieIglesias)
As for a statement from the World Poker Tour, it's kind of what we expected, "Melanie and Michelle were both interested in pursuing other opportunities. We thank them for their hard work during Season IX and wish them the best in their future endeavors."
Free Gold
On Friday, Jamie Gold announced the launch of his online poker site, FreeGoldPoker.com. The 2006 World Series of Poker Main Event champion opened the free poker site on the ZEN Entertainment Network.
"This is an amazing opportunity for me to create a fun, accessible and unique experience for the poker community. As importantly, I will be able to continue to accomplish meaningful, vital and life-changing charitable goals with the additional support and commitment of the ZEN platform," Gold said in the press release. "It will also provide my dedicated partners a platform beyond anything I could have imagined as we are now able to create targeted demographic promotions."
The site boasts $100,000 in prize pools per month. According to Gold's agent, Randy Kasper, endorsement deals and charity partnerships will be announced in the future and will be integrated into the events on the free poker site.
"After Black Friday and all the negativity surrounding online poker, I asked myself what I could do to help our community enjoy playing a game they love legally while at the same time elevate awareness about the fantastic brands and amazing charitable opportunities I come into contact with on a daily basis. Creating FreeGoldPoker.com was the clear answer," Gold said.
Read the entire press release at CasinoCityTimes.com.
PokerStars WCOOP Radio
PokerStars is set to bring you tons of WCOOP coverage. The World Championship of Online Poker kicks off on Sept. 4, and to make sure you stay in the know, PokerStars is launching WCOOP Radio and Inside WCOOP, a PokerStars.tv series.
WCOOP Radio kicks off Sept. 7 and runs through Sept. 27. It will feature guest appearances and player interviews, and be interactive, complete with competitions, quizzes, and exclusive tournaments for listeners. WCOOP Radio will be broadcast in English, German, Russian, and Spanish. Adding to the coverage, every Tuesday, beginning Sept. 13, Nick Wealthall and Joe Stapleton will host Inside WCOOP. The show will cover the latest news and action from the WCOOP schedule.
Stay on top of the WCOOP schedule and news at PokerStars.com.
Lock Poker Explains
PocketFives.com is reporting that Lock Poker issued a statement explaining the Malta Lotteries and Gaming Authorities claim that it did not issue a license to Lock Poker. The controversy surrounds the LGA logo on LockPoker.eu. As we told you earlier this week, the LGA said, "The Lotteries and Gaming Authority (the 'Authority') would like to inform the public that the website http://lockpoker.eu/ has no connection whatsoever with the Authority and therefore any mention of the Authority or license issued by the Authority on the mentioned website is false and misleading."
Lock Poker told PocketFives.com that because the Merge Gaming Network received "a letter of intent for a Class 4 license from the LGA" that "Merge allowed its licensees, including Lock Poker, to display the LGA logo on their site once they had opted into the agreement and updated their Terms and Conditions on site."
According to PocketFives.com, Lock Poker is working to resolve the issue shortly. "Merge Gaming Malta Ltd. is now working with their key official in Malta to resolve issues that have arisen in the past two days. Merge Gaming Malta Ltd. can also confirm that Lock has in fact provided all required documentation to Merge Gaming Malta Ltd. in relation to this process."
Read more at PocketFives.com.
Trying to Get Out
EGaming Review reported Friday that lawyers Jeff Ifrah and David Deitch are attempting to withdraw "as attorneys of record" from an ongoing class action lawsuit involving Team Full Tilt players. Ifrah and Deitch represent the eight defendants from Team Full Tilt.
"[C]ontinued representation of Defendants would create unreasonable difficulty for us to carry out our employment effectively and would result in an unreasonable financial burden to our law firm," stated the motion.
Ifrah and Deitch also filed a motion to dismiss the defendants and companies affiliated with Full Tilt from the class action lawsuit earlier this month, but according to eGaming Review the motion has not yet been acted on.
While Ifrah is seeking withdrawal from the class action lawsuit, he will continue to represent Full Tilt Poker, as well as its CEO Ray Bitar.
Read more at EGRMagazine.com.
Follow us on Twitter for up-to-the-minute news.