2011 PokerStars.net ANZPT Darwin: Jack Drake Wins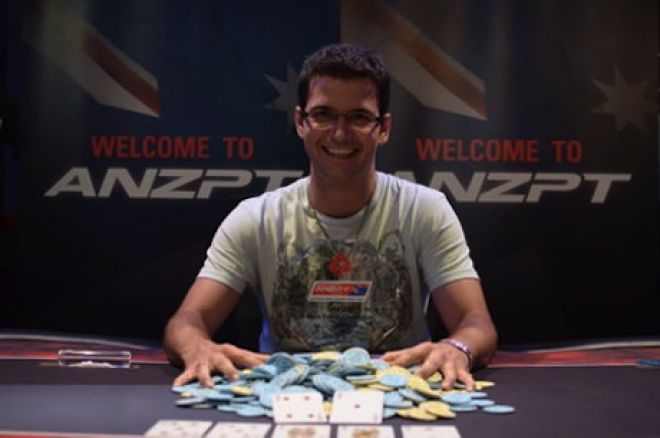 The 2011 PokerStars.net Australia New Zealand Poker Tour came to a close in Darwin over the weekend with the Main Event title and AUD$36,480 first-place prize going to Australia's Jack Drake.
Sixty-four of the region's finest players crammed into the SKYCITY Darwin Casino for the AUD$2,200 buy-in, five day event, creating a $128,000 prize pool. It wasn't an easy field for any player to contend with, with the likes of Brendon Rubie, Michael Guzzardi, Ryan McKay, Aaron Benton, Octavian Voegele, Grant Levy and ANZPT Player of the Year contenders Leo Boxell, Jesse McKenzie and Danny Chevalier on the felt.
McKenzie only progressed far enough in the tournament to lock up a third-place finish on the ANZPT Player of the Year leaderboard, but Chevalier's final-table run knocked Boxell off the top of the leaderboard and secured the Australia and New Zealand Player of the Year title for Chevalier.
The POY title may have already been in Chevalier's hands, but after finishing in third place at the 2011 ANZPT Melbourne, he was looking to use his position in Darwin to take down a victory. Of course, it's not always that simple and there were eight players standing in Chevalier's way, including eventual winner, the 28-year old Drake.


Final Table Lineup


| Seat | Player |
| --- | --- |
| 
1 | Jonathan Dangio |
| 
2 | Danny Chevalier |
| 
3 | Fotios Manolakos |
| 
4 | Jack Drake
 |
| 5 | Mark Taylor
 |
| 6 | Aaron Benton
 |
| 7 | Glenn Parry
 |
| 8 | Jamie Hill |
| 
9 | Brett Dannevig |
Well-known Australian pro Aaron Benton was the first player to bow out. Then, Chevalier received a bad beat in a three-bet pot where he was up against Jamie Hill. On a flop showing
, Chevalier checked to Hill, who shoved his stack all-in. Chevalier snap-called and turned over
, while Hill showed
. A
on the river dealt the devastating blow to Chevalier, who was sent packing in eighth place.
Glenn Parry was the next player sent to the rail, and then Hill was eliminated in sixth. New Caledonia's Jonathan Dangio, Mark Taylor, and Fotios Manalakos bowed out in fifth, fourth, and third respectively, setting up the heads-up battle between Drake and Brett Dannevig.
Early into heads-up play, Drake almost secured the title when he held
against the
of Dannevig on a flop showing
. All the chips went in the middle, and it was looking like it would be an early night, but then an
spiked on the river, and Dannevig took down the pot, sending Drake back to the drawing board.
Shortly thereafter, Drake gained another lead, and, eventually, the inevitable final hand of the night played out. The final action of the tournament began with an open from Dannevig. Drake then three-bet shoved his stack in the middle, holding
. Dannevig made the call with
and when the board was spread
, it was all over for Dannevig and Drake was crowned the victor, pocketing the largest score of his career.
Final Table Results

| Place | Player | Prize |
| --- | --- | --- |
| 1 | Jack Drake | AUD$36,480
 |
| 2 | Brett Dannevig | AUD$24,960 |
| 
3 | Fotios Manolakos | AUD$16,640

 |
| 4 | Mark Taylor | AUD$12,800 |
| 
5 | Jonathan Dangio | AUD$10,880
 |
| 6 | Jamie Hill | AUD$8,960 |
| 
7 | Glenn Parry | AUD$7,040
 |
| 8 | Danny Chevalier | AUD$5,760
 |
| 9 | Aaron Benton | AUD$4,480 |
Follow PokerNews on Twitter for up-to-the-minute news.
*Photo courtesy of the PokerStars Blog