2011 WSOPE Event #1, Day 1: Guenan Grabs Chip Lead at the Death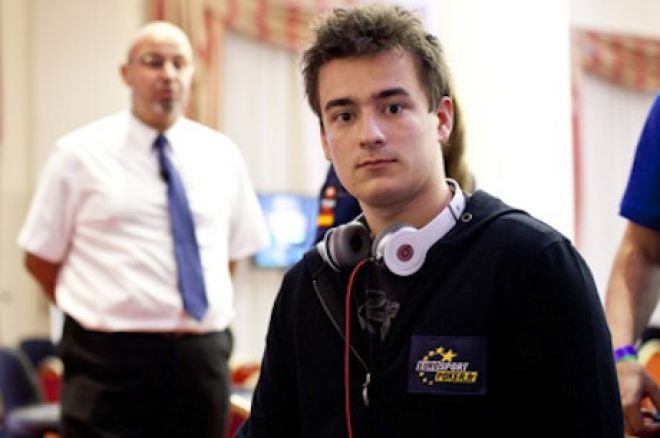 The World Series of Poker Europe began it's 2011 schedule with Event #1, the €2,500 Six-Handed No Limit Hold'em tournament. Day 1 was held in the Hotel Majestic Barriere and the turnout on the first day was a clear indication of just how this series is going to turn out. Last year there were 244 players who took part (a tournament won by Phil Laak) and that was positively overshadowed by the 360-player field that participated in this same tournament.
There were right levels of 60-minutes each which passed by before the day ended and by then, over two-thirds of the field was gone. Only when the penultimate hand of the evening was played out, did we find out who the chip leader was, and what a fantastic French finale it turned out to be!
Benjamin Pollak is no stranger to being an end-of-day chip leader and he seemed to have done it again after eliminating fellow countryman Nicolas Levi. Levi began the action with a raise and Pollak called on the button with
. The flop was
and both players checked. The turn was the
and once again both players checked. The final card was the
and Levi checked, Pollak bet 3,000, Levi raised to 10,000, Pollak moved all-in and Levi called. Pollak turned over
and Levi mucked his hand before heading out of the door.
It was so close to the end of the day that the writing had stopped, laptops were being packed away and players were exiting the arena in droves. The media were heralding Pollak as the Day 1 chip leader but there were still two people playing. Flavien Guenan and Alessandro Speranza were staring at a board of
. Neither player was aware that they were the only players left playing because they had their minds squarely focused on the job at hand. Guenan checked to Speranza who bet 3,800. Guenan made the quick call and the
appeared on the turn. Guenan checked again and just like on the flop, Speranza decided to bet. This time the bet was 9,500 but that didn't scare Flavien who called once again.
The river was the
and for the third time Guenan checked to Speranza who looked over at his opponents stack and decided to put him all-in. Guenan had 37,500 chips left behind, which was still more than the average stack, but within seconds he had made the call. Speranza flashed
and mucked when Flavien Guenan turned over his
. That pot turned Guenan into a bit of a bad guy... well at least with the media anyway as those packed laptops were lugged out of their bags and reports had to be written and sent. At the very end of Day 1, Guenan had just taken the Day 1 chip lead from the fingertips of Benjamin Pollak with 108,00 chips.
Other players finishing Day 1 with stacks to be reckoned with were Antonio Venneri (99,575), Casey Kastle (86,100), Peter Jetten (71,275) and Anton Wigg (67,075). More famous names are expected on Day 2 including Daniel Negreanu, Phil Hellmuth, Vanessa Selbst and John Racener.
Day 2 will resume at 1500 CET (0600 PDT) on Saturday at Le Croisette Casino Barriere so make sure you join us at Pokernews India for all of the action.
Follow PokerNews India on Twitter for up-to-the-minute news.