2011 WSOPE Event #5, Day 3: Four Remain, Mizrachi in the Hunt; Event #6, Fierro Leads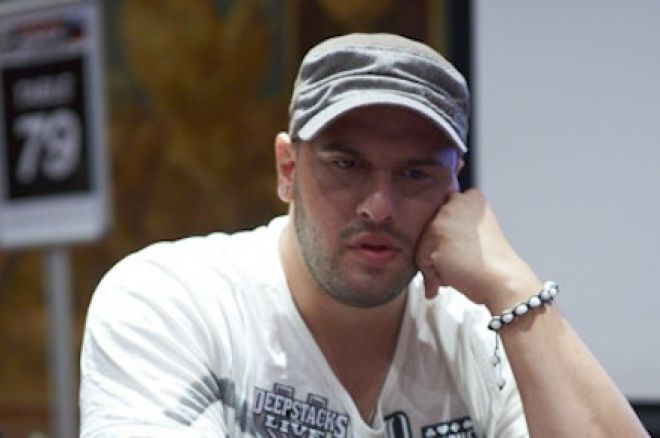 Events #5 and #6 continued play on Friday at the 2011 World Series of Poker Europe. Event #5 was whittled to the final four, which includes Michael Mizrachi and Noah Schwartz. In Event #6, Nicolas Fierro, who began the day as the chip leader, ended the day as the chip leader at the final table.
Event #5: €10,300 Split Format No-Limit Hold'em — Four Remain, Mizrachi in the Hunt
Sixteen players returned to their seats in the €10,400 No-Limit Hold'em Split Format event on Friday. They began the day with high hopes, hopes of winning a World Series of Poker Europe bracelet, but eight of them had their hopes completely shattered. One man who's hopes of becoming a WSOPE champion are still alive is Roger Hairabedian.
Hairabedian, affectionately known as "Big Roger," went about his business in a quiet but effective manner all day long. His first opponent was Dmitry Motorov, a player he ground down to the point where the Russian moved his short stack all-in with
, leaving Hairabedian with an easy call with
. The board ran out
and Hairabedian progressed to the second round of matches.
His second round opponent was Brian Powell, the man who started as the overall chip leader. It initially looked like one-way traffic, with Powell having Hairabedian on the ropes, but a real cooler of a hand saw the big man right back in the thick of it. Hairabedian opened with a min-raise to 16,000 and Powell called. The flop came down
, Powell checked, Hairabedian bet 12,000 and Powell check-raised to 37,000. Harabedian made the call and the dealer put the
on the turn. Powell made it 78,000 to play and was called, leaving the dealer to place the
out on the river. Powell checked, then instantly called when his opponent moved all-in. Powell held
but had been sucked out on by Hairabedian's
.
This gave Hariabedian the advantage in chips and mentally, and the match was over an hour later when a preflop raising war resulted in Powell being all-in and at risk with
against
. A final board reading
sent Powell to the rail and Hairabedian to the top of the chip counts.
His opponent in the next round is Michael "The Grinder" Mizrachi who took out two dangerous opponents in record time. Mizrachi eliminated Kent Lundmark in less than 30 minutes and Brian Hastings got similar treatment in the second round. It should be quite an interesting match-up between these two players.
Also through to the third day of play is Shawn Buchanan and he will face off against Noah Schwartz.
Play resumes at 1700 CET (0800 PDT), be sure to follow all of the action from the live reporting team on PokerNews.
Event #6: €1,090 Pot-Limit Hold'em — Final Table Set, Fierro Leads
It took a little over nine hours to whittle the 36-player field down to the final table of six. The chip leader coming into tomorrow's final table is Nicolas Fierro, who bagged up 349,000 chips. He began the day as chip leader, and although he lost it for a lot of the day, he ended as the clear chip leader.
Here's how the remaining six will line up tomorrow:
| Seat | Name | Country | Chip Count |
| --- | --- | --- | --- |
| 1 | Jack Ellwood | UK | 133,500 |
| 2 | Michel Dattani | Portugal | 267,500 |
| 3 | Nicolas Fierro | Chili | 349,000 |
| 4 | Philippe Boucher | Canada | 275,000 |
| 5 | Alexander Dovzhenko | Ukraine | 245,000 |
| 6 | Jarred Solomon | South Africa | 266,500 |
Rifat Palevic was the unfortunate player who bubbled the final table. He busted soon after the final seven came together on one table. Nicloas Fierro eliminated Palevic when his
bettered Palevic's
on a
board.
The story of the day must belong to Alexander Dovzhenko though. He came back with just 2,800 chips on Friday and yet, here he is still in with nearly one hundred times what he started with. It'll be the comeback story of the year if he goes on to win on Saturday.
Those not quite as fortunate to make it through the day include, Antony Lellouche, Victor Ramdin, Ludovic Lacay Alexander Kostritsyn and Roberto Romanello.
Play begins again on Saturday at 1300 CET (0400 PDT), and you can catch all the action on PokerNews.
Follow PokerNews India on Twitter.