Claim Your Share of the PokerNews $25,000 Showdown at Poker770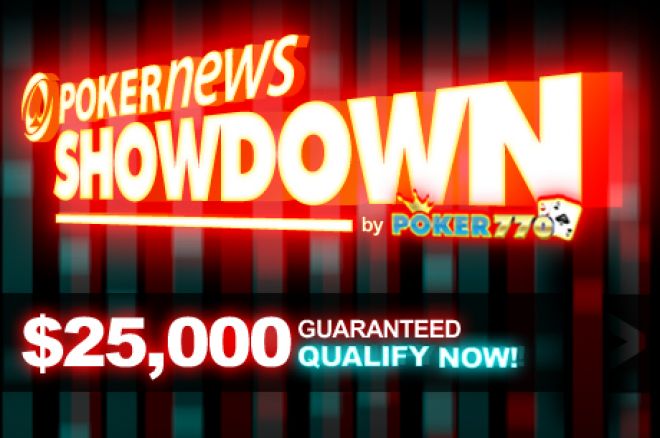 Download Poker770 to play in the exclusive PokerNews $25,000 Showdown!
It's an exciting feeling to make something out of nothing... or virtually nothing anyway. So a chance to turn $10 into a share of a guaranteed $25,000 prize pool is exactly that thanks to this fantastic offer put up by PokerNews and Poker770 in the PokerNews $25,000 Showdown.
The event is a $7.70+$0.77 rebuy tournament. The field will be capped at 3,000 players with rebuys limited to 10 per player until the first break when players will be allowed one add-on. Given these rules, there is a very good chance this tournament features an overlay.
In July, PokerNews, in conjunction with Poker770, hosted The PokerNews GIANT, which was a $2 rebuy tournament with a $30,000 guarantee. There were 6,000 rebuys from the 1,868 field, meaning there was an overlay of nearly $15,000! This made the PokerNews GIANT one of the best valued tournaments we have ever hosted. The PokerNews $25K Showdown could create another tremendous value on Poker770 again on Oct. 28 at 2100 CET.
Qualify Now
We're sure by now you are already loading up Poker770 and registering for the PokerNews $25K Showdown, but if you still aren't sure, you should consider that you could win a seat for less than a dollar — even for free!
Freeroll Satellites
Daily at 1600 CET — 10 seats guaranteed; Minimum of 10 players to start.
Freeroll for Australian Players
Tuesday and Saturday at 1100 CET — 10 seats guaranteed; minimum of 10 players to start.
Cash Satellites
$0.77+$.07, Daily at 2100 CET — 1 seat guaranteed, additional seat for every 10 Players
The fact that there is almost certainly going to be a juicy overlay in the PokerNews $25K Showdown should be enough reason to play, but with daily freeroll satellites and daily cheap-roll qualifiers there really is no excuses to not be at your computers on Oct. 28 at 2100 CET, playing for your share of the $25,000 guaranteed prize pool!
Even though this tournament is open to anyone, regardless of where they signed up to Poker770, there is extra incentive to sign up to Poker770 through PokerNews India, because not only will you be eligible for the inevitable exclusive promotions in the future, you will also be eligible for a 200% up to €1,400 first-deposit bonus when you use the bonus code "inpnews."
If you experience any problems with this or any of our promotions, please contact our Ticketed Promo Support System.