Huge prizes in store for PokerStars' 70 Billionth hand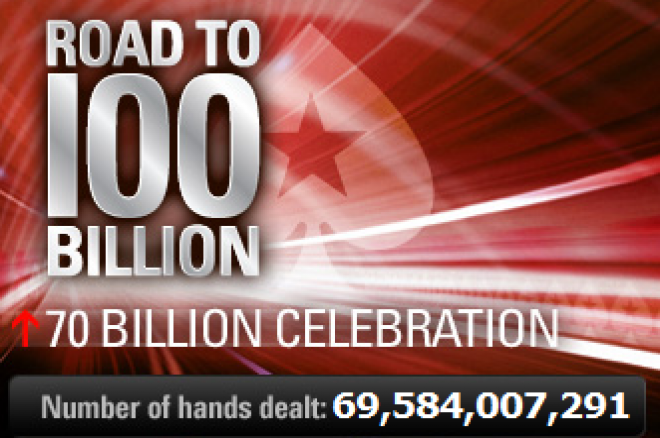 In the course of this week, PokerStars is expected to deal its 70-billionth hand, and in honour of that, there will be a celebration resulting in more than $750,000 in cash being given away to players who take part in real money ring games from October 29 until the Mega Milestone hand hits.
The promotion will award prizes across 300 regular milestone hands for players dealt into every one-millionth hand from 69,700,000,000 through 69,999,000,000. Finally, the 70-billionth Mega Milestone hand will award one lucky player with a $70,000 prize, in addition to other cash rewards accrued through play at the tables.
The 70-billionth hand cash prize giveaway is the latest in a series of Mega Milestone promotions and is another step on the Road to 100 Billion.
Milestone hand prizes
For regular milestone hands, every player dealt into the hand will be awarded a base prize of $50, plus $50 for every VPP they earned in the preceding 50 hands. (VPP stands for VIP Player Points, and they are earned by every player who participates in real money games on PokerStars. For a detailed explanation of how they are earned, check out the PokerStars VIP Club web page.)
For the Mega Milestone, the calculation is the same, but multiplied by TEN! The winner of the hand also has their prize doubled and will receive an additional prize of $70,000. With more money awarded for earning more VPPs, it pays to play more hands in the run up to a milestone hand in order to maximise the potential prize.
Hand counter
In order for players to see when the next milestone hand is due to hit, there is a "Number of hands dealt" counter at PokerStars.com – click here for the current real-time total. The first milestone hand is estimated to hit on October 29, and the winning will continue for up to seven days until the Mega Milestone strikes.
In the 65-billionth hand, which occurred back in July, New Zealand player "yllams" pocketed the top prize of $68,420 while playing at a $0.10/$0.25 six-max cash table. The total prize money given away across the promotion was $770,588.88, with more than 1,600 PokerStars players receiving cash bonuses.
Download PokerStars through PokerNews India and you can take part in even more specials and promotional giveaways throughout the year which totaled to more than $300000 last year! Remember to use the marketing code INPNEWS to make sure that you are eligible for all promotions through PokerNews India.