Huge Value on Offer in Chilipoker's Exclusive Rake Race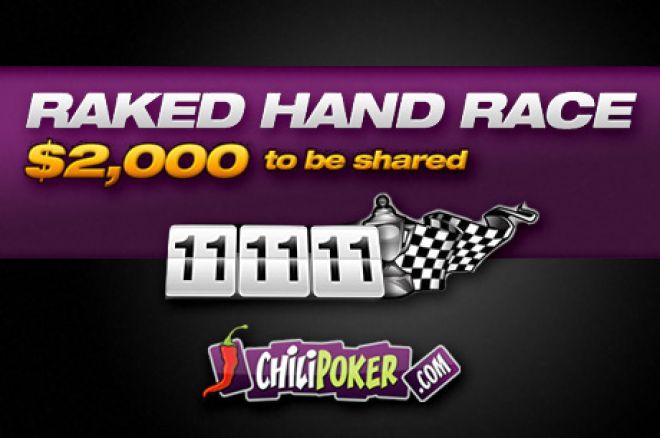 Download Chilipoker and start raking hands for your chance to share in a free $2,000 prize pool just for playing!
Chilipoker Raked Hand Race Starts Now
This November, Chilipoker is giving away free money to any players who play a minimum of 11 raked hands. No, that isn't a typo. All you have to do to be eligible to play in one of the exclusive invitation-only freerolls taking place on Nov.11 is hold a Chilipoker account and play a minimum of 11 raked hands between Oct. 11 and Nov. 10 whereby you will be invited to play in an exclusive $600 freeroll. Those who manage to lodge 111 raked hands during the specified period will be awarded with entry into a $1,400 freeroll.
With the rake race already started, be sure to take to the tables and start raking those hands to qualify for your place in one the exclusive invitation-only freerolls!
Qualifying is so easy
Chilipoker have made it ridiculously easy for players to qualify for at least one of the exclusive freerolls, with players needing only 11 raked hands to qualify for the Rookie November, while those who put in a bit more volume will be awarded entry into the Big November just for playing in 111 raked hands.
The Rookie November
Do you know how long it will take you to rake just 11 hands? Us here at PokerNews would set the line at under 10 minutes. That means for just ten minutes play at the tables, you could be winning free money in one of the Chilipoker raked hand race freerolls.
It really is as easy as hitting the tables during the specified period and when you have raked 11 hands you will be invited to play in the Rookie November where a free $600 prize pool will be in place. Imagine having played 11 hands at the micro-stakes, effectively risking no money at all, and then being awarded entry into a freeroll which will payout $200 to the eventual winner!
The Big November
If you're a player who will breeze past the 11 raked hand mark in no time, then don't fret because players who manage to rake 111 or more hands will be awarded with an entry into the Big November where a staggering $1,400 will be given away to the qualifying players.
With cash games being raked from as low as the micro-stakes, the winner of the Big November could qualify to take a shot at the $400 first prize in the invitation-only freeroll for effectively no outlay. For the best possible outcome, we suggest you crush your opponents at the cash tables on your way to raking 111 hands and then take your seat in the exclusive freeroll and start crushing some more!
Players are only eligible to play in one of the two exclusive freerolls and invitations to the Rookie November and the Big November will be sent out on Nov. 11, with registration opening 4 hours prior to the exclusive freerolls which kick off on that same day.
If you want to start raking enough hands to win your seat in one of the exclusive invitation-only freerolls, why not sign-up to Chilipoker through PokerNews India and receive a massive first deposit bonus of 200% up to $1,000 when using the bonus code "PNEWSIN".
If you experience any problems with this or any of our promotions, please contact our Ticketed Promo Support System.