India Poker Championship October event recap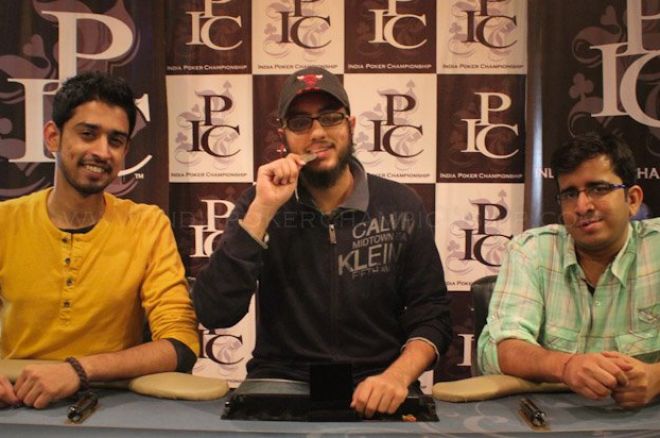 It was an action packed 4 days of poker at the India Poker Championship's October edition which took place in the Royale Card room in Panjim from 6-9 October. Four featured tournaments, one on each day, would bring in players from across the country to do battle and score big paydays along with an IPC Winner's Medallion. PokerNews India was there to cover all the action live and you can relive those moments from the IPC by heading to our tournament archive.
The first event of IPC October was the 6k Double Bubble. This tournament which features a buy-in of INR 6000 has two prizes the players can play for i.e. cash and seats. After the entry fee, a portion of the buy-in (INR 1000) goes into a seat prizepool and the rest (INR 4500) constitutes the main cash prizepool. For every 20 players that participate, one seat is awarded into Saturday Night's 20k Big Game. Therefore the eventual aim of players is to bust money bubble first and then the seat bubble. Hence the appropriately named Double Bubble.
It was back in April that we first saw this young Bostonian with a scruffy beard, easy going attitude and a solid aggressive playing style at the poker table. Ian Moskowitz was traveling the world and had been in India for sometime. The lure of the beautiful game however could not keep him away when he came visiting Goa. His best finish back then was first runner-up in the 20k Big Game. This time around he went one better and pulled off a victory in the 6k Double Bubble which had 103 players take part. In headsup with Mumbai's Gyanesh 'Joe' Changlani, it was actually the penultimate hand which caused most of the damage to Changlani's stack when his
ran into Moskowitz's
. With barely a couple of blinds remaining, Changlani moved in on the very next hand with
and knew he was in big trouble when he saw the
of Moskowitz. While the board
did give Changlani a set, it is not the set he wanted to see as Ian Moskowitz's King kicker prevails and lands him INR 140,000 and the 6k Double Bubble title.
The second event of the tournament was the 10k Weekend Kickoff which had 67 players and proved to be more exciting especially when it came down to the final table action. Abhishek Goindi and Sameer Rattonsey had been trading blows on the India Player of the Year (IPOY) leaderboard with the lead being exchanged back and forth between the two. Goindi gained the lead at the end of IPC's June event and Rattonsey took it at the culmination of the September edition although with a marginal lead. So when both these players made the 10k final table, there was a lot of interest in who will finish higher. But one man from Ahmedabad had other ideas. Amit Sur has had a terrific year thus far, making 6 final tables of the last 11 tournaments he has participated in. He continued his streak by taking out Sameer Rattonsey in 3rd and then defeating Abhishek Goindi in headsup to take home the title of 10k Weekend Kickoff champion and a prize of INR 211,000 for his efforts. At the end of day's play, PokerNews India was informed that despite Goindi finishing higher, Sameer Rattonsey was still holding the IPOY lead, albeit a miniscule one.
The highlight tournament of the IPC weekend was the 20k Big Game. A lot of interest in this game, not in the least to know, if the IPOY winner would be decided by the end of this tournament. Bangalore's flag was kept flying high with Krishna SM making his second final table in 3 tournaments and like the last time, he finished in 3rd place in this one as well. And that man Abhishek Goindi making his second final table of the weekend as well and this time made sure he finished the job he started yesterday by defeating Mumbai-based Deepak 'DK' Khubchandani in headsup play. He entered the final table with a medium stack but some calculated plays and well timed aggression allowed him to build up his chips and in the end it was a very determined effort by the young man to seal the win for the 20k Big Game. Outlasting a field of 59 players, this win makes it a total of 8 money finishes for Goindi. This win has also virtually secured the IPOY in his favour as it would take double the field size of the 20k to show up in the Headhunters not to mention a top 3 finish at least for any other player to mount a challenge. So a fantastic double for Abhishek Goindi, who can rightfully claim to be one of the top players in the country.
Event # 4, which was the final tournament of the weekend was the 12k Headhunter tournament which eventually had 68 entrants participate. This is a bounty tournament with each knockout fetching a sum of INR 2000 per player. Well known author and blogger, Amit Varma entered the final table as the chipleader and in the end, would ride that stack to victory. It was a good day for the Rattonsey household with Sameer and Mubina Rattonsey both making the final table. Sameer scored yet another 3rd place finish for the weekend and Mubina went one better than her husband to enter headsup against Amit Varma. 5 was the magic number as far as Varma was concerned. He took out 7 players from that 9-handed final table eliminating Rajesh Goyal's
with
, Chetas Shah's
with
, Jasven Saigal's
with
and Sameer Rattonsey's
with
. In the third hand of their headsup matchup, Amit Varma who had a huge chip lead by then pushed all-in and got a call from Mubina Rattonsey.
Amit Varma
vs. Mubina Rattonsey

An Ace in the window takes Amit ahead and ahead he remained when the board finally put out a full house making Queens full of Aces for him.
Going home with a total of 14 bounties worth INR 28000 and a first place prize of INR 214000, Amit Varma is the new title holder of the IPC 12k Headhunter.
Another exciting weekend at the India Poker Championship comes to an end and PokerNews India would like to congratulate all the winners and money finishers on their fantastic performances. Special mention for the first ever India Player of the Year, Abhishek Goindi who most will agree is deserving of being on top of that leaderboard.
The next IPC event is their big year ending blowout which will take place from 20th Nov – 4th December. You can check out their website or Facebook page for more details.