The Nightly Turbo: Another Class Action FTP Suit, Trump Eyes Online Poker, and More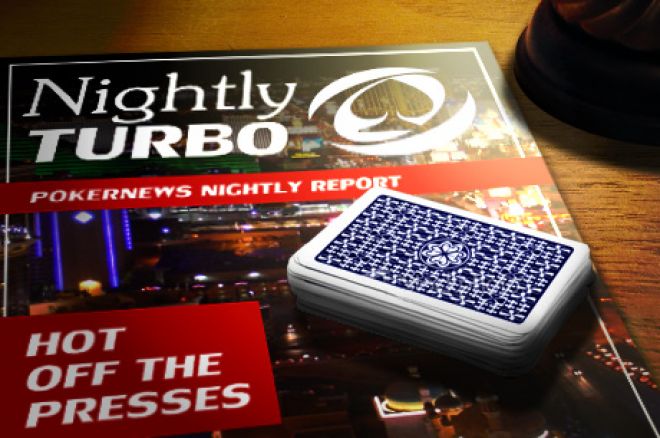 The Nightly Turbo brings you the latest from the world of poker as it happens. Another day, another class action lawsuit against Full Tilt Poker... yawn. Well the infamous online poker site is certainly not laughing as they face legal action from two players it has already tangled with in court. This edition of the Nightly Turbo brings you all the details about this latest complaint against Full Tilt as well as real estate mogul Donald Trump's newest foray which involving online poker, and more.
In Case You Missed It
The Global Poker Index released its rankings as of Oct. 17. Erik Seidel maintained his lock on the top spot, but one player who had a ton of success at the WSOPE is lurking.
The World Series of Poker Circuit stop in Hammond features 12 ring events, culminating with the $1,600 Main Event that begins Friday, Oct. 20. Chad Holloway recapped the action from the preliminary events.
Mike "Timex" McDonald recently won the second Main Event of the Epic Poker League. McDonald discussed his victory and the strategies he employed during the tournament in the latest Strategy with Kristy podcast.
An exciting penultimate day at the World Series of Poker Europe Main Event resulted in a final table with several well-known pros still in contention. Find out who made the cut in our daily WSOPE recap.
The House Subcommittee on Commerce, Manufacturing and Trade is holding a hearing on Internet poker on Tuesday. Poker Players Alliance chairman Alfonse D'Amato will be a witness in the hearing.
Full Tilt Poker Faces Another Class Action Lawsuit
Two poker players with a history of legal battles with Full Tilt Poker are taking a second crack at the controversial online poker site. The L.A. Times reported Thursday that Lary Kennedy and Greg Omotoy have filed class-action complaint seeking $900 million in damages against Full Tilt, accusing the site of fraud, unjust enrichment, and "a pattern of racketeering," among other charges.
Several defendants tied to Full Tilt Poker have been named in the complaint, including Full Tilt board members Ray Bitar, Howard Lederer and Chris Ferguson, as well as former Team Full Tilt members Phil Ivey and Gus Hansen.
This marks another in a growing list of class action lawsuits against Full Tilt Poker since Black Friday, but the most recent complaint is requesting more compensation because it alleges that Full Tilt "misappropriated funds from player accounts and fed it to the defendants."
Kennedy and Omotoy had more than $80,000 confiscated from their Full Tilt accounts in 2009 after they were accused of using bot software, which violated the site's Terms and Service. The two players then filed a lawsuit against Full Tilt in the Superior Court of California on Oct. 6, 2009, but the case was dismissed by a Central California District Court in April 2010.
Read more about the complaint at the L.A. Times website.
The Donald Eyes Online Gambling Venture
Donald Trump is everywhere. The famed real-estate magnate and host of the hit television show The Apprentice has stamped his name on a wide array of products, including a clothing line, vodka, bottled water, and even a fragrance. His next avenue? Online poker.
According to Bloomberg, Trump and New York hedge-fund manager Marc Lasry plan to form an Internet gaming company if online gambling is legalized in the U.S. The company would be formed through Lasry's Avenue Capital Group and casino operator Trump Entertainment Resorts Inc., and the framework for the concept is expected to be in place as soon as legislation for the activity is passed.
The news came via a regulatory filing with the Securities and Exchange Commission. Trump Entertainment Resorts would own 10 percent of the new venture.
"It's just a matter of time," Ivanka Trump told Bloomberg. "It would be a tremendous source of taxable revenue for states or the federal government and an enormous generator of jobs."
Get more on the story at Bloomberg.
Gus Hansen's New Hobby
Prior to representing Team Europe in the Caesars Cup at the World Series of Poker Europe this week, Gus Hansen had been virtually absent from poker since Black Friday. After a third-place finish in the $25,000 Heads-Up event at the WSOP in Las Vegas, Hansen spent most of his time relaxing at his home in Monaco away from the poker table.
He's also been busy developing his new website at Gushansen.me, which went live on Oct. 18. Hansen says the site is still under construction, but he's been using it as his personal blog and has been updating it daily.
"It is no secret to the online gambling community that I, Gus Hansen, have been very involved with FTP over the past 5 years as a sponsored Full Tilt Pro," Hansen wrote in his first entry. "Which in turn means that I haven't played online poker for about 5 months — a rather drastic turn of events compared to the extensive hours I spent at the virtual felt beforehand."
Hansen was the biggest winner on Full Tilt Poker this year before the site lost its operating license. After being considered one of the "fish" at the high-stakes cash games, Hansen logged more than $4 million in winnings this year before the site was shut down.
Hansen explains his thoughts on Black Friday and more in his blog at Gushansen.me.
AGCC Admits Mistake in Seizure Amounts
The Alderney Gambling Control Commission made another statement Thursday to clear up some discrepancies regarding the Department of Justice seizures from Full Tilt Poker. The Commission corrected a previous statement that misreported the number of funds seized from the poker site (around $331 million) from June 2007 through June 2011.
Reprinted below is the AGCC's statement in full:
"AGCC wishes to correct and clarify an erroneous statement contained in the Commission tribunal's published determination notice of the hearing into Full Tilt, which includes the statement: "the individual seizures made by the Department of Justice during the period June 28, 2007 to June 20, 2011, which amount to a cumulative total of approximately $331 million US Dollars." The underlying evidence in the hearing clearly demonstrated that $331 million was the total of funds unavailable to Full Tilt, of which DOJ seizures formed only a part. The mis-statement is thus not of significance in the Commission's assessment of the matter."
You can read the full story in an earlier PokerNews report.
What's your favorite movie?
Cannes is well-known for hosting the annual Cannes Film Festival. It also hosted this year's World Series of Poker Europe, so Kristy Arnett found it fitting to ask poker pros what their all-time favorite movie is.
Are you following PokerNews on Twitter? Like us on Facebook while you're at it, and sign up for the newsletter. You know you want to.