The Nightly Turbo: Brandon Adams on FTP, William Hill Protests Continue, and More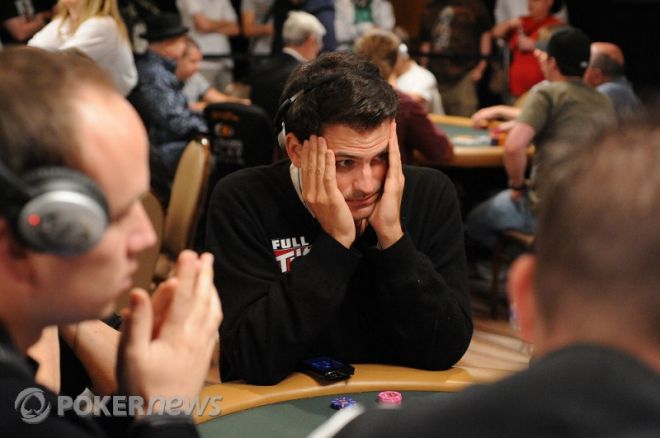 The Nightly Turbo brings you the latest from the world of poker as it happens. We're glad to see that more former Full Tilt Poker pros are opening up about the dismal situation going on with their former employer. Earlier this week it was Patrik Antonius. On Thursday, Brandon Adams spoke publicly about his misguided initial reaction to Black Friday. In this edition of the nightly Turbo, we bring you the latest comments from Adams, the ongoing protests at William Hill Online, and more.
Brandon Adams on Full Tilt Poker
Former Full Tilt Poker Red Pro Brandon Adams was one of the first to defend his former employer during the aftershock of Black Friday. A day after the three major poker rooms were shut down by the U.S. Department of Justice, Adams wrote via Twitter that Full Tilt Poker "is run by much more honorable people than PokerStars. So your money is much more likely to be safe there."
Oops.
Adams has since been vilified for his comments by a large portion of the poker community. But he's admitted his mistakes, and even addressed the situation Thursday in a TwoPlusTwo thread called "FTP pro Brandon Adams trolls PokerStars."
"I have no guilt in the Full Tilt situation," Adams wrote. "I made some dumb comments about PokerStars after wine on Black Friday; that is the extent of my misdeeds. I have always spoken my mind in poker. I've written and spoken about controversial stuff everywhere for six years — on podcasts, in interviews, in these forums, and in private conversations. Some of the stuff I say will, inevitably, be proven terribly wrong."
"I never had anything close to an ownership interest in FT. My deal was only marginally better than a standard FT deal of $35 an hour plus rakeback. The fact that FT couldn't cover deposits came as a complete shock to me. I never knew about any shortfall."
"In the recent DOJ material, they note that the total amount paid to FT owners was around $400 million. If I had attempted to estimate that number in, say, March 2011, I would have come with a number that was in that range, but somewhat smaller, perhaps $200-250 million. The really shocking thing about the recent FT material is this: it implies that Full Tilt made little more than $100 million over the life of the company, despite raking about $3 million a day over a significant length of time. At the time of Black Friday, they had -$300 million in book value, and owner payouts of $400 million. You think I would have been associated with the company if I knew that they had negative book value for even a single minute? I wouldn't have."
The TwoPlusTwo thread is filled with a lot of nonsensical clutter, but Adams makes his appearance on Page 22 if you'd like to have a look.
Protests Rage On at William Hill
A protest by nearly 200 staffers at gambling giant William Hill Online this week has prompted the company's top two executives to fly into Tel Aviv to restore order. William Hill CEO Ralph Topping was set to meet with Playtech CEO Mor Weizer on Friday to discuss measures to end the walkout, which was spurred by rumors that the company was relocating its support center to the UK or Gibraltar. The William Hill Online joint-venture is 71 percent owned by William Hill and 29 percent owned by Playtech.
The Telegraph reports that the protests in Tel Aviv also triggered a work stoppage at William Hill's office in Bulgaria, and neither office was back to functioning normally as of Friday. The protests then spread into business in Manila where staff is employed by Playtech.
The cause of the revolt is being linked to the resignation of chief marketing officer Eyal Sanoff, who quit on Sept. 27. Sanoff reportedly resigned after being told to provide access to the day-to-day operations in Tel Aviv. He refused to comply with the orders and then left the company after being handed a deadline.
Get more on the story at The Telegraph.
James Bord's Money-Back Guarantee
British poker pro and 2010 World Series of Poker Europe Main Event champ James Bord made headlines late last week by saying that American poker pros are far less skilled than Europeans. He backed up that statement by guaranteeing a refund on wagers of up to $500 on Matchbook.com if an American took down the 2011 WSOPE Main Event:
"I don't think an American can win the bracelet; Europeans are now far superior," Bord said. "We used to look up to the U.S. players back in the day, but those days are now long gone. I'm prepared to put my money where my mouth is and refund any losing bets up $500 if an American wins."
On Thursday, Bord was left eating his words and opening his checkbook. New Yorker Elio Fox won the title by defeating British pro Chris Moorman heads up, giving Bord a major sweat until the final card was dealt. We're not sure how much Bord will end up paying out on his promise, but he seemed gracious in defeat on Twitter after Fox claimed the title.
Looking for new employment @BenbaLamb can I be the waterboy for you're Nov9 final table!

— James Bord (@Bordy61)
Congrats @Smokrokflock Please don't visit Matchbook head office anytime soon :)

— James Bord (@Bordy61)
Read more about the bet at UK.PokerNews.com.
Charity Poker in the City of Angels
The Commerce Casino is set to host the 8th Annual "All-In" for Kids Celebrity Poker Tournament this weekend. The event will raise money for The Alliance For Children's Rights, an organization that provides legal services to nearly 100,000 impoverished, abused and neglected children in the Los Angeles area.
The tournament is a $300 buy-in with unlimited rebuys for the first three levels. There will be a guaranteed prize pool of $15,000 for top finishers, and the Grand Prize winner will get a seat into the 2012 World Poker Tour Invitational.
Guests will have an opportunity rub elbows at the poker table with some of Los Angeles' most talented entertainers, poker players and celebrities. Past players include Annie Duke, Don Cheadle, Mimi Rogers, Hank Azaria, Willie Garson, J.K. Simmons and James L. Brooks, among others.
Visit the Alliance for Children's Rights website for more information.
On The Road Again
Hours after the conclusion of the World Series of Poker Europe, the PokerNews Live Reporting Team packed up and headed to Italy for thePokerStars European Poker Tour stop in San Remo. Kristy Arnett previewed the Main Event shortly after she touched down in Italy's City of Flowers.
Are you following PokerNews on Twitter? Like us on Facebook while you're at it, and sign up for the newsletter. You know you want to.