The Nightly Turbo: Full Tilt Poker Player Survey, Moneymaker's New Shades, and More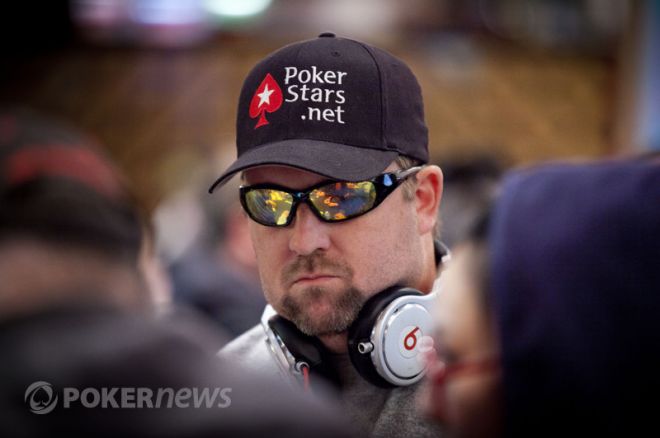 The Nightly Turbo brings you the latest from the world of poker as it happens. Poker enthusiasts in the U.S. watched attentively as the House Energy and Commerce subcommittee discussed online poker Tuesday morning. One of the topics of debate was Full Tilt Poker, which made headlines of its own on Tuesday. In this edition of the Nightly Turbo, we bring you Full Tilt Poker player surveys in Europe, Chris Moneymaker's sponsorship deal with an eyewear company, and more.
In Case You Missed It
How many poker tournaments have you been to across the globe? What are your favorites? PokerNews' Live Reporting Manager Donnie Peters reveals his top poker tournament stops.
The World Series of Poker won't be running intro music for the November Niners at this year's Main Event final table. That's unfortunate for Phil Collins, who would've had a wide array of appropriate selections to choose from. We take a look at the five best Phil Collins songs that the poker-playing Collins should walk out to.
The World Series of Poker Circuit crowned a Main Event champ in Hammond on Monday. Find out who claimed the title in our daily recap.
Players Surveyed About Full Tilt Poker
An interesting article from Spanish poker site Poker-Red made its way to TwoPlusTwo on Tuesday. According to the report, an employee of Poker-Red received a phone call from a French magazine, LivePoker, to answer a survey about Full Tilt Poker. The magazine has apparently been reaching out to Full Tilt Poker players who have mid-to substantial amounts of money stuck on the site. After the survey was finished, survey takers were polled about preferred payout options if they were to get their funds back.
What's interesting about this French magazine is that it is run by George Djen, founding partner of FullFun Company. FullFun recently partnered up with Groupe Bernard Tapie to create the International Stadium Poker Tour. As you know, last month, Groupe Bernard Tapie signed an acquisition agreement to purchase Full Tilt Poker and all of its associated assets.
Connect the dots.
In the article, Red-Poker draws the conclusion that either Group Bernard Tapie has already taken the reins at Full Tilt Poker or they have borrowed the player database from FTP in order to receive feedback from customers. Either way, it could be a step in the right direction for players hoping to receive their funds.
The full article can be found at Poker-Red's website. It's written in Spanish, so we recommend using Google Translate if needed.
Moneymaker's New Shades
Chris Moneymaker, the 2003 World Series of Poker Main Event champ, has teamed up with leading eyewear manufacturer Blue Shark Optics to represent the company and its products. Moneymaker joins poker pros Hoyt Corkins, Jonathan Little, Humberto Brenes, and Kathy Liebert as an endorsing member of the eyewear company, and Blue Shark Optics has even initiated plans to market a Chris Moneymaker Signature Edition.
"For many players, wearing glasses is an essential key to playing better poker and reducing tells," Moneymaker said in a statement. "Using Blue Shark Optics glasses makes it much easier to put in long 12-hour-plus days at the table during tournaments. I have been using Blue Shark Optics glasses for almost three years, and I highly recommend them."
Blue Shark Optics became the official eyewear sponsor of the World Series of Poker in 2011 and even designs eyewear specifically for poker players.
"Our lenses were formulated and designed for the poker player who normally wears dark sunglasses", said Monica Lee, director of operations for Blue Shark Optics. "Our lenses not only hide the eyes, they also allow maximum light penetration which in turn eliminates the eye fatigue that is caused by the wearing of dark sunglasses."
Check out the Blue Shark Optics website for more information.
Mid-Stakes Poker Tour to Debut RFID Table
A new advancement in televised poker could be on the horizon. The Mid-Stakes Poker Tour is set to become to first U.S.-based tournament to unveil the RFID (radio-frequency identification) poker table. The innovative technology tracks the movement of playing cards and chips, and superimposes that information on a live video feed.
Here's how it works: A standard deck of plastic cards containing embedded RFID chips transmits game data to a software program on a computer. The software then reads the data to show each player's hole cards, the board, and context-sensitive statistics during play. The high-tech concept could ultimately make hole-card cameras a thing of the past.
Take a look at this video to get a better idea of what the production would look like:
MSPT says the RFID table is being shipped from overseas and will, hopefully, arrive in time for the MSPT broadcast at Grand Casino Mille Lacs event in November. If not, the table will likely be unveiled at the MSPT at Canterbury Park Dec. 7 through Dec. 12.
Learn more about RFID tables and the MSPT at the Mid-Stakes Poker Tour's website.
Online Poker Traffic Update
The online poker traffic numbers from last week have been released. PokerScout.com reported a worldwide drop of 1.2 percent from the prior week as nine of the top 10 sites saw declines in traffic.
The Merge Gaming Network was the lone poker room to see growth as the site saw an increase of 13 percent from the previous week to rejoin the top 10 in the rankings. Merge re-opened its doors to new customers two weeks ago and has since seen its traffic grow by 21 percent. PokerStars, PartyPoker and iPoker inhabited the top three spots, respectively, but all three saw drops in traffic from the previous week.
As for year-over-year numbers, PokerScout's ACES indicator reports that online poker traffic (with the exception of Italy) has decreased by 34 percent since last year. The Merge Gaming Network (up 77 percent) and Bodog (up 50 percent) have seen significant increases since 2010, while PokerStars (down 19 percent) the Cake Poker Network (down 20 percent) have taken significant traffic hits.
Get the full report at PokerScout.com.
WSOP on ESPN
ESPN's coverage of the 2011 World Series of Poker continues Tuesday night with two premier episodes covering Day 8 of the Main Event. Last week's broadcast ended with 22 players still in contention for the year's biggest final table.
Here's a look at a teaser of tonight's coverage:
Taking High-Fives to the Next Level
Why did Scott Seiver have a stuffed frog at his table during the PokerStars.it European Poker Tour San Remo Main Event? PokerNews' Kristy Arnett found out the answer to that and much more in the latest edition of Calling the Clock.
Are you following PokerNews on Twitter? Like us on Facebook while you're at it, and sign up for the newsletter. You know you want to.