2 more Daily VIP Races at RedKings Poker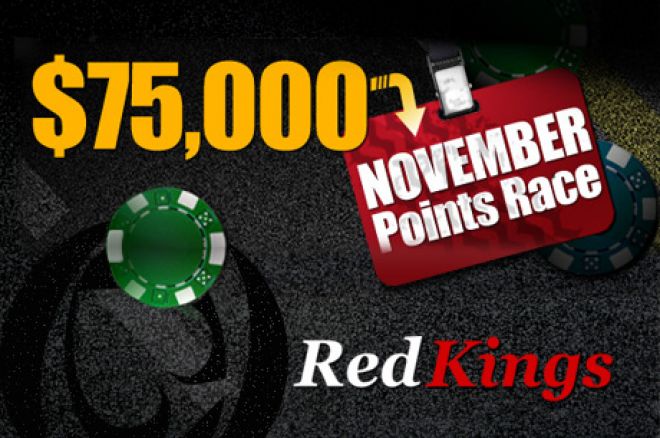 Popular online poker room RedKings.com has added another two new Daily VIP Poker Races in November with a value of $18,000. Combined with the Big Race of $75,000 previously announced the total prize money for Races at RedKings in November will be a staggering $93,000.
The two new Races allow players to win money every day and are exclusively for the small to medium size players in the Bronze and Silver level of the RedKings Loyalty program. The leaderboard will show their accumulated daily winnings and pay out every 2 weeks. The Bronze Level Race pays out the top 150 players daily and the top 100 in the Silver Level race.
The VIP Races also include a novel new idea where players will also be rewarded with Tournament tickets if you go up a VIP level during the month. So not only will you benefit from the extra daily cash you will also get tournament tickets to mark your success in increasing your VIP level.
Commented Susana Wright, RedKings VIP Promotions Manager, "We have one of the best VIP Loyalty programs in Poker and these races will reward our smaller to medium size players with cash that is extra to the cashback they normally earn."
Bigger RedKings players will be able to participate in the BIG poker race, the November $75,000 Knock'em Down which starts every day with players needing to Race for 3 days at a time to collect the cash on offer.
RedKings.com is licensed in Gibraltar and has one of the most progressive VIP Loyalty Programs in online poker offering up to 40% in cashback. The progress RedKings players make earning RedKings Crowns and the VIP Levels they achieve can now also be monitored in real time in a special VIP Dashboard app.
Each player will see their own Dashboard when they log in and open the poker lobby where they will be able to check the latest RedKings promotions and which bonuses/promotions are running in their accounts. More importantly each player will be able to receive and retrieve messages in their app. from RedKings.com HQ which will keep them informed about things specific to them.
You can download RedKings Poker and use the Bonus Code, 'INPNEWS' to take a shot at all of these fantastic promotions. Not only that, players who sign up through PokerNews India will also be eligible for many more future promotions that we will run in conjunction with RedKings.