India Poker Legend announces January 2012 schedule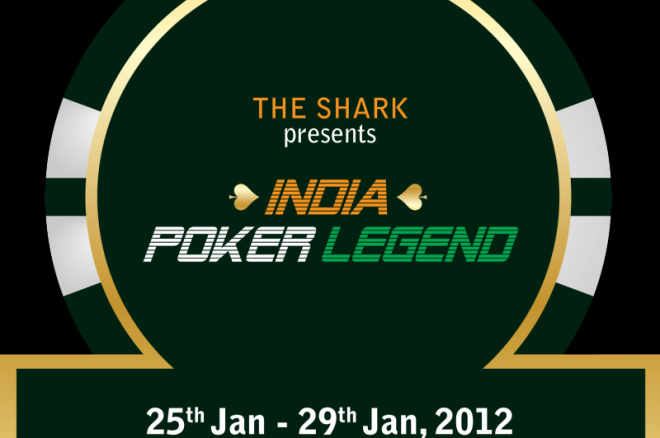 Organisers of the India Poker Legend tournament brand, the Shark, have announced the schedule of their upcoming event in January 2012. This event will take place from 25th – 29th January 2012 at Casino Royale, Goa. The Shark is offering guarantees of over US$ 100,000 during the event which will be held during the long Republic day weekend in the first month of the new year.
The five-day poker festival has added 2 new events, a 3k buy-in 2X turbo re-buy to allow new players who wish to try their hand at poker for the first time in a casino setup. Also on the cards is a high rollers event which is invitation only. This announcement comes on the back of the now-cancelled Guinness World record attempt wherein the record for the longest running cash game session was to be challenged.
Tourney Schedule

Jan 25th (Wed) - 9pm USD 60 2X Turbo Re-buy (Rake Free)
Jan 26th (Thu) - 9pm USD 100 Double Rebuy + Add on (USD 10,000 GUARANTEE)
Jan 27th (Fri) - 9pm USD 300 Freezeout (USD 15,000 GUARANTEE)
Jan 28th (Sat) - 4pm USD 200 Super satellite to main event (4 SEATS GUARANTEED)
Jan 28th (Sat) - 9pm USD 2,000 Freezeout - MAIN EVENT - (USD 80,000 GUARANTEE)
Jan 29th (Sun) - 6pm Main Event Final Table
Jan 29th (Sun) - 9pm USD 6,000 Invitation Only High Rollers Event
The organizers are offering an early bird bonus for players registering for the USD 2,000 No Limit Hold'em Freezeout including free accommodation for 2 nights. Please contact the organizers for details.
The schedule for 2012 has also been released by the Shark which looks like this:-

25th Jan - 29th Jan
4th Apr - 8th Apr
18th Jul - 22nd Jul
26th Sep - 30th Sep
It should be noted that their "Players of the Year" (PsOY) awards with USD 12,000 to be awarded to the top 3 players will be based on points gained only from the above-mentioned 4 tournaments.
To register for the tourney or for further information on the above, please log onto www.theshark.in or by emailing info@theshark.in or by calling Pranav Bagai +91- 9818206165, +91-11-46512064.
Are you a fan of PokerNews India? 'Like' us Facebook!