Sangeeth Mohan wins APT Goa Main Event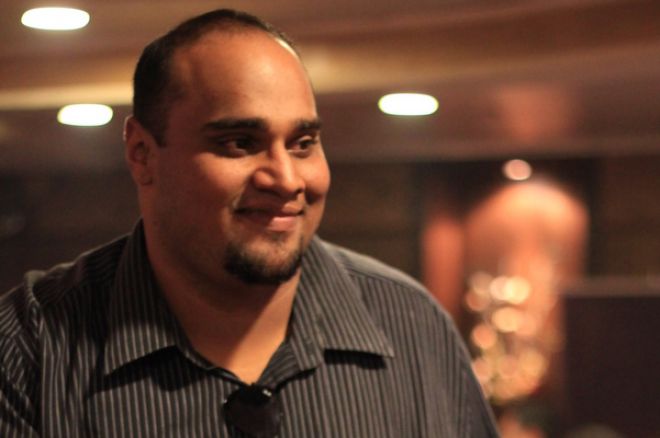 The inaugural edition of the Asian Poker Tour (APT) in Goa, India came to a close late on Monday night and it was an action packed Main Event which was finally conquered by Sangeeth 'Samoh' Mohan who beat out a massive field of players to win all the fame and glory, not to mention a whole bunch of cash!
The Main Event had a buy-in of INR 50,000 ($1000) and would be a 3 day event. There were 2 starting days (Day 1a and 1b) and the total field from both starting days would be whittled to the remaining 50 players who would then play on Day 2. The eventual culmination of the tournament would happen on Day 3 with the final 10 players battling it out for the title of APT Champion.
Day 1a of the APT Main Event saw 73 players gather to play in the Casino Royale's upper level. Day 1a belonged to Rahul Byraju who is a familiar name on the Indian circuit. In the recent past, Byraju has also won the APPT Highrollers event in Macau. He began his day by eliminating the very first player out of the Main Event. That set the tone for Byraju and he went from strength to strength collects pots, small and big, eliminating players through the day to end as the Day 1a chipleader with a stack of 149,000.
Day 1b had 85 players including many of those eliminated the previous day. These included the likes of 2-time WSOP bracelet winner Mel Judah and American pro Nam Le who finished 5th in the recently concluded Epic Poker League. PokerNews India had a chance to catch up with Nam for a chat and we will put up that video shortly. Day 1b ended with Mumbai's Sameer Rattonsey holding the biggest stack in the room (123,000). Rattonsey is a well known name on the Indian poker tournament circuit and was expected to do well on Day 2 given the number of chips he had.
When Day 2 began on Sunday afternoon, the chipleaders got to work trying to extend their lead and ensuring that they would be the final 10 survivors who play on the final table on Day 3. While Day 1a chipleader Rahul Byraju was eliminated in the latter part of the day, Day 1b chipleader Sameer Rattonsey scored a huge pot by eliminating high stakes specialist Rohit Bhalla in a hand-over-hand situation where Rattonsey's trip Queens severely crippled Bhalla's trip Jacks. Here's what the Main Event final table looked like:-

Sameer Rattonsey (India) – 437,000
Sailesh Lohia (India) – 333,000
Cindy Wang (China) – 312,000
Kavin Shah (India) – 299,000
Sangeeth Mohan (India) – 262,000
Jasven Saigal (India) – 216,000
Nam Le (USA) – 209,000
Bharat Agarwalla (India) – 142,000
Alexandru Nistor (Romania) – 91,000
Martin Elliot (England) – 44,000
Interestingly, and also pointed out by tournament director Lloyd Fontillas, Rattonsey, Jasven Saigal and Bharat Agarwalla are also tournament organisers themselves. So a good day for Indian poker as well for some of the prominent local names to make it this far in the Main Event.
As expected the short stack of Martin Elliot was the first to exit the final table and he was soon followed by Cindy Wang (9th), Kavin Shah (8th) and Alexandru Nistor (7th). Nam Le fought long and hard nursing his shortstack as best as he could. He survived a couple of all-ins when he was behind but managed to catch cards to continue his stay at the final table. However just as he was hoping to pick up more chips and some momentum, his pockets Nines ran into Bharat Agarwalla's Jacks and that was it for the American pro.
After busting out Sailesh Lohia in 5th place, Agarwalla had a chance to knockout a severely crippled Sangeeth Mohan who at that stage had just about 5 big blinds. That massive dent to his stack came courtesy a monster hand which went like this - Mohan, from the hijack made it 25,000 with the blinds at 5000-10000 and found himself with two callers in Rattonsey (button) and Lohia (BB). On a flop of
, Lohia checks and Mohan fires out another 25,000. Rattonsey makes the call while Lohia threw his cards into the muck. The turn brings another club
putting 2 flush draws on the board. Mohan fires out 36,000 which is again called by Rattonsey after a lot of thought. The river makes it three Cowboys with
and without hesitating, Mohan fires his final bullet of 80,000. Rattonsey now goes into the tank and takes a long time to think the hand through. The remaining players almost instinctively know that this is huge decision and no one calls the clock on him. Finally after what seems like an eternity, Rattonsey makes the call to which Mohan says "High card... Jack". Rattonsey flips over
with his Queen kicker takes down a massive pot!
Bharat Agarwalla's
was looking good to eliminate Mohan but a board of
gives him a straight to doubleup his stack and keep him in the hunt. Another pot goes Mohan's way when he has Rattonsey outkicked and eventually makes 2 pair with his
on a board of
to move his stack to over half a million chips. A short while later, its Bharat Agarwalla who is facing elimination when his
are pitted against Mohan's
. With the board reading
Agarwalla was praying for no overcards to hit. And in the cruel way they know best, the poker gods decided to comply by throwing out a nerve wracking
on 4th street and the destructive river
making Mohan his straight and leaving Agarwalla to rue on what might have been.
When action was down to 3 way between Mohan (1.1 mil), Saigal (680k) and Rattonsey (640k), there was nothing to choose stack-wise and it could have been anyone's tournament to win. With the blinds at 12000-24000, Jasven Saigal opened to 55,000 and is re-raised by Mohan to 120,000. Saigal makes the call after Rattonsey folds giving up his big blind. As the last card of the flop
is dealt out, Mohan announces all-in and gets a quick call from Saigal who shows
for top pair whilst Mohan holds
for mid-pair. The turn
improves Saigal's percentages but once again the river
proves kind to Mohan who makes two pair and eliminated Saigal in 3rd place with that beat.
Headsup between Sameer Rattonsey and Sangeeth Mohan does not last for too long. Mohan kept chipping away at Rattonsey's stack to get to a commanding chiplead of well over 5:1 before the final hand of the tournament took place. Without any preflop raises, both players see a flop of
where a bet of 25,000 is fired out by Mohan which gets called by Rattonsey. A
on the turn sees a bet of 80,000 from Sangeeth. Rattonsey tanks for a bit and then pushes all-in. Mohan literally leaps out of his chair saying, "Call" and excitedly shows down
for the turned fullhouse. Rattonsey's
who decided to make his stand on the basis of a flush draw sees that he is drawing dead and that was it for the title. Sangeeth Mohan is the first ever Indian to win a Main Event at the Asian Poker Tour! He will collect a handsome 1st place prize of INR 2.3 million (US $46,200) along with the inaugural APT Goa Main Event trophy. It's been a rewarding week for the Kochi-based pro as he also cashed in the Greed event held a couple of days earlier. PokerNews India would like to extend its congratulations to Sangeeth Mohan on his fantastic performance as well as to all the players who made the money.
The week long APT which took place from 8 - 14 November, had a schedule which featured a total of 9 individual events including the INR 50,000 Main Event. Originally the schedule was to feature only 8 tournaments, however the organisers decided at the last minute to add on a Super Highroller event with a buy-in of INR 250,000. All tournaments featured No Limit Holdem and, other than the Main Event, were 1 day events. Here's a quick look at the results from the other APT Goa events:-

| | Event | Buy-in (INR) | Field Size | Winner | |
| --- | --- | --- | --- | --- | --- |
| | Event #1 Freezeout | 5,000 | 89 | Phil Sanders | |
| | Event #2 Headhunter | 15,000 | 75 | Amit Varma | |
| | Event #3 Highrollers | 250,000 | 8 | Phil Sanders | |
| | Event #4 Freezeout | 10,000 | 78 | Aditya Agarwal | |
| | Event #5 Freezeout | 15,000 | 33 | Hong Yun | |
| | Event #6 Greed | 15,000 | 39 | Sangeeth Mohan | |
| | Event #7 Freezeout | 20,000 | 48 | Tom Hall | |
| | Event #7 6-Handed | 15,000 | 38 | Akash Malik | |
So an exciting entry for the Asian Poker Tour into India with their inaugural series in Goa. As the presentation ceremony was wrapped up by Lloyd Fontillas, he did mention that the APT will come back to India in May 2012.