Size Does Matter at Unibet Poker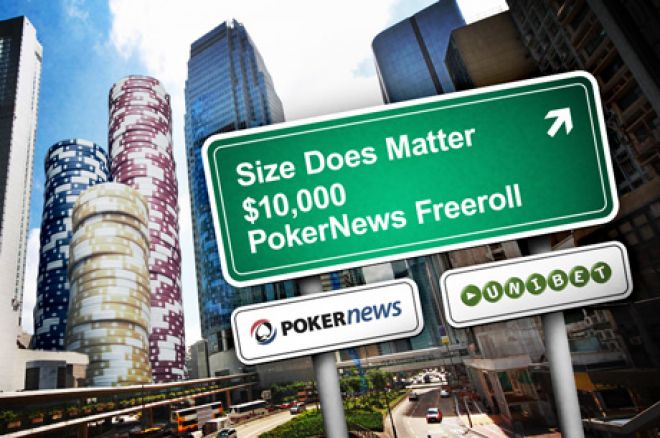 To win your share of an easy $10,000, all you have to do is download Unibet Poker and take part in the Unibet Size Does Matter promotion!
The Unibet Size Does Matter promotion could just end up being the easiest cash you've made all year.
The promotion takes place between Nov. 11 and continues until Dec. 15 and is a fun new initiative which sees players challenging for a special freeroll seat, which will be played in a unique format.
The difference between this promotion and all others is that the special format sees the starting stacks of each player being dependent on the amount VIP points accumulated during the promotion period.
Size Does Matter
The $10,000 freeroll is set for Dec. 18th at 18:00 GMT and each participant will feature are starting stack of chips which is determined by how many VIP points were earned during the period as outlined above.
This unique system allows players of all bankrolls and play volumes a chance at taking part in massive freeroll which will award $10,000 to our players!
How the Stacks are Awarded
Each player will be awarded a starting stack of 100 chips for every 100 VIP points which were earned during the promotion period. Players are encouraged to earn as many VIP points as they can in order to accumulate the maximum of 3,000 starting chips.
In order to qualify for the event, players need to earn a minimum of 100 VIP points. This means any player who earns 100 VIP will be awarded a seat into the Unibet Size Does Matter freeroll!
See below for an example of how many chips you can start the freeroll with, depending on how many VIP Points you manage to earn.
Size Does Matter Final Starting Stack Amounts

100-199 VIP Points: 100-chip starting stack.
200-299 VIP Points: 200-chip starting stack.
300-399 VIP Points: 300-chip starting stack.
400-499 VIP Points: 400-chip starting stack.
500-599 VIP Points: 500-chip starting stack
Above pattern continues in 100 chip increments until…
3000+ VIP Points: 3,000-chip starting stack!
The freeroll will be played as a deep-stack freezeout tournament and is sure to give players plenty of time to play, regardless of how many starting chips they managed to accumulate. Earning VIP is really easy, so there are no excuses to not take to the felt.
It will be the top 20 percent of finishers in the freeroll who will earn the biggest share of the huge $10,000 prize pool, all thanks to PokerNews and Unibet Poker!
For more information, head over to the Unibet Size Does Matter promotion page
If you don't have a Unibet Poker account but would still like to hit the tables in the Size Does Matter promotion, make sure you sign-up to Unibet Poker through PokerNews India and utilize our massive €1,000 bonus welcome bonus.
To find out more, head to our Unibet Welcome Bonus page and then download Unibet.
If you experience any problems with this or any of our promotions, please contact our Ticketed Promo Support System.