The Nightly Turbo: JP Kelly Out at PokerStars, Winner at Premier League, & More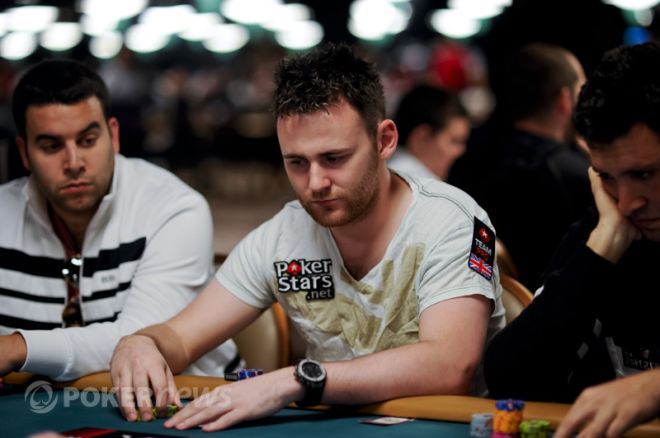 The Nightly Turbo is bringing you all the news from the poker world as it happens. And what a day for online poker with Groupe Bernard Tapie and the Department of Justice reportedly agreed on a deal for the sale of Full Tilt Poker. The IFP Nations Cup kicked off in London. An online poker hearing took place on Capitol Hill. And, most importantly, a movie about the Devilfish may be in motion. All this and more in this edition of the Nightly Turbo.
In Case You Missed It
On Thursday, news broke that a signed deal had been reached to allow Groupe Bernard Tapie to buy Full Tilt Poker. The news was under embargo, but was released early, proving there's a little run-good left for Full Tilt Poker players. Is the repayment of players closer than we thought?
PokerStars is celebrating its 10th Anniversary next month. We decided to take a look back at the past 10 years in the company's history and bring you our top 10 moments.
The Global Poker Index released its rankings as of Nov. 14. Eric Seidel's grip on the top spot may be slipping, and we tell you why.
Jared "harrington25" Bleznick recently announced his retirement from online poker, but he still plans to do some coaching. Bleznick explains why he came to that decision in the latest Strategy with Kristy podcast.
Day 2 of the PokerStars.com European Poker Tour Loutraki Main Event came to a close on Thursday. While several notables hit the rail, Team PokerStars Pro Toni Judet was on top when the players bagged their chips.
Andy Frankenberger Wins PartyPoker Premier League
He's the reigning World Poker Tour Player of the Year. He recently won a World Series of Poker bracelet. And now, he's champion of the PartyPoker Premier League Mixed Game Championship.
On Thursday, Andy Frankenberger bested an impossibly tough final table to win the latest version of the PartyPoker Premier League. Frankenberger entered the final with the fifth most chips based on his performance in the three preliminary heats but claimed victory after defeating Andrew Feldman heads-up for the title.
Frankenberger now stands beside Juha Helppi, Andy Black, JC Tran and David Benyamine as Premier League champions.
Frankenberger and Feldman battled for more than two hours before Frankenberger found a lucky river card on the final hand to end the match. Feldman was all-in preflop holding
against Frankenberger's
, but the
board gave Frankenberger a Broadway straight and the title. He earned $100,000 for the victory, while Feldman collected $65,000 for his runner-up finish.
Here's a look at the final results from the PartyPoker Premier League Mixed Game Championship:
| Place | Player | Prize |
| --- | --- | --- |
| 1 | Andy Frankenberger | $100,000 |
| 2 | Andrew Feldman | $87,399 |
| 3 | Sorel Mizzi | $45,000 |
| 4 | Max Pescatori | $35,000 |
| 5 | James Dempsey | $30,000 |
| 6 | Matt Giannetti | $25,000 |
All the action from the PartyPoker Premier League Mixed Game Championship can be found at PartyPoker.com.
JP Kelly, Juan Maceiras No Longer Team PokerStars Pros
On Thursday, PokerNews learned that J.P. Kelly and Juan Maceiras Lapido are no longer part of the Team PokerStars roster. Both players' pages were removed on the PokerStars website and, likewise, their names were removed from the list of Team PokerStars players in the client. Kelly has also switched his Twitter name from @JPKellyStars to @JP_Kelly5.
Kelly is a two-time World Series of Poker bracelet winner who got plenty of exposure during his deep run at this year's WSOP Main Event, where he took 26th for $302,000. He joined Team PokerStars after winning his dual WSOP bracelets in 2009 (one came at WSOP Europe). Since then, he's established himself as one of the many up-and-coming poker superstars from the United Kingdom.
Spanish pro Juan Maceiras Lapido joined Team PokerStars in 2009, becoming the first player from Spain to be added to the roster. He is third on Spain's all-time winnings list with more than $1.1 million in earnings, trailing only Carlos Mortensen and Raul Paez Corral.
Jake Cody Joins Team PKR
Last week, PKR.com announced that it was set to unveil the newest member of Team PKR Pro. According to a statement made by the site, the would-be arrival is "among the best poker players in the world."
Turns out PKR wasn't kidding. On Thursday, Triple Crown winner Jake Cody joined the team of sponsored pros at PKR and will represent the poker room in the biggest events across the globe.
"I'm very excited about joining Team PKR Pro" said Cody, who has major wins at the World Series of Poker, European Poker Tour and World Poker Tour.
"I've been patient with sponsorship, waiting for the right deal to come along. When I spoke to PKR I was really impressed with the whole setup and the ideas that they have going forward, and I knew straight away I wanted to be part of it! It's a great site to be involved with right now and I think I can help take it to the next level."
Get more on this story here at PokerNews.com.
Feature Film About Devilfish?
Dave "Devilfish" Ulliott's latest book about his life as a poker player is set to become a movie, according to Ulliott's agency, Poker Icons. The book, titled The Life and Times of a Poker Legend, takes readers on a roller-coaster ride through the highs and lows of life as a professional gambler.
Ulliott's reign as the United Kingdom's all-time winningest poker player ended this week when young gun Sam Trickett passed him in winnings. However, Ulliott still has more than $6 million in earnings and is one of the most revered poker players the game has ever known. He has a World Series of Poker bracelet, a World Poker Tour title, and has made several appearances on televised shows such as the PartyPoker Premier League and Late Night Poker.
In addition to the news about his upcoming movie, Ulliott is getting married on Saturday. Tony G sent his best wishes from London:
Read more about the Devilfish at the Poker Icons website.
Team 888poker Members Compete in IFP Nations Cup
The International Federation of Poker (IFP) launched the inaugural Nations Cup on Thursday, pitting 12 teams against each other in an innovative variant of team poker called "duplicate poker." The event, part of the London Mind Sports Festival, will keep the element of luck in the game to a minimum as players will be dealt exactly the same cards in exactly the same position on neighboring tables.
Among the countries participating in the event will be the United States, Spain, Germany, Holland, Denmark, Australia, and Ireland. Team 888poker pros Padraig Parkinson (Ireland), Sam Holden (United Kingdom), and Shane Warne (Australia) are representing their respective countries against some of the most respected and accomplished poker players in the world.
"We are proud to have Team 888poker be part of this history changing event in poker," said 888poker Marketing Director Gareth Edwards in a press release. "We wish our guys the best of luck, or should I say, skill."
Details on the Nations Cup and the IPF World Champions can be found at the International Federation of Poker's website.
Documentary Features Adrienne "talonchick" Rowsome
A documentary featuring Team PokerStars Online member Adrienne "talonchick" Rowsome was released on Thursday. The short film tells Rowsome's unique story in which she splits her life as an occupational therapist and poker player.
Rowsome, who joined Team PokerStars in July 2010, is currently the only female on the Online team. What makes her story so unusual is that she's not a full-time poker pro. She spends her days as an occupational therapist, a job she's held for nine years. She considers herself a therapist first and a poker player second.
Despite holding a full-time job for the past nine years, Rowsome has earned PokerStars Supernova VIP status every year since 2006, helping her to afford the extras in life, such as purses, jewelry, down payments on a house, and her dream car, among other things. "I take great pride in my jobs, whether it is taking care of patients or representing PokerStars," she says.
You can watch the full documentary right here:
Read more about Rowsome here at PokerNews.com.
Are you following PokerNews on Twitter? Like us on Facebook while you're at it, and sign up for the newsletter. You know you want to.