The Nightly Turbo: Leeann Tweeden in Playboy, Caesars CEO Talks Legislation, & More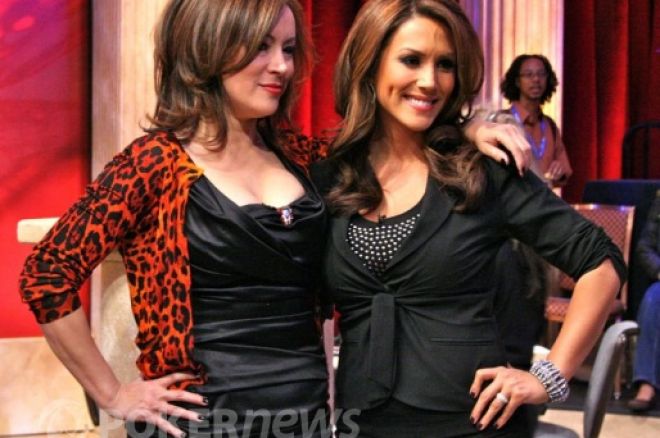 The Nightly Turbo brings you all the latest news from around the world as it happens. Caesars Entertainment is set to host the World Series of Poker Main Event finale Tuesday night, but the company's chief executive officer also made some interesting comments about the future of online poker. In this edition of the Nightly Turbo, we bring you the latest statements from Caesars CEO Gary Loveman, a popular TV poker hostess posing for Playboy, and more.
In Case You Missed It
Only three players remain in poker's biggest event of the year. PokerNews' Rich Ryan predicts who will win the World Series of Poker Main Event in his latest Five Thoughts piece.
Dan Nassif took ninth place in the 2006 WSOP Main Event but hasn't been around much since. We caught up with Nassif to find out what he's been up to in the latest edition of Where Are They Now.
The World Series of Poker Circuit event in Biloxi crowned a champion on Monday night. Jerry Monroe bested "Wild" Bill Phillips heads-up to collect first prize of $112,778.
Leeann Tweeden Reveals Her Cards
Christmas has come early this year. Leeann Tweeden, the former hostess of NBC's Poker After Dark and the National Heads-Up Poker Championship, will be featured in the December issue of Playboy magazine, which hits stands on Friday, Nov. 11. Tweeden will be gracing the cover of the issue wearing a red Christmas bow next to the headline, "Queen of Hearts, Leeann Tweeden, Poker's Biggest Draw Undressed."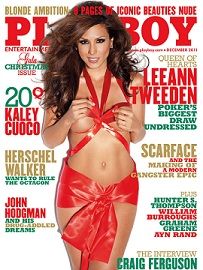 Tweeden, 38, spent six years as a correspondent for Fox Sports' Best Damn Sports Show Period before signing on as the third host of Poker After Dark in 2008. Her interaction with poker's top players at the late-night NBC program was her first deep look into the world of poker.
"A lot of the poker players are math whizzes, MIT grads with multiple doctorates," Tweeden told Playboy. "They're brilliant, and they're cool people, but a lot of them are not socialized. They spend their time online."
Some photos from Tweeden's Playboy issue are already floating around the Internet, but you can find a sneak peak at Playboy.com (Caution: NSFW).
Caesars Entertainment CEO Optimistic About Online Poker
On Tuesday, Caesars Entertainment CEO Gary Loveman addressed the current landscape of online poker during his quarterly conference call to investors. Loveman said he is optimistic about the passage of online poker on the Internet, and that it would take 12 to 14 months for Caesars to get online poker operating once a bill is signed into law.
In March, Caesars inked a deal with 888 Holdings LLC to market the World Series of Poker and Caesars brands to virtual gamblers overseas. The deal was approved by the Nevada Gaming Control Board and made Caesars the first Nevada gaming licensee approved to partner with an overseas online gambling company. Caesars and 888 Holdings have since been involved in advanced talks about providing an online poker platform in the U.S, which would certainly form one of the most powerful brands in an untapped market.
A handful of billionaires and companies have been putting plans in motion for the potential of online gambling in the States. MGM Resorts, Fertitta Interactive and even Trump Entertainment Resorts, among others, have announced their intentions to grab a stake in the market, and Loveman said Tuesday that he is pleased that more of his gaming colleagues have climbed on board with their support of online poker legalization.
Read more of Loveman's comments at the Las Vegas Review-Journal.
Bwin.party Reports Poker Revenue Growth in Third Quarter
Gaming giant bwin.party entertainment plc announced its 2011 third quarter financial results on Tuesday. The company showed poker revenues of €52.3 million in Q3, a three percent increase over the second quarter and a minimal decline against the €52.5 million in poker revenues recorded in the same quarter last year.
Active players at PartyPoker dropped 10 percent in the third quarter compared to last year. The company blamed the slide on "challenging competitive conditions in global dot-com poker, the seasonal decline in player activity was partly mitigated by a strong performance in Italy and the interim closure of Full Tilt on June 29."
The company also saw an increase of eight percent in yield per active player in the third quarter compared to 2010. Players yielded an average of €69.8 in Q3 against €64.5 during the same time last year.
"Trading remained solid in the third quarter thanks to the launch of new games in Italy on July 18, 2011, as well as the interim closure of Full Tilt Poker, both of which have been positive for poker and casino revenues in the period," said co-CEOs Jim Ryan and Norbert Teufelberger in a joint statement.
"During the first few weeks of the fourth quarter, average daily revenues have remained robust and in line with our expectations."
Bwin.party has been working tirelessly toward positioning itself for a return to the U.S. market when online poker legislation is passed. Last week, bwin.party joined forces with MGM Resorts International and Boyd Gaming to create an online poker company, of which bwin.party will own 65 percent. MGM will own 25 percent and Boyd Gaming will own 10 percent.
The full Q3 financial report can be found at bwinparty.com.
Online Poker Traffic Report
The online poker traffic numbers from last week have been released. PokerScout.com reported a worldwide increase of 12.5 percent, with all of the top 10 networks and sites seeing a rise from the previous week.
The biggest factor in the impressive traffic growth was the 70 Billionth Hand promotion at PokerStars. The world's No. 1 online poker room saw a 22 percent increase, adding to the prior week's six percent growth. PokerStars had a seven-day average of more than 27,000 real money cash game players during the week, which was more than the rest of the top 10 sites and networks combined.
PartyPoker held on to the No. 2 slot for the seventh straight week, but the iPoker Network continued to gain ground. 888poker and the Ongame Network rounded out the top five, and PokerStars.fr passed sister site PokerStars.it for the sixth position.
As for year-over-year numbers, PokerScout's ACES indicator reports that online poker traffic (with the exception of Italy) has decreased by 24 percent in the last year. The shutdown of Full Tilt Poker and the CEREUS Network is mostly to blame, but the Ongame Network (down 23 percent) and the Cake Poker Network (down 22 percent) has also seen declines since last November. The biggest climbers in the past year are 888poker (up 83 percent), the Merge Gaming Network (up 71 percent), and Bodog (up 57 percent).
Get the full report at PokerScout.com.
It's Brett Richey
Remember the awesome rap video collaboration from Brett Richey and the PokerNews staff this summer? Well, Richey is back. The high-stakes poker pro released another track about his friend Ben Lamb at the World Series of Poker Main Event final table. Lamb happens to be playing for the $8.7 million top prize in the finale tonight.
Are you following PokerNews on Twitter? Like us on Facebook while you're at it, and sign up for the newsletter. You know you want to.