The Nightly Turbo: Martin Staszko's New Home, $100 Million Event in Macau, and More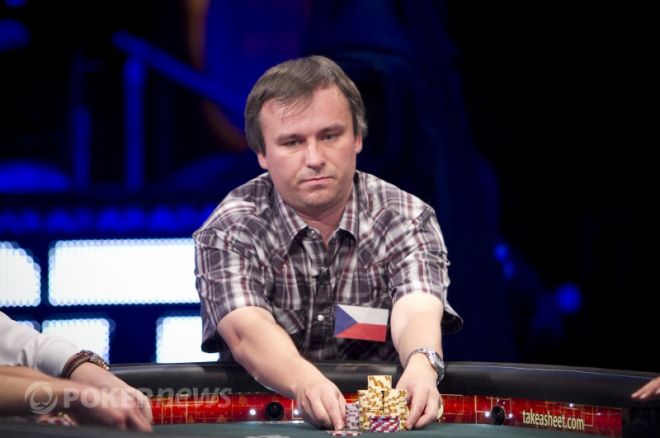 PokerStars dominated the headlines on Tuesday. In addition to its ongoing reign over the online traffic rankings, PokerStars attached its brand to a German football stadium, and rumors circled that a 2011 November Niner was added to Team PokerStars Pro. Read about those stories and more in this edition of the Nightly Turbo.
In Case You Missed It
A huge cash game in Macau drew some of the biggest names in poker last week. Chad Holloway breaks down the action from the StarWorld's Poker King Club.
U.S. Rep. Joe Barton (R-Texas) has been one of the major advocates of online poker on Capitol Hill. He discussed Internet poker legislation and building on previously introduced bills in an exclusive interview with PokerNews.
The PokerNews Podcast hit the Midwest this week. The crew caught up with Wisconsin native Eric Baldwin to talk about his hometown and his recent win at the Venetian Deep Stack Extravaganza.
Phil Ivey made a triumphant return to poker last week. Rich Ryan discusses Ivey's comeback and the big game in Macau in his latest Five Thoughts piece.
Martin Staszko Joining Team PokerStars?
2011 World Series of Poker Main Event runner-up Martin Staszko is rumored to be the newest member of Team PokerStars Pro, multiple outlets reported on Tuesday.
Although Staszko's profile page hasn't been added to the PokerStars website and he isn't listed as a Team Pro in the PokerStars lobby, the 35-year-old has supposedly signed on to become the second player from the Czech Republic to represent the site (Martin Hruby was the first).
We reached out to PokerStars for comment on Tuesday, but representatives could not confirm that a deal had been finalized.
Staszko was an unknown before a remarkable run in the WSOP Main Event saw him earn more than $5.4 million. He lost the heads-up duel to Pius Heinz, who signed a sponsorship deal with PokerStars earlier this month.
Staszko plays on PokerStars under the moniker "filfedra" and has enjoyed an incredible amount of success on the site. In May, he took down a Spring Championship of Online Poker event for $91,500, and also had a fourth place finished in a World Championship of Online Poker (WCOOP) event in September for more than $73,000.
World's Largest Poker Tournament in Macau?
Plans for a proposed $100 million poker tournament are in the works in Asia, making for what would be the largest poker tournament ever held.
American businessman William Murray told GamingToday that five Chinese companies have been working to create the Macau Pro Am Open for spring 2013. The goal is to generate a prize pool of between $65 million and $100 million with a first-place prize as high as $25 million.
"The objective is to have 500 participants, including a third come from the Far East, a third from the United States and a third elsewhere," Murray told GamingToday. "With a field as small for a total as big, we can deduce that the entry fees will be substantial unless the sponsors, whose names are not revealed, only support a portion of the prize pool."
Our calculator watch tells us the buy-in would be $200,000 for the Main Event, according to Murray's projections. To compare, this year's $100,000 Super High Roller event at the PokerStars Caribbean Adventure drew 38 players, with Eugene Katchalov earning $1.5 million for first place. Murray's goal of 500 players seems lofty, but the high-stakes action has been booming in Macau of late.
Get more on this story at GamingToday, and follow PokerNews for future updates.
PokerStars Sponsors Football Stadium
PokerStars is the latest online poker room to enter the German sports sponsorship market. The poker site recently won the naming rights to Stadion an der Löhmuhle, an 18,000 capacity stadium in Lübeck, Germany. As of Nov. 23, the stadium is called PokerStars.de — Stadion an der Lohmühle.
Lübeck's multi-use stadium is mostly used for football matches and is home to fourth-division soccer club VfB Lübeck. The three-year deal with PokerStars is reportedly worth €120,000 per season with an option for 2016.
The football team is located within the German state of Schleswig-Holstein, which is in the process of opening its doors to online gambling operators. In September, the state became the first to legalize and regulate online poker, and operators will be able to apply for online betting licenses in March 2012. PokerStars has been a huge supporter of Schleswig-Holstein's movement toward legalization of online gaming in Germany.
Read more at eGamingReview.
2012 Venetian Deep Stack Extravaganza Schedule
The Venetian poker room has released its schedule for the 2012 Deep Stack Extravaganza I. The 44-event series kicks off on Jan. 26 and concludes with a three-day $2,500 Main Event from Feb. 19 through Feb. 21.
In addition to some new events and buy-ins, the biggest change to the first DSE of 2012 will be the location. The series moves to the Palazzo Hotel and Casino because the Venetian is undergoing a casino remodel.
Last week, poker pro Scott Clements won the 2011 Deep Stack Extravaganza IV Main Event for $145,775. The event drew 265 entries to create a prize pool of more than $600,000.
The complete 2012 Deep Stack Extravaganza I schedule can be found at the Venetian's website.
Online Poker Traffic Update
The online poker traffic numbers from last week have been released. PokerScout.com reported a worldwide increase of 1 percent, mostly from a significant rise at PokerStars.
PokerStars held the No. 1 spot in the rankings and saw its traffic climb by 4 percent from the previous week. The site is celebrating its 10th anniversary and is rolling out several promotions for customers to cash in on. The iPoker Network landed at No. 2 for the second week despite a 1 percent decline in traffic, and PartyPoker came in third after a 2 percent drop. 888poker and the OnGame Network rounded out the top five, respectively.
Bodog continued its ascent up the rankings by moving up one spot to No. 11 this week. The growing poker room was ranked 15th three weeks ago and is quickly closing in on the top 10.
As for year-over-year numbers, PokerScout's ACES indicator reports that online poker traffic (with the exception of Italy) has decreased by 28 percent over the past year. Aside from the obvious traffic extinction at Full Tilt Poker and the CEREUS Network, the Entraction Network (down 43%) and the International Poker Network (down 39%) have also seen significant drops since November 2010. The biggest climbers in the past year are 888poker (up 74%), the Merge Gaming Network (up 67%) and Bodog (up 64%).
Get the full report at PokerScout.com.
Adrienne "talonchick" Rowsome Trains for P-C-Eh
Team PokerStars Online Pro Adrienne "talonchick" Rowsome has never been to the PokerStars Caribbean Adventure in the Bahamas but be making an appearance in the upcoming series in January to play the final table of the Canada Cup. The Edmonton, Alberta, native isn't familiar with hot weather and sandy beaches, so she's been preparing for the PCA by doing some "climate training" in Florida. Have a look:
You can also get a look at Rowsome's life as an occupational therapist and part-time poker pro in a short documentary released by PokerStars earlier this month.
Are you following PokerNews on Twitter? Like us on Facebook while you're at it, and sign up for the newsletter. You know you want to.