The Nightly Turbo: PokerStars' 70 Billionth Hand, Giannetti Finds Sponsor, and More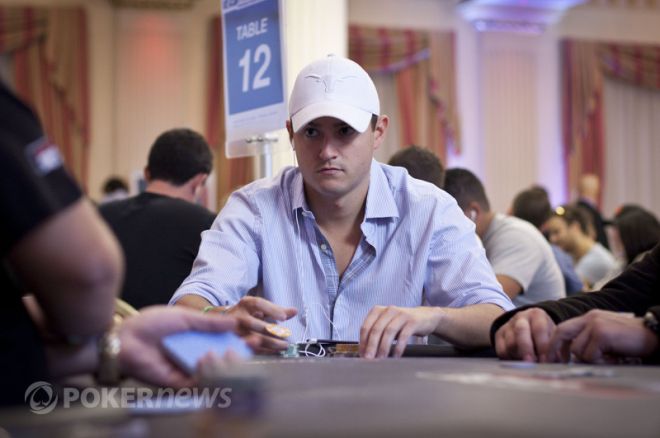 The Nightly Turbo brings you all the latest news from around the world as it happens. PokerStars gave away more than $70,000 as part of its 70 Billionth Hand promotion on Thursday night, but it didn't come without a little controversy. In this edition of the Nightly Turbo, we bring you a statement from PokerStars about its milestone celebration, a new sponsor for 2011 WSOP November Niner Matt Giannetti, and more.
In Case You Missed It
The days until the 2011 World Series of Poker November Nine are dwindling, and we're always curious to find out how the members of the prestigious Final Table are spending their time. We recently talked to Pius Heinz to find out how he's been preparing for poker's biggest stage.
How was the high-stakes action at the PokerStars tables this week? Read the Online Railbird Report to find out the week's biggest winners and losers.
The World Poker Tour Main Event in Amneville was down to 76 players after Day 2. Find out who was leading the way in our daily recap.
The WSOP Main Event final table kicks off Sunday afternoon. Team PokerNews gave their predictions for poker's biggest spectacle.
Sunday is almost here and that means football. Rich Ryan gives you three keys to each of this week's games in the latest Pigskin Diaries.
Miss anything this week? Sarah Grant gets you caught up on the latest news, views and gossip in the PokerNews Weekly.
PokerStars Deals 70 Billionth Hand
PokerStars dealt its 70 billionth hand late Thursday night, giving one lucky player more than $70,000 as part of the Mega Milestone celebration. PokerStars gave away hundreds of thousands of dollars over the past week leading up to the 70 billionth hand, which came one month before the site celebrates its 10th Anniversary.
Play was halted at a $.25/.50 no-limit hold'em heads-up table Thursday night when two German players were informed that they were about to be a part of history. Railbirds flocked to the table as the two players put their $25 stacks preflop; one player was about to win $73,380, while the other would collect $1,700.
Koenigskeba:

DodgeUrOuts:
The board came
, giving "Koenigskeba" a winning pair of aces and the grand prize.
Then came the controversy. After the river card was dealt, several onlookers discovered that the two winners had been working together by folding hands as quickly as possible leading up to the milestone. Since they weren't paying any rake, they were basically freerolling for a shot at the milestone prize.
That sparked confusion and even animosity from players who had been taking part in the promotion. On Friday, PokerNews reached out to PokerStars for a statement. Here's the response we received:
"The winner of our 70 billion hand promotion appears to have worked with another player to use "fast-folding" methods in an attempt to gain an advantage, which has raised concerns among a number of our players. We have reviewed the circumstances around the winning hand and have determined that while the fast-folding may not be in the spirit of the promotion, it does not violate the rules and regulations of the promotion or our Terms of Service. As such, we will honour our promotional award."
"We are reviewing the format of the promotion to try to minimize this kind of activity in future milestone hand promotions. We'll provide more information on this in the near future. Rest assured that any format revisions will be implemented in time for the next milestone hands promotion, which will be a special edition during the 10th Anniversary celebrations."
Read more about the 70 Billionth Hand promotion at the PokerStars Blog.
Giannetti Powered By Fuse
The World Series of Poker Main Event is just days away, and the sponsors are starting to line up. November Niner Matt Giannetti revealed Friday that he has signed a deal with Fuse Science to represent that company at the final table. Giannetti will be using an anti-inflammatory topical gel called EnerJel at the final table and will also use the product as his card protector.
"With EnerJel, it's no question. I feel the burst of energy in just seconds as opposed to a half hour or more with the standard energy drinks and shots," said Giannetti. "EnerJel will help me keep my focus throughout the tournament, and its all-natural healthy boost of energy is exactly what I need. I can't worry about getting the jitters from downing an energy drink. My focus will solely be on winning this event; I can't let fatigue get in the way."
EnerJel is also endorsed by Philadelphia Eagles quarterback Micheal Vick and Houston Texans running back Arian Foster. While it may not be the ideal fit for a poker player at the WSOP Main Event (see Pius Heiz's deal with PokerStars below), it's good to see a U.S.-based November Niner finding a sponsor after Black Friday.
The full press release can be found at Yahoo.com.
Pius Heinz joins team PokerStars
On Friday, PokerStars announced that 2011 World Series of Poker November Niner Pius Heinz is the newest member of Team PokerStars. The German poker pro is set to compete for his first bracelet and $8.7 million at the upcoming WSOP Main Event final table.
Heinz, 22, is a rising star in the game with more than $700,000 in online tournament earnings, plus another $100,000-plus in earnings on the live felt. He made his first WSOP final table in a $1,500 buy-in event in June, and followed it up with an impressive run in the Main Event.
"I'm pretty relaxed about the game," said Heinz, who enters the Main Event final table seventh in chips. "There are a lot of tough players left but I'm confident I can win it. Joining PokerStars has given me an extra lift, too. I'm looking forward to being part of the team."
Heinz joins the likes of Sanda Naujoks, Sebastian Ruthenberg and Boris Becker as a Team PokerStars member from Germany.
Read the full story here at PokerNews.com.
Nouvelle Maison Pour Duhamel
A new poker room in Quebec is preparing to open its doors this fall, and one former world champ is calling the setting his new home. Reigning World Series of Poker Main Event champ Jonathan Duhamel has teamed up with some other well-known Canadian pros to promote the Stardust Poker Mansion, located in Kahnawake on the South Shore of Montreal.
The room is the brainchild of managers Yann Bergeron and Isham Yamani, whose objective was to create a luxurious poker venue that rivals the top poker rooms in the world.
According to the website, the Stardust Poker Mansion will open with 20 poker tables standing six feet apart, each equipped with a racetrack to provide the utmost comfort for each player. Also provided will be an entire floor in the mansion reserved for a gourmet restaurant.
Duhamel and poker pros Marc Stephen McLaughlin, Chris McClung, Gabriel Houle Morin and Genevieve Gloutnez are the first elected members of the Stardust Poker Club. The team will be focused on building social awareness by hosting charity events to give back to the community.
Sick new poker room that is opening soon!!! Go check it out it will be CRAZY in Montreal!!! So happy to be part of it!! http://t.co/94hjEVuT

— Jonathan Duhamel (@JonathanDuhamel)
Learn more at the Stardust Poker Mansion's website.
Follow PokerNews on Twitter for up-to-the-minute news.
Black Friday Sites Receive Extension
Full Tilt Poker, PokerStars and Absolute Poker have received an extension to respond to an amended civil complaint issued on Sept. 20, 2011. The three sites had a previous deadline of Oct. 31, but they have been granted until the end of November to give their responses.
The extensions were permitted by U.S. Attorney for the Southern District of New York Preet Bharara following appeals sent by the companies ahead of the Oct. 31 deadline. The companies had already been granted one extension to the original deadline of Sept. 30.
The news came in the same week that prospective investor Groupe Bernard Tapie allegedly reached an agreement with the Department of Justice to continue its purchase of Full Tilt Poker. That deal is expected to come in the next couple weeks.
Last week, the Kahnawake Gaming Commission issued a statement saying that the CEREUS Network had proposed a repayment plan to repay players at its two sites, Absolute Poker and UB. The announcement came just a few days before the Oct. 31 deadline.
Indicted payment processor Chad Elie was given the same Nov. 30 extension as the three online sites. Elie, along with indicted bank owner John Campos, filed a motion to dismiss the civil complaint last month. He originally pleaded not guilty to the nine charges against him back in April.
The filings can be found online Justia.com.