The Nightly Turbo: PokerStars Cracks Down on U.S., Alan Meltzer Passes Away, & More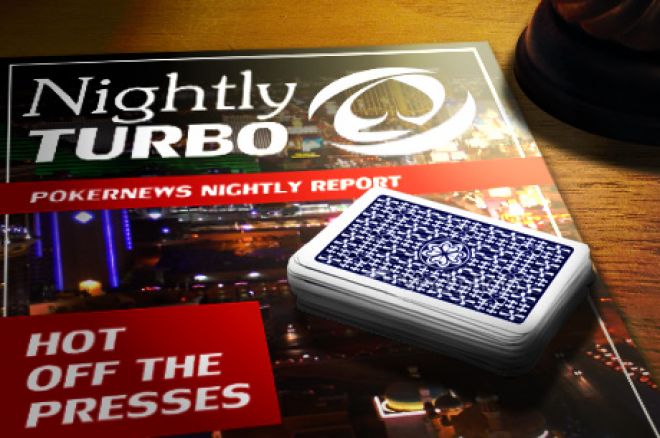 The Nightly Turbo brings you all the latest news from around the world as it happens. Big news out of Las Vegas broke on Monday as MGM Resorts International and Boyd Gaming announced they will join with bwin.party to form an online poker site when legislation passes in the U.S. Also in this edition of the Nightly Turbo, we bring you an exclusive report regarding Kim Kardashian's divorce from Kris Humphries. Just kidding. We do, however, have news about PokerStars cracking down on players in the U.S., the tragic death of Alan Meltzer, and more.
In Case You Missed It
The days until the 2011 World Series of Poker November Nine are dwindling and we're always curious to find out how the members of the prestigious Final Table are spending their time. We recently talked to Anton Makiievskyi to find out how he's preparing for poker's biggest stage.
How did the Sunday Majors play out yesterday on PokerStars? Who took home the biggest win? Find out in the Sunday Briefing.
The World Poker Tour World Poker Finals at Foxwoods reached the "unofficial" final table on Sunday. Get all the details in our daily recap.
Last week, we learned about how Team PokerStars Pro Angel Guillen got his start in poker. This week, we find out more about his life as a pro in part two of our "Seat Open with..." series.
Alan Meltzer Passes Away
On Monday, the poker community was sad to learn that recreational high-stakes poker player Alan Meltzer had passed away. According to friend David "Viffer" Peat, Meltzer died at his home. "It was just his time," Peat wrote via Twitter.
Rest in peace Allen Meltzer you made so many peoples life more enjoyable and really made me a better person, you will be missed.

— David (@4viffer)
Meltzer was a wealthy music executive who made regular trips to Las Vegas to compete in some of the toughest cash games in the world. In 2009, Meltzer made an appearance on High Stakes Poker and played several pots against the likes of Tom Dwan, Phil Laak, Eli Elezra and Doyle Brunson. He played one memorable pot with Dwan and saw more than $500,000 end up in the middle.
Our thoughts and prayers go out to Meltzer's family and close friends. Here are a few reactions from the poker community after learning of Meltzer's death:
One of my business mentor's passed away, he owned largest independent record label in the world. Alan Meltzer loved poker & charity #Rip

— Dan Fleyshman (@DanFleyshman)
RIP Alan Meltzer, you were one of the greatest people I've ever known. Such a big heart. You will be missed

— Andrew Robl (@Andrew_Robl)
Very sad RIP RT @4viffer: RIP Allen Meltzer you made so many peoples life more enjoyable & really made me a better person, U will be missed

— Christian Harder (@realcharder30)
PokerStars Cracks Down on U.S. Players
In April, PokerStars came to an agreement with the U.S. Department of Justice that forced the site to stop taking bets from U.S. players. That decision prompted many Americans to leave the country to resume their poker careers. However, it appears some players have ignored the site's new terms of service and have been playing from their homes in the States.
According to PokerStars VIP Manager Steve Day, several poker players in the U.S. have been logging in and playing real-money games by using Virtual Private Network (VPN), a method by which a player's Internet connection is routed through another country to mask their IP address. Day joined the TwoPlusTwo Pokercast last week and said that some players have avoided detection of PokerStars security, but others have had their accounts suspended and funds frozen.
Day says that PokerStars is enforcing the use of VPN networks and, while he isn't sure what the ultimate consequences will be, the penalties could be extremely severe.
"We're not really sure what will happen (to the suspended accounts) yet," said Day. "The accounts get frozen, and then we wait for guidance from the independent moderator who was appointed by the Department of Justice as to what to do with the funds in these accounts and the ability to play in the future."
The PokerStars Terms of Service clearly states that real-money play is not allowed from the U.S. under any circumstances. It reads, "Players who attempt to play for real money from inside the US with the aid of VPNs or other technical workarounds will lose their playing privileges and/or funds in their account."
Day recounted one example of a player who was trying to earn Supernova Elite status and was told by friends that it was safe to play on a VPN. The player then had his account suspended and his the status of his funds are now in question.
"Tell all your friends — it's a mistake to try to do this," Day added. "Many people are getting caught, and the consequences are severe. We have to enforce the rules."
Listen to the full interview at TwoPlusTwo.
Scammer Cheats High-Stakes Players out of Millions
An alleged online poker scam caught the attention of the online poker community after multiple reports hit the wire on Monday. Two victims, one Austrian and one Swiss, revealed last week that they had been cheated by a London-based German player who installed a Trojan on their computer that allowed him to see their hole cards in future online matches.
A report from German site Hochgepokert.com indicates that the main suspect is [Removed:9], a high-stakes regular known by the online handle "mexx86." Hochgepokert reports that Ashkar had scammed the aforementioned players of at least €350,000, and the minimum number of victims is estimated at two dozen.
Poker pro Bernhard Braumandl stated on TwoPlusTwo Monday that the alleged cheater "scammed our house for 100k+ alone, all together he made at least 2 million probably a lot more." Braumandl claims that the Trojan was installed using a USB stick and took a matter of seconds to complete.
Braumandl also mentioned that Ashkar had attempted to befriend every well-known poker player on Facebook to target potential scams. "If he ever was near your laptop/pc since February this year there's a high chance he scammed you as well," Braumandl said.
More details can be found at Hochgepokert.com. We recommend you use Google Translate if needed.
888poker Launches Social Networking Features
With social media growing by the day worldwide, more and more online poker sites are infusing the interactive model into their software.
The latest is 888poker, which has introduced a new private games feature that allows players to create their own tournaments or game games. The feature, called 888poker Lounges, offers several options for private games. Players can set their own limits, format, prize structure and add unique new additional features such as PokerCam.
"Imagine the ability to play just your friends in a private game AND hear and see each other via webcam," 888poker said in a press release.
Once a private game is set up, players can invite their friends and to join using email, Facebook and Twitter invite options.
More info on 888poker Lounges can be found at 888poker.com.
MGM and Boyd Gaming Stike Deal with Bwin.Party for Online Poker Venture
On Monday, MarketWatch announced that MGM Resorts International and Boyd Gaming joined forces with Bwin.Party to create a new company in anticipation of legalized online gambling in the U.S. The joint venture marks the latest in a long line of companies looking to join the race for a share of the online gambling market in the States.
MGM Chief Executive Jim Murren says that if online poker eventually becomes legalized in the U.S., MGM would be "very interested" in using Bwin's software to develop sites for their properties.
"We know there are millions of U.S. citizens risking billions of dollars at unregulated, illegal sites," Murren told MarketWatch. "And there is no way to enforce good behavior, and that has to change."
Get more on the story here at PokerNews.com.
Trick or Treat
If this is your neighbor, we feel sorry for you. Happy Halloween!
Are you following PokerNews on Twitter? Like us on Facebook while you're at it, and sign up for the newsletter. You know you want to.