The Nightly Turbo: Strip Poker Game in NYC, Matt Glantz Giving Away Money, & More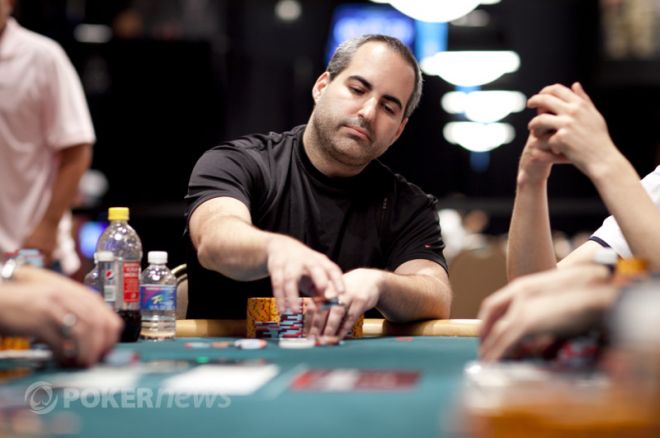 It's Friday, and we want to get your weekend started off on the right foot. What better way than to talk about strip poker? In this edition of the Nightly Turbo, we bring you a strip poker game in New York City, a chance to freeroll for thousands of dollars courtesy of poker pro Matt Glantz, and more.
In Case You Missed It
This week, the United States Department of Justice filed a response to the pretrial motions of John Campos and Chad Elie, two of the 11 men indicted on Black Friday. Take a look at the 52-page response to find out more.
How was the high-stakes action at the PokerStars tables this week? Read the Online Railbird Report to find out the week's biggest winners and losers.
It was recently announced that Poker Players Alliance chairman Al D'Amato will testify next week in one of two hearings on Internet poker on Capitol Hill. What could each of the hearings mean for online poker?
The PokerNews Team was at the Penn &Teller Theater for every moment of the 2011 WSOP Main Event final table. Take a photographic look back at the November Nine festivities in WSOP Through the Lens.
On Thursday, we brought you Part 1 of our post-WSOP interview with world champion Pius Heinz. In Part II, Heinz discussed his marathon heads-up match against Martin Staszko, and more.
Sunday is almost here and that means football. All 32 teams are in action this week, and we discuss all 16 games in the latest Pigskin Diaries.
Miss anything this week? Kristy Arnett gets you caught up on the latest news, views and gossip in the PokerNews Weekly.
Strip Poker in The Big Apple
On Saturday, a group of card players will engage in a week-long strip poker game in New York City that intends to deliver a serious economic message. Each day for a week, for seven and a half hours every day, seven players will gather around a white table in a TriBeCa storefront to gamble away their clothes. At the end of each game, the players will get dressed and begin another game.
The demonstration, called I'll Raise You One..., will be fully visible from the street and will surely attract a crowd on onlookers. Artist Jeffrey Throwell will be one of the exhibitionists in the display and explains his inspiration for the piece by saying, "In a world where money has taken supreme importance and all functions of life are commoditized, I'll Raise You One... is a project where clothing, charisma and a good bluff are the only currency."
The last time Throwell used nudity as a political message, he dressed dozens of people up as bankers, hot dog vendors and secretaries, and had them strip bare on Wall Street. Three people were arrested for disorderly conduct during that display, but Throwell doesn't expect any police action this time since the strip poker game will take place indoors.
The PokerNews Live Reporting Team will be providing updates from TriBeCa all week so be sure to check in for the latest photos.
(Sadly, not really.)
Get more on this story at artingeneral.org.
Matt Glantz Offers Freeroll
Poker pro Matt Glantz has a new website, and he's celebrating the launch by giving away percentages of himself in three future tournaments. Glantz is offering six players a chance at free money just by creating an account on his website and doing a little recruiting.
According to the site, one new sign-up will receive 10 percent of Glantz in the World Poker Tour Jacksonville event on Nov. 18, 2011. Then, five more sign-ups will win percentages of Glantz in the Bellagio Five Diamond Main Event on Dec. 6 and the Epic Poker League Main Event on Dec. 14. Those prizes will be awarded to the top five individuals who refer the most sign-ups to Matt's blog.
Glantz has more than $4 million in live tournament earnings in his career. He's cashed in each of the first two EPL Main Events, taking 14th place in Series 1 for $43,190 and then 12th place in Series 2 for $46,020. His biggest win came at the 2009 PokerStars European Poker Tour London High Roller event for $882,736.
Get more info at www.mattglantzpoker.com.
"Major" Announcement from PKR
Nowadays, we can't help but roll our eyes when an online poker site makes an announcement about a future announcement (see Full Tilt Poker after Black Friday). On Friday, PKR.com said it is set to unveil the newest member of Team PKR Pro. However, we have to wait until next week to find out who it is.
The site will reveal the player's identity on Thursday, Nov. 17. He or she will join the current crop of six Team PKR players that includes Vladimir "Beyne" Geshkenbein, Scott Shelley, Sofia 'welllbet' Lovgren, James "james666" Sudworth, Sascha "locodice" Walter and Marc "Waswini" Bariller.
According to PKR, the new arrival "is among the best poker players in the world, and will represent PKR in the biggest events across the globe." Could it be Phil Hellmuth? Phil Ivey? Howard Lederer? The anticipation is killing us.
Read the PKR press release at marketwatch.com.
Poker Encore Welcomes New Pro
Poker Encore, a skin on the iPoker Network, announced the latest edition of its pro team this week. British pro James Williams, who plays under the handle "LJAMESL," joined Karl Mahrenholz, Paul "Action" Jackson, Simon "Amatay" Jones and Constantine Paparestis as the site's sponsored pros.
Williams, 25, can be found playing no-limit cash games as high as $10/20 online, but he also has more than $200,000 in live tournament earnings. His biggest score came in 2009 when he took second place in the GUKPT Blackpool Main Event for a £52,400.
"I first played with James two or three years ago and recognized the raw talent he had," said Mahrenholz, who is also one of the co-founders of Poker Encore. "Not only is he a fearless player but he plays the game with a great attitude, which is so important to make it in the poker world."
Read more at UK.PokerNews.com.
Follow PokerNews on Twitter for up-to-the-minute news.