The Nightly Turbo: Veldhuis Knocks Out ElkY, Matt Glantz Discusses Lederer, & More
The Nightly Turbo is bringing you the latest news and stories from the poker world as it happens. Is there a better way to relieve tilt than to throw on the boxing gloves? First, we saw Gus Hansen spar with Theo Jorgensen. Then, Liv Boeree and Melissa Castello went a few rounds in the ring. On Tuesday, Lex Veldhuis and Bertrand "ElkY" Grospellier duked it out in a kickboxing match in Spain. We have the details from the fight in this edition of the Nightly Turbo.
In Case You Missed It
Can ESPN's "live" broadcast of the World Series of Poker Main Event final table be considered a success? PokerNews' Chad Holloway and Eric Ramsey take sides in the latest PokerNews Debate.
Zynga Poker is the largest poker room in the world, but the gaming giant has no interest in going after a real-money space. Find out why in the latest edition of The Insiders with Zynga Poker general manager Lo Toney.
A final table was reached at the World Poker Tour Jacksonville Main Event. Find out which six players will be vying for the $326,000 top prize.
What is Bubble Protection and how can it help you in online tournaments? U.K. poker pro Chris Moorman explains the premise behind the new company and why he decided to endorse it.
Bryan Schultz won the World Series of Poker Circuit Harveys Lake Tahoe Main Event Monday night. Get the details of his victory in our recap.
Float Like a Butterfly, Sting Like RaSZi
The long-awaited kickboxing match between Lex "RaSZi" Veldhuis and Bertrand "ElkY" Grospellier is finally in the books. After two years of planning, the two friends and Team PokerStars Pros met in the ring in Marbella, Spain, on Tuesday for a five-round match in front of a raucous group of supporters.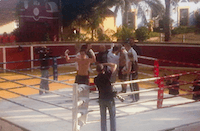 It took only four minutes to determine a winner. Veldhuis knocked the Frenchman out with a pair of kicks to the head midway through the second round, and Grospellier fell limp to the mat and was unable to return to his feet.
Despite winning in quick fashion, Veldhuis spoke highly of his friend after the bout.
"I have to give Elky a lot of credit because after the first kick that got him to fall down to the ground, he got up after 8 seconds and raised his fists after I just hit him pretty hard," Veldhuis told NL.PokerNews.com reporter Remko Rinkema. "I've got a lot of respect for him because he stood up and came toward me again after that big hit."
Here's a video of the fight taken by professional videographer poker player Steven van Zadelhoff: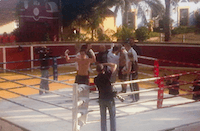 You can also read more about the fight and see photos from the match at nl.pokernews.com. We recommend using Google Translate if needed.
Glantz Questions Vilification of Lederer
Howard Lederer has been denigrated by the poker community for his alleged involvement in the fraud and money laundering charges that resulted in the shutdown of Full Tilt Poker. But is the public's vilification of Lederer warranted? How much do we really know about what happened behind the scenes?
Those are questions that poker pro Matt Glantz addressed in his most recent blog. Glantz, who says he has never been affiliated with Full Tilt and has no specific allegiance to Lederer, states that Lederer is not the same person that people are characterizing as a thief, liar and schemer.
"Is this the same guy who many considered one of the most respected men in poker less than a year ago?" Glantz writes about Lederer. "Is the Full Tilt situation a result of him designing a Ponzi Scheme to rip us off? Is it the result of him stealing our money to line his own pockets? I can tell you without hesitation that there is just no way any of this could be the case. He is not that guy."
The poker world is still waiting on a finalized deal that would allow Groupe Bernard Tapie to purchase the assets of Full Tilt Poker. In the meantime, Glantz's blog is definitely worth a read.
Jungleman Responds
Yesterday, we showed you a video of some well-known pros discussing their thoughts on the worldwide challenge issued by Dan "Jungleman" Cates. On Tuesday, Cates responded with a message to any interested contenders.
"A lot has been said that there is no incentive to play me "Cates told The Poker Farm. "For me, competing for a world title and keeping it says more than money, and holding onto this title for a long period of time is something I'm keen to do to prove myself. It's true that I haven't played much live and that anything can happen in four hours of poker, but to me these are just excuses for players scared to put up the money."
Cates says only Gus Hansen and Tony G have shown interest in the €100,000 heads-up challenge so far, but he still plans to be in Prague on Dec. 6 regardless if anyone steps up to the plate. Should a contender arise, the winner of the match will be awarded the newly created World Poker Heavyweight Championship title and take possession of the championship belt.
In addition, Luke "Full Flush" Schwartz will face a challenger in a €50,000 undercard match, with the winner moving on to face the winner of the Heavyweight Championship. An opponent for Schwartz has not been named, but the first challenger will be accommodated. Said Schwartz, "I don't care who I play. If they are stupid enough to sit down with me, I will own them. There are players whose game I respect, but I've never met anyone whose game is better than mine."
This is beginning look like a three-ring circus. However, we'll continue to keep an eye on any developments in the coming weeks.
For the terms and conditions surrounding the heads-up matches, visit ThePokerFarm.com.
Online Poker Traffic Update
The online poker traffic numbers from last week have been released. PokerScout.com reported a worldwide decline of 0.2 percent, with seven of the top 10 sites seeing a drop in traffic over the past week.
PokerStars, the world's largest real-money poker site, was among the climbers during the seven-day stretch with a 2.5 percent gain over the previous week. PartyPoker, meanwhile, dropped to No. 3 behind the iPoker Network after spending eight straight weeks at No. 2. PartyPoker saw a four percent drop in traffic but is still neck-and-neck with iPoker in the battle for second place. In other movement, Bodog moved up another spot to No. 12 in this week's rankings. The growing poker room was ranked 15th two weeks ago.
As for year-over-year numbers, PokerScout's ACES indicator reports that online poker traffic (with the exception of Italy) has decreased by 29 percent from last year. That number can be blamed mostly on the absence of Full Tilt Poker and the CEREUS Network, but the Entraction Network (down 43%) and the International Poker Network (down 34%) have also seen significant drops since last November. The biggest climbers in the past year are 888poker (up 78%), the Merge Gaming Network (up 71%) and Bodog (up 61%).
Get the full report at PokerScout.com.
Are you following PokerNews on Twitter? Like us on Facebook while you're at it, and sign up for the newsletter. You know you want to.