The Weekly Turbo: PokerStars Guinness Record, PartyPoker Premier League and more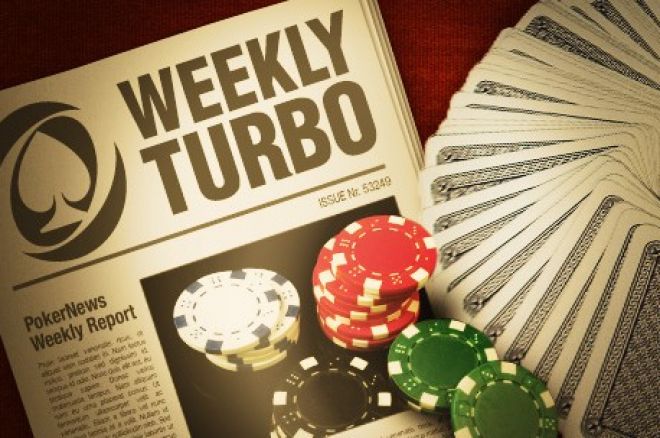 For a roundup of the week's top poker news stories, from India and around the world, you've come to the right place! In this edition of the Weekly Turbo, we bring you another Guinness Record attempt from PokerStars, the lineup for the upcoming PartyPoker Premier League, and more.
PokerStars Eyes Another Guinness World Record
PokerStars' 10th Anniversary celebration just got even bigger. Not only is the site hosting the biggest Sunday Million ever and giving away 100 seats to the PokerStars Caribbean Adventure next month, but it is also attempting to break the Guinness World Record for the biggest ever online tournament in poker history.
The current record was set in 2009 on PokerStars when 149,196 players took part in a $1 tournament that saw online player "oskar69" take home $50,000. Now, PokerStars wants to outdo itself.
The upcoming World Record attempt will start at 1230 EST (1730 BST) on Dec. 4, 2011, and will be a $1 buy-in, no-limit hold'em tournament with a guaranteed prize pool of $250,000. PokerStars is also offering $10 bounty prizes for players who knock out the participating members of Team PokerStars Pro.
"It's exciting and unique to be part of a World Record," said Team PokerStars Pro Bertrand "ElkY" Grospellier, who holds his own Guinness World Record for Most Online Poker Tables Played in One Hour with a Profit (62).
"I'm looking forward to doing it again on December 4. It will be great to see so many players come together to make history once again at the world's largest poker site."
Get more information on PokerStars' 10th Anniversary at PokerStars.com.
Who Will Be at the PartyPoker.com Premier League?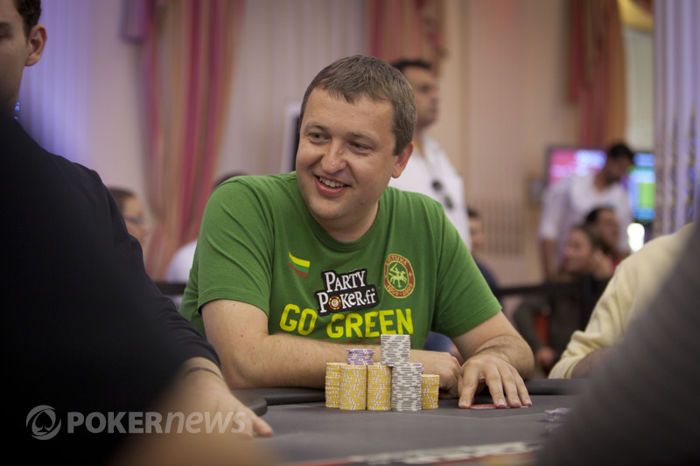 PartyPoker.com and Matchroom Sport announced the 12-player lineup for the PartyPoker.com Premier League Poker Mixed Game Championship. The $25,000 buy-in invitation-only event takes place from Nov. 13 through Nov. 17 at the Playboy Club London in Mayfair. Sky Sports will broadcast the show in the U.K., and the shows will then be distributed internationally.
The 12 players will be tested in three disciplines of poker — no-limit hold'em, pot-limit hold'em and pot-limit Omaha — and divided into two groups as follows:

| Group A | Group B |
| --- | --- |
| Tony G | Mike Sexton |
| Max Pescatori | Ben Carpenter |
| Luke Schwartz | Andrew Feldman |
| Matt Giannetti | Sorel Mizzi |
| Jennifer Tilly | Yevgeniy Timoshenko |
| James Dempsey | Andy Frankenberger |
Read more about the PartyPoker.com Premier League Poker Mixed Game Championship right here at PokerNews.com.
New CEO at Betfair
Betfair's search for a new chief executive is officially over. The online betting group announced Thursday that Paddy Power COO Breon Corcoran has resigned from his post in order take over as the CEO of Betfair in August next year.
Corcoran, 40, helped found Paddy Power 10 years ago and played an integral role in the company's transition to online gambling. He was appointed to COO in August 2010 after spending the rest of his time there leading its non-retail and development divisions.
Corcoran will replace current Betfair CEO David Yu, who informed the company this summer that he will not renew his contract that expires next October. Yu has spent six years at the CEO at the company but has watched the company's stock take a nosedive since it was listed in October.
"Betfair's unique technology provides the company with a fantastic position in the online gaming industry and I believe it has a bright future ahead of it," Corcoran said in a statement.
"I am very pleased to have the opportunity to lead the company and look forward to working closely with the Betfair team to grow the business further."
The press release from Betfair can be found at Reuters.com.
Greg Raymer Testifies in Poker Case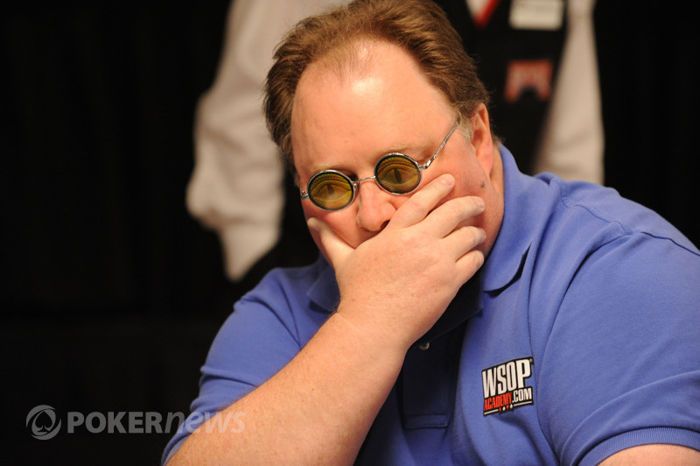 According to an article in The Virginian-Pilot, 2004 World Series of Poker Main Event champ Greg Raymer was in a circuit courtroom on Tuesday as the star witness in a court challenge that sought to make poker halls legal in Virginia.
Raymer was called on by the Poker Players Alliance to help prove the case of Charles Daniels, whose poker hall in Portsmouth was closed down in 2010 by Portsmouth's commonwealth attorney Earle C. Mobley.
In front of Judge Thomas Shadrick, Raymer made a 15-minute demonstration showing that poker requires a high degree of skill. As such, Daniels' attorneys argued that poker didn't fall under the state's illegal gambling laws in which an outcome is "uncertain or a matter of chance."
Unfortunately for Daniels, Judge Shadrick was unmoved by his team's testimony and ruled in favor of Mobley. According to the article, Shadrick "conceded that poker involves skill, but the evidence also showed that, while better players will win more over time, the outcome of each hand is still uncertain." After the ruling, Daniels said he hadn't decided whether to appeal.
Get the full story at The Virginian-Pilot.
Leeann Tweeden Reveals Her Cards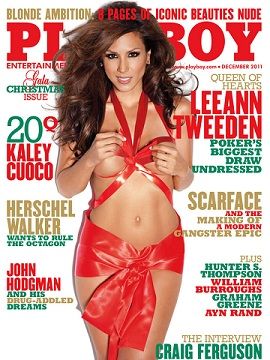 Christmas has come early this year. Leeann Tweeden, the former hostess of NBC's Poker After Dark and the National Heads-Up Poker Championship is featured in the December issue of Playboy magazine, which hit stands on Friday, Nov. 11. Tweeden is gracing the cover of the issue wearing a red Christmas bow next to the headline, "Queen of Hearts, Leeann Tweeden, Poker's Biggest Draw Undressed."
Tweeden, 38, spent six years as a correspondent for Fox Sports' Best Damn Sports Show Period before signing on as the third host of Poker After Dark in 2008. Her interaction with poker's top players at the late-night NBC program was her first deep look into the world of poker.
"A lot of the poker players are math whizzes, MIT grads with multiple doctorates," Tweeden told Playboy. "They're brilliant, and they're cool people, but a lot of them are not socialized. They spend their time online."
Some photos from Tweeden's Playboy issue are floating around the Internet, but you can find a sneak peak at Playboy.com (Caution: NSFW).
Caesars Entertainment CEO Optimistic About Online Poker
On Tuesday, Caesars Entertainment CEO Gary Loveman addressed the current landscape of online poker during his quarterly conference call to investors. Loveman said he is optimistic about the passage of online poker on the Internet, and that it would take 12 to 14 months for Caesars to get online poker operating once a bill is signed into law.
In March, Caesars inked a deal with 888 Holdings LLC to market the World Series of Poker and Caesars brands to virtual gamblers overseas. The deal was approved by the Nevada Gaming Control Board and made Caesars the first Nevada gaming licensee approved to partner with an overseas online gambling company. Caesars and 888 Holdings have since been involved in advanced talks about providing an online poker platform in the U.S., which would certainly form one of the most powerful brands in an untapped market.
A handful of billionaires and companies have been putting plans in motion for the potential of online gambling in the States. MGM Resorts, Fertitta Interactive and even Trump Entertainment Resorts, among others, have announced their intentions to grab a stake in the market, and Loveman said Tuesday that he is pleased that more of his gaming colleagues have climbed on board with their support of online poker legalization.
Read more of Loveman's comments at the Las Vegas Review-Journal.
Jen Tilly Folding?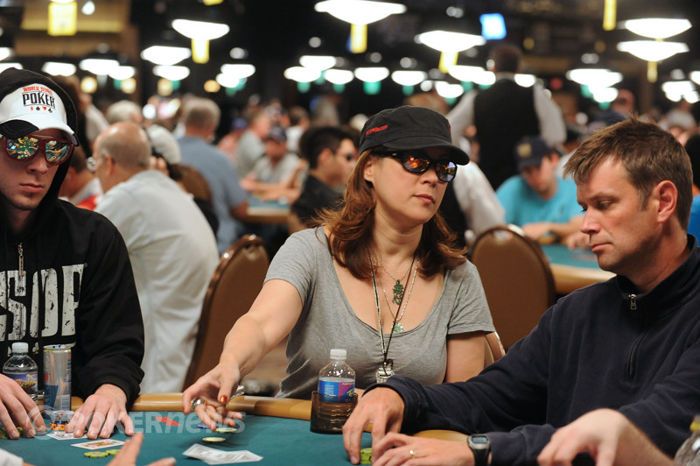 Jen Tilly has enjoyed a decent amount of success in poker since winning a ladies event at the World Series of Poker in 2005. However, she says her days at the felt may be coming to an end.
Tilly made an appearance on The Late Late Show with Craig Ferguson on Tuesday and said the stress that goes along with being a poker player makes her want to quit the game. "Poker is an ongoing session of never-ending agony," she joked with Ferguson.
Tilly, whose boyfriend is poker pro Phil Laak, has been the subject of a lot of jokes around the poker community, particularly after one interesting play she made against Patrik Antonius on NBC's Poker After Dark. But she's always been a good sport and has never claimed to be the best player in the world. We'd certainly be sad to see her go.
However, something tells us she'll be tagging along with Phil to the Bellagio poker room in the near future.
Watch the full interview with Jen at CBS.com. She begins talking about poker at 23:45.
Follow PokerNews on Twitter for up-to-the-minute news.