Zimnan Ziyard Wins the PokerStars.com European Poker Tour Loutraki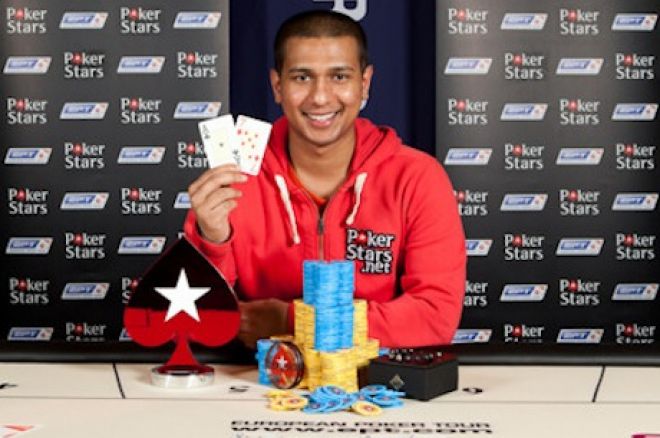 On Sunday, Zimnan Ziyard won the first PokerStars.com European Poker Tour in Greece after a two hour long heads-up battle against Hauke Heseding. Ziyard became the latest British player to grab EPT glory after he called Heseding's huge all-in bluff with
, on the river of a
board. Ziyard had Heseding, who was holding
, narrowly covered. Ziyard took home €347,000 for the win at this penultimate stop of the EPT for 2011.
The day began with eight players looking for EPT glory. Andras Kovacs began the day as the short stack, with less than 10 big blinds, but he hit an early double up against Mario Puccini to get him back into the running. Puccini's bad luck at all-in situations continued when he ran kings into Charalampos Kapernopoulos' aces. Much to the delight of the Greek crowd, Kapernopoulos flopped quads.
This rejoicing was short-lived as Kapernopoulos gave the chips away, losing a flip with
to Andras Kovacs'
when the latter flopped a set for good measure. The chip merry-go-round continued soon after as another short stack, Pierre Mothes, doubled up with aces against Ziyard's ace-king, and it began to look as though no one would be eliminated during the day.
Finally, Mario Puccini became the first casualty when he reshoved with
from the small blind against Florian Schlep's button raise. Schlep held
and the board bricked, sending Puccini to the rail to pick up €27,000.
Puccini's exit provided the catalyst for the final table to really start going. Kapernopoulos was almost immediately eliminated right after, pushing with jack-ten into Heseding, who was holding pocket kings. His elimination left only one Greek player — John Taramas, who provided a major talking point for many in the media with one play. The blinds were at 20,000/40,000, and Taramas three-bet, then called off around half of his stack with
against the relatively tight Pierre Mothes who was holding
.
Barely an hour later, we saw the biggest pot of the tournament up to that point when Heseding eliminated Kovacs. Mothes opened to 110,000 preflop and Heseding made it 250,000 before Kovacs moved all-in for 1.4 million. Mothes got out of the way but Heseding said, "I'm sorry, I can't fold — I call," before flipping
to Kovacs'
. The pot was for the chip lead and it went Heseding's way when the board came down
.
With Kovacs' elimination, Taramas held the shortest stack of the remaining players, but managed to double with
through Heseding's
to put him back in the mix. Instead, Mothes was the player eliminated in fifth place, when he check-raised all-in on a
board holding
only to find Ziyard, his opponent in the hand, had flopped a flush with
. No jack or queen came to save Mothes and Ziyard retook the chip lead from Heseding.
Schleps managed to double through Taramas before the latter did same against Ziyard, both winning their respective flips. Schleps however, lost the next one he played. In a blind versus blind battle, his
could not hold against Heseding's
on a board of
. Schleps was eliminated in fourth place, taking home €100,800.
After eliminating Schleps, Heseding had almost 60 percent of the chips in play, but that was only the start of an epic battle between the final three, that lasted over five hours. Heseding lost the chip lead to Ziyard, the latter then providing a masterclass of ICM bullying trying gain a complete stranglehold on the title. However despite being crippled with sevens losing to Taramas' eights, Heseding refused to die and won with ace-four against ace-three, ace-jack against kings and finally king-ten against ace-king — all against Ziyard to come back into the fight.
Despite getting lucky on these occasions, Heseding showed courage in executing several big bluffs for his tournament stack and managed to finally eliminate Taramas with
against
, sending this tournament into its' last chapter.
Yet, there was another twist in the tale as in the fourth hand of heads-up, Ziyard doubled up with
against Heseding's
to once again recapture the chip lead. The lead switched several times until the final hand where the Heseding's bold bluff was bravely called down for all the chips.
European Poker Tour Loutraki Results

| Place | Player | Prize |
| --- | --- | --- |
| 1 | Zimnan Ziyard | €347,000 |
| 2 | Hauke Heseding | €221,800 |
| 3 | John Taramas | €134,400 |
| 4 | Florian Schleps | €100,800 |
| 5 | Pierre Mothes | €67,200 |
| 6 | Andras Kovacs | €53,700 |
| 7 | Charalampos Kapernopoulos | 40,300 |
Follow PokerNews India on Twitter for up-to-the-minute news.