Five Thoughts: It's Never Ending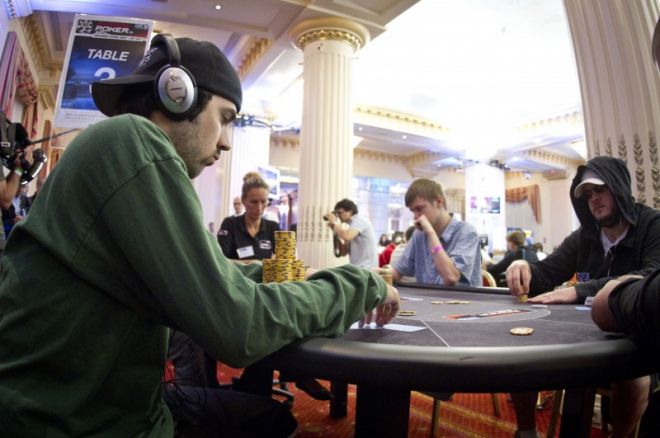 Jason Mercier won the $100K at the Bellagio, James Dempsey shipped the Doyle Brunson Five Diamond World Poker Classic, James McManus was published on Grantland.com, and someone in the Czech Republic won almost $25,000 playing $.02/$.05.
My mind is about to explode.
1. Seriously though, will it ever end?
Jason Mercier, the pioneer of the #whenwillitend hash tag, won the $100K at the Bellagio on Saturday night.
Unfortunately, updates could only be found on Twitter (thank you, Matt Savage, Kevmath et al.), so we don't know the full story, but we do know that Mercier bested David "Doc" Sands heads-up after a marathon three-way chop with fellow poker pro Isaac Haxton. The three players negotiated the chop for nearly a half an hour, crunching numbers on iPads, iPhones, notepads, and the largest calculator on the planet. Eventually both Justin Bonomo and Jack McClelland got involved, and finally the players decided to do an ICM chop, leaving $105,000 for first, and $45,000 for second.
| Place | Name | Prize |
| --- | --- | --- |
| 1st | Jason Mercier | $683,000 +$25K high roller seat |
| 2nd | David Sands | $664,000 |
| 3rd | Isaac Haxton | $582,000 |
*Numbers are according to Mercier
With the win, Mercier has eclipsed $2 million in cash prizes this year, and $7 million lifetime. Mercier's worst year since breaking out in 2008 was last year, where he racked up $1.06 million in winnings. That's impressive. Right after winning the $100K, Mercier went straight to Bobby's Room to play a little $800/$1,600 mixed, tweeting that it was, "another day in the office."
Can we trade offices? Please?
Call me a prisoner of the moment, but right now Mercier is the best player in the world. No other player "mashes" both cash games and tournaments like he does — he's the total package. So, to answer my original question, no, there's no end in sight.
2. He's a doctor
Have you ever run an errand for a friend and stumbled upon $821,612? James "Flushy" Dempsey has.
OK, Dempsey didn't really "stumble upon" over three quarters of a million dollars, he earned it by winning the Season X Doyle Brunson Five Diamond World Poker Classic. Dempsey (who's not really a doctor — we think) was in Vegas picking up money for his friend and fellow countryman Chris Moorman. While in Sin City, he decided to register for the tournament — and won.
That's running good.
It was Dempsey's biggest score by over a half of a million dollars, and it was his first six-figure score since the summer of 2010 where he made two World Series of Poker final tables, winning a $1,500 pot limit event ($197,470), and finishing runner-up in the $10,000 Omaha Hi/Lo Championship ($301,789). Dempsey, who is known more as a cash game player, also made a final table in the $5,000 No-Limit Hold'em event at the Bellagio this month, finishing third for $56,782.
If you didn't believe in the British Invasion prior to this score, then maybe this will open your eyes. Flushy, Jake Cody, Sam Trickett, and Chris Moorman are among the best players in the world, and players like James Akenhead, Praz Bansi, Roland de Wolfe, James Bord and Liv Boeree are all dangerous. Whether you like it or not, the Brits will continue to be major players in the poker world, and major headaches for their opponents.
3. Thank you, James McManus, Bill Simmons
James McManus, writer, poker player, and former "Friend of Full Tilt," wrote an awesome article called Full Tilt Boogie: The UIGEA and You, which was published on Bill Simmons' Grantland.com. Grantland is an upstart project by Simmons, the editor in chief, and it's a melting pot for writers to speak about, well, anything. The site has album reviews, movie reviews, op-eds about zombies, analyses of sports and, now, an examination of the post-Black Friday poker industry.
McManus' piece is a bit lengthy for the casual reader, but it's both captivating and informative — which is exactly the kind of literature we need "average," non-poker playing Americans to read. I've said it before, and I'll say it until I'm either blue in the face or interstate online poker is legalized and regulated in the United States — we need as much positive public exposure as possible. Despite it being untrue, the "Ponzi scheme" label attached to Full Tilt was damaging, and it set us back. Hopefully McManus' pieces (he plans to write more) will help the industry bounce back a little bit, and maybe this issue will begin to surface nationally.
Grantland readers are immeasurably loyal to Simmons, and Simmons loves gambling, so the transitive property tells us that McManus' article(s) should be very well received. Our fingers will remain crossed.
4. The real micros
We already know that you haven't stumbled upon 800 dimes while running an errand for a friend, but have you ever won 24 dimes playing $.02/$.05? No?
PokerStars rewarded "Kozlicek_x" $24,300 for winning the 72 Billionth Mega Milestone hand this past Sunday. The Czech player flopped a set of sevens, winning a $27 pot, and simultaneously turned into a true legend of the micros — it's just a shame that the
wasn't involved somehow.
Is there any more evidence necessary to show that PokerStars is the nuts? They're always upping the ante in terms of customer service and support, and going out of their way to give back to players while other sites would rather withhold money and execute "God Mode."
Congratulations to Kozlicek_x for shipping the prize, and to PokerStars for continuing to crush the online poker world.
5. Prague
The PokerNews Live Reporting Team was in Prague for EPT Prague. Our own Kristy Arnett would like to tell you how it went:
Be sure to follow PokerNews on Twitter!