Sameer Rattonsey wins the IPC Main Event

PNI Editorial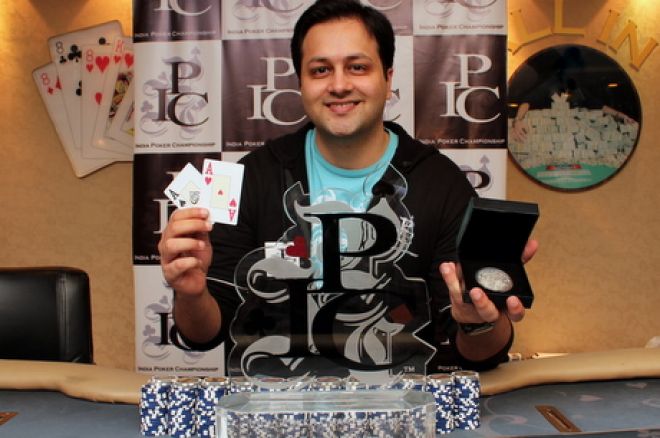 The India Poker Championship (IPC) came to an end early on Monday morning but a lot of the excitement took place on Saturday and Sunday when the 30k Main Event was held. At the end of two action packed days, it was Sameer Rattonsey from Mumbai who took home INR 720,000 for first place and the pride of becoming the India Poker Champion for the 2011-12 season.
It was just after 6pm on Sunday evening that the final 15 players gathered in the Royale card room onboard Casino Royale to play down to the final player who would be declared India's best poker player. 83 players had started on Day 1 and while PokerNews India was there to catch all the action live, even we could not have believed the rapid fire exits which took place. To be precise, 5 players got knocked out in 9 minutes exactly! And before you knew it, it was time for the final table to get down to business. 9 players had already made the money but only one would go home with the title of India Poker Champion.
Here's what the final table looked like at the IPC 30k Main Event:-
| | Seat | Player | Chips | |
| --- | --- | --- | --- | --- |
| | 1 | Sumit Sapra | 21000 | |
| | 2 | Sangeeth Mohan | 187000 | |
| | 3 | Sameer Rattonsey | 146000 | |
| | 4 | Amit Raheja | 60000 | |
| | 5 | Harsh Jain | 151500 | |
| | 6 | Pulkit Kalia | 347000 | |
| | 7 | Dipika Agarwal | 90000 | |
| | 8 | Harman Baweja | 74000 | |
| | 9 | Amit Jain | 169000 | |
It was a star studded final table in more ways than one. The Asian Poker Tour Goa edition's Main Event winner and runner-up in Sangeeth Mohan and Sameer Rattonsey were joined by Bollywood actor Harman Baweja as well. And amongst all that testosterone sat Dipika Agarwal, the lone woman standing for the night along with multi-title winner Amit 'Come On' Jain. This was a tough final table and the players knew it. It was the first ever final table for a couple of them, but the others had been there before and knew what was at stake. The action for the most part was led by chip leader Pulkit Kalia who was massively stacked when final table play began. He began Day 2 by knocking out Krishna SM and then following that up with the eliminations of Harman Baweja and Sangeeth Mohan. Amit Jain and Sameer Rattonsey took care of the remaining players and when 3-way action began Kalia was still ahead of the other two.
As action continued however, Jain shifted gears and became even more aggresive and finally knocked out Kalia in 3rd place with a pair of Eights. Given that both Jain and Rattonsey are fairly aggressive players, most of the spectators did not expect headsup to last for long. Jain had a 2:1 lead when it began but a few small pots here and there saw Rattonsey catching up. He gained the chip lead in one significant hand where he flopped 2 pair on the flop and then rivered the fullhouse with Jacks full of Sevens, which now enabled Rattonsey take the 2:1 lead.
The final hand of the night saw both players complete the blinds and see a flop of
where Jain bet out 35,000. Rattonsey re-raised it to 80,000. Jain holding mid pair with
pushes all-in and a quick call by Rattonsey who flipped over
. No help for Jain on the turn
or the river
and that meant that that Mumbai's Sameer Rattonsey is the new India Poker Champion for 2011-12! Along with the title, Rattonsey takes home INR 7,20,000 for his 1st place finish.
December is the first event of the IPC's 2011-12 poker season and this time around the organisers decided to extend the festivities by adding an additional event to make it a total of five tournaments. The latest edition to the schedule was the 6.5k Half & Half Tournament which was a turbo satellite paying out in cash as well as entries for the top few finishers in the 30k Main Event. The Main Event, of course is where the IPC crown the India Poker Champion for 2011-12 and it is one of the most anticipated tournaments of the year.
Here is what's happened in the rest of the tournaments at the IPC:-
| | Date | Tournament | Buy-in (INR) | Field | Winner | |
| --- | --- | --- | --- | --- | --- | --- |
| | 30 Nov | 6.5k Half & Half | 6500 | 37 | Devam Modi | |
| | 01 Dec | 7.5k Double Bubble | 7500 | 81 | Ankit Dohare | |
| | 02 Dec | 15k Weekend Kickoff | 15000 | 79 | Amant Nauhria | |
| | 03 Dec | 30k Main Event | 30000 | 83 | Sameer Rattonsey | |
| | 04 Dec | 12k Headhunter | 12000 | 61 | Sumit Sapra | |
So an exciting 5 days of poker culminating in the crowning of the new India Poker Champion for 2011-12, Sameer Rattonsey!
The PokerNews India team would like to extend its congratulations to Sameer on his fantastic performance as well as to all the other winners and money finishers at the India Poker Championship.
For more information or to find out more about future IPC events, head to their website.
PokerStars turns 10! Check out some of the massive promotions as part of their 10th Anniversay Celebrations here.