Take Part in the PokerNews $5k WPT Dublin Brawl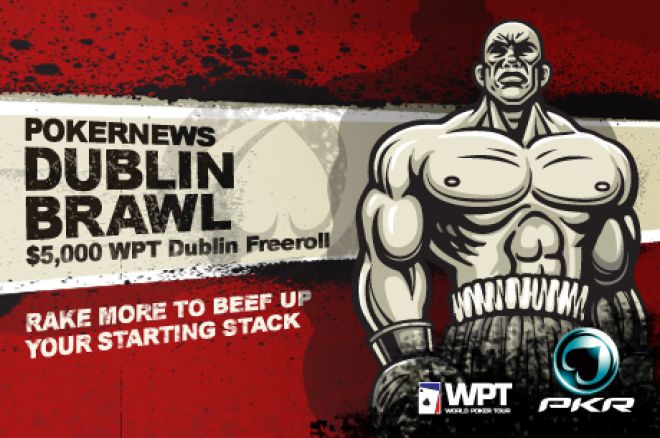 If you would like a chance at winning a WPT package, be sure to Download PKR and start taking part in the unique and exciting PokerNews $5K WPT Dublin Brawl promotion!
Head to WPT Dublin
Thanks to PokerNews and PKR, you could be making your way to Dublin to play for a share of a huge prizepool at the World Poker Tour.
All players have to do is start collecting points by playing in any raked poker games at PKR and they will then receive entry into an exclusive freeroll.
The $5K Dublin Brawl
The PokerNews $5K WPT Dublin Brawl is a special freeroll tournament which is exclusive to PokerNews India players and will take place on Dec. 21 at 1800 GMT. This freeroll offers huge value as it will award a WPT Dublin package worth a staggering $5,000 to the eventual champion!
The best part about the freeroll is the exciting format which has players challenging for a freeroll ticket by taking part in any raked poker games at PKR.
The unique format of the freeroll sees players earning a starting stack which is dependent on how much rake was paid during the promotional period. This means the freeroll caters for players of all play volumes and allows even the smallest stake grinders to take their chance at WPT glory.
How to Earn Your Stack
The promotion is open to any PokerNews India player and the starting stack of each player in the exclusive freeroll will be determined by how much rake was paid from Dec. 7 through to Dec. 18
The minimum starting chips earned is 1,500 and is awarded for paying $5 in rake during the period as outlined above. Players will also be awarded an additional 1,500 starting chips for every $5 in rake paid thereafter.
For those who want the best chance at taking down the freeroll, there is an opportunity to start with a huge starting stack as there is no maximum starting stack. This means if you happen to pay $50 in rake during the promotion period, you will start the freeroll with a huge 15,000 starting chips!
The PokerNews $5K WPT Dublin Brawl will be played as a standard No Limit Hold'em tournament and is set to send the eventual winner to Dublin for the World Poker Tour, so don't miss out!
If you would like a chance of heading to WPT Dublin, be sure to sign up to PKR through PokerNews India. Not only will this make you eligible to take part in this exclusive promotion, but you will also be able to utilize a huge 120% up to $800 first deposit bonus.