The Nightly Turbo: Bodog Software Compromised, Steve Wynn's New Venture, and More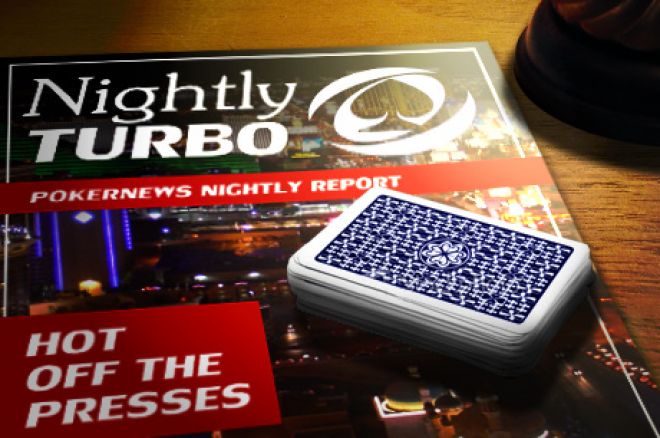 Bringing you the top poker news stories of the day, this is the Nightly Turbo. In this edition of the Nightly Turbo, we bring you a security breach of Bodog's new software, a proposed casino project across from the New England Patriots' stadium, and more.
In Case You Missed It
Russian pro Andrey Pateychuk won the first-ever World Poker Tour event in Prague. Get all the details in our final table recap.
Twenty-two players have already confirmed their participation in the $1 million buy-in event at next year's World Series of Poker. PokerNews' Rich Ryan discusses the highly-anticipated event in his latest Five Thoughts piece.
Bubble insurance is the newest phenomenon in poker tournaments. But what is it, exactly? BeatTheBubble.com founder Hilly Ehrlich talks bubble insurance and how it can help improve your game.
A champion was crowned at PokerStars Italian Poker Tour Campione last week. Find out who won the CHF 220,000 top prize in our recap.
Bodog Software Compromised
Last week, Bodog Poker released a software update that featured anonymous poker tables, which were designed to hide each player's identity to protect the "casual poker player" from the poker sharks. The objective was to prevent opponents from picking up information via the use of HUDs and other data mining sites.
It appears, though, that Bodog's anonymous tables aren't so anonymous after all. HHSmithy.com reports that not only is each player's ID exposed, the new software is also a huge security risk for players.
Have a look:
In response to emails about the security breach, Bodog sent the following email to concerned players:
Thank you for contacting Bodog Poker Customer Service.
It's very understandable if our players are very concerned about the security of their accounts because of this video that has been posted on the Internet but we are assuring all of our players that all your account information is secured. We are aware of this video and we are investigating looking into this.
As per the anonymity of our poker tables, for the vast majority of our players, they will not know who they are playing against as they can't see a screen name or account number while at the tables; however, if someone wants to and has the technical skills to develop the software you saw on the forum they are able to — we are confident this will only be pursued in very isolated cases between now and a future upgrade which will prevent it from working.
If you are worried about the security of your account, having access to an account number is similar to having a screen name in the past. You still must have a password or the answers to your private security questions in order to access any personal or banking information.
The full explanation of how HHSmithy cracked Bodog's software can be found at HHSmithy.com.
Steve Wynn, Robert Kraft Pitch Casino Project
A joint venture from casino mogul Steve Wynn and New England Patriots owner Robert Kraft could see a $1 billion casino report built across from Gillette Stadium, the home of Kraft's NFL franchise. The Boston Globe reports that the Foxborough-based resort would include a luxury hotel, gambling hall, shops, restaurants, and convention space, but it would be built on a scale that's appropriate for Foxborough, unlike Wynn's high-rise casinos in Las Vegas.
Wynn and Kraft met with the media on Monday to assure residents that the project would generate business activity and tax dollars for the community, while protecting what they called Foxborough's rural feel. Foxborough residents would have to approve by a two-thirds Town Meeting vote the zoning changes needed to allow casino plans to move forward.
"We see this as a destination resort that will attract people from all over America and all over the world that will want to come here and have conventions and have meeting spaces and have a good time," Kraft said.
"Visitors would leave a lot of revenue here that will spill over to both Foxborough and the surrounding towns."
Get more on the story at the Boston Globe.
Online Poker Won't Affect State Lotteries
A study released by online poker advocacy group Fair Play USA has found that legalizing online poker in the United States would not have a damaging effect on state lottery sales or revenues. The study, named "An Evaluation of the Effects of Online Poker on State Lotteries," concludes that lotteries and poker are different products with different consumers.
"This study will be an important tool in Fair Play USA's ongoing efforts to educate and create public momentum for effective law enforcement, consumer protections and regulation surrounding the legalization of online poker," said Tom Ridge, advisor of Fair Play USA.
The study explains that online poker wouldn't affect lottery sales for several additional reasons, one being that Internet gambling games of all kind are already available today and any substitution effect has already been experienced by state lotteries.
Read the full report at FairPlayUSA.com.
PokerStars Corporate Blog
Ever wonder what goes on behind the scenes at your favorite online poker room? PokerStars has unveiled a Corporate Blog which will be updated weekly with posts from all kinds of PokerStars employees, including customer service reps, product managers, software engineers, as well as PokerStars executives.
The first blog was published Monday by Eric Hollreiser, Head of Corporate Communications, who discusses the company's evolution and its dedication to customers.
Writes Hollreiser, "During our first decade, we kept a fairly low corporate profile; preferring to keep our heads down, our eyes focused on innovation and our ears tuned-in to the hopes and concerns of our growing number of customers. That dedication has helped us become the leading poker company in the world and helped us set the standard in delivering customer service to online poker players."
Hollreiser also takes a thorough look into the way PokerStars maintains player funds and accounts. He says it has been the most often-asked question about the site since Full Tilt Poker ceased operations this year, leaving players' funds frozen and in question.
"Ever since we began offering real-money online poker we have maintained player funds in separate accounts from operational funds," says Hollreiser.
"We did this as wise and conservative business strategy. It also allowed us to provide a very high level of customer service, even if customers were not always aware it was being provided."
You can find the full Corporate Blog at PokerStarsBlog.com.
Another World Record for PokerStars
PokerNews has witnessed a few Guinness World Records over the years, and Kristy Arnett was on hand to watch another on Sunday. She spoke with a few pros about PokerStars breaking its own record with 200,000 players in a single tournament.
Are you following PokerNews on Twitter? Like us on Facebook while you're at it, and sign up for the newsletter. You know you want to.