The Nightly Turbo: Duhamel's Bracelet Stolen, CEREUS Could Repay Players, and More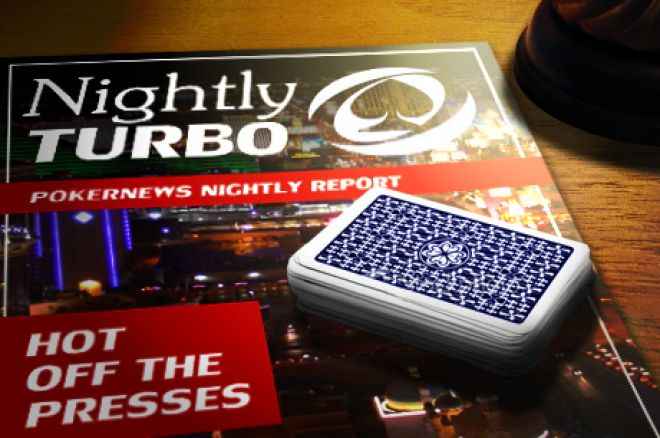 Being the final Nightly Turbo of the year, we wanted to end this one with some good news. But unfortunately, it was a not-so-great year end for Jonathan Duhamel who suffered an armed invasion at his home. The good news, though, is that the 2010 world champ is recovering and doing well.
The PokerNews crew will be off until the start of 2012, but we'll be bringing you the Top 10 stories of 2011 beginning Friday. It's been a troubling year for poker players around the globe, but there were some shining moments mixed in as well.
We wish you all a wonderful holiday. See you next year!
In Case You Missed It
The Global Poker Index released its rankings as of Dec. 19. To nobody's surprise, Jason Mercier is back at No. 1.
Jared Tendler is the author of The Mental Game of Poker and coaches many of the game's top pros. Tendler joined the Strategy with Kristy podcast again this week, and Kristy Arnett shared her experiences with some of the things she learned during last week's show.
With only about a week left in the year, the race is on for the biggest cash game winner on PokerStars in 2011. Find out who the leaders are in the Online Railbird Report.
The window has passed for any online poker legislation to pass in 2011. Matthew Kredell discusses why things fizzled on Capitol Hill toward the end of the year.
Jonathan Duhamel's WSOP Bracelet Stolen During Home Invasion
2010 World Series of Poker Main Event champ Jonathan Duhamel was the victim of a home invasion at his residence Wednesday morning. Multiple sources reported that two armed men forced their way into Duhamel's home and assaulted the poker pro before stealing money and items from his home outside of Montreal.
Duhamel's agent told reporters that Duhamel was "roughed up" during the break-in, but he was able to dial 9-1-1 after the robbers left. Duhamel was treated in the hospital for minor injuries and released Wednesday night.
On Thursday, Duhamel's agent, Yves Bouchard, told PokerNews that Duhamel's 2010 WSOP Main Event bracelet was among the items stolen from the property. Police in Longueuil, Que., also told PokerNews that "a number of" 500-euro bills taken from Duhamel's home, as well as a black Rolex watch engraved with his name and the date of his WSOP victory.
Duhamel met with investigators Thursday morning. No arrests had been made as of Thursday afternoon.
Read more on the story at PokerNews.com.
Could CEREUS Players Finally Be Paid?
According to PocketFives.com co-founder Adam Small, sources close to UB and Absolute Poker have indicated that players still owed money by the two embattled online poker sites could be repaid for "under 25 cents on the dollar."
On Wednesday, Small wrote in a thread at PocketFives that "multiple sources" within the CEREUS Network are saying that the organization is preparing to go that route.
"From what I've been hearing around, it seems that people will be paid significantly less than the full amount of what they're owed," said Small. "It does seem like they're legitimately closing shop and getting what's left of their funds paid out soon."
Small's comments came a day after Absolute Poker co-founder Brent Beckley pleaded guilty to criminal charges tied to illegal transactions made with payment processors in the U.S. Beckley admitted in a U.S. District Court that he violated the laws under the Unlawful Internet Gambling Enforcement Act from 2006 until April of this year.
Read more about the CEREUS Network's alleged plans to repay players at PocketFives.com.
Sam Holden Featured in 2012 Documentary
2011 November Niner and Team 888poker ambassador Sam Holden is the latest poker pro to be featured in a documentary series about his run at the WSOP Main Event. 888 announced Thursday that it has teamed up with Spade Social to create an all-access look into Holden's preparation for the November Nine and what his plans are for 2012.
The documentary also takes a look into Holden's education and how the new breed of highly educated, young poker players is changing the game. Holden graduated from the University of Kent before beginning to take poker seriously in 2009.
The full, 30-minute documentary will be aired on Sky 231 in the United Kingdom and over 20 satellite channels across Europe from beginning in January 2012.
Here's a sneak peek:
Read the press release at the Sacramento Bee.
Get Sports News and Betting Tips at SportMoose
The sports schedule around the world is beginning to calm down for the holidays, but big news continues to break across a broad range of sports.
On Thursday, SportMoose discussed the biggest news of the day in the SportMoose Round Up.
Among the hot topics include the jail sentence for boxer Floyd Mayweather Jr., another injury to tennis player Venus Williams, and the retirement announcement of one of Scotland's legendary rugby players.
In addition to the latest news of the day, you can find updated odds on up to 20 sports around the world at SportMoose.com. We recommend you check it out!
Our Christmas Present To You
Former World Poker Tour Royal Flush Girl Melanie Iglesias is back with another of her popular Flip Books. This one arrived just in time for Christmas. It does not disappoint. Merry Christmas!
Follow PokerNews on Twitter for up-to-the-minute news.