The Nightly Turbo: EPT Berlin Robber Sentenced, Gus Hansen Hits Bobby's Room, & More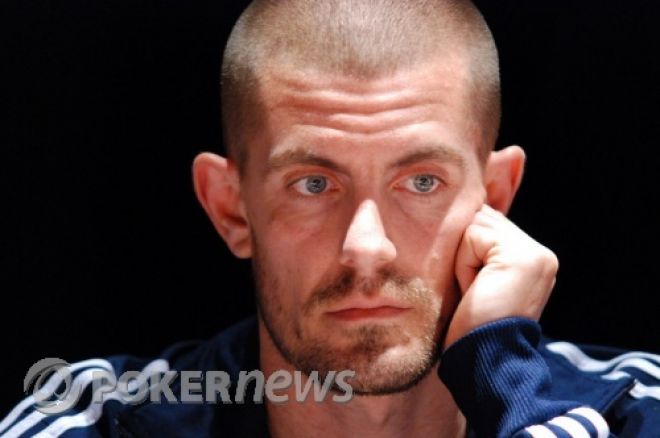 On top of bringing you the day's top poker news stories, like the sentencing of an EPT Berlin robber and what Gus Hansen thinks about today's high stakes action, we're going to give you a little tidbit of info that will probably make your life a little easier. Saturday is Tony G's birthday, and if you send him a happy birthday tweet, you'll probably be qualified -- for something.
In Case You Missed It
We all know Phil Hellmuth likes to talk, so we had to break up our interview with the Poker Brat into two parts. In Part II, Hellmuth talks about football, Ben Lamb, and more.
Day 2 of the Epic Poker League $20,000 Main Event ended with 25 players still in contention. Noah Schwartz topped the leaderboard, but Faraz Jaka and David Williams were close on his heels.
Congressman Joe Barton is struggling to find co-sponsors for his bill to regulate online poker. PokerNews' Matthew Kredell examines why the interest has stalled.
Who could end up the biggest cash-game winner of the year on PokerStars? Find out in the Online Railbird Report.
Only 40 players survived Day 2 of the World Poker Tour Venice Main Event on Thursday. You can find the key details in our Day 2 recap.
Sunday is almost here and that means football. Check out our picks and fantasy football advice for Week 14 in the latest Pigskin Diaries.
Miss anything this week? Kristy Arnett gets you caught up on the latest news, views and gossip in the PokerNews Weekly.
EPT Berlin Robbery Mastermind Faces Prison Time
The alleged mastermind behind the 2010 robbery at the PokerStars European Poker Tour Berlin Main Event was sentenced to six years and four months in jail on Thursday. The Berlin District Court found that Ibrahim al Moussa planned the attack on the poker tournament and then served as the getaway driver after four gunmen raided the Grand Hyatt Hotel and escaped with €242,000.
Police arrested the six suspects shortly after a robbery took place in March 2010. Four men who executed the attack were each given prison sentences of at least three and a half years. One of the men, 21, received a three-year and nine-month sentence; the others, 19 to 20, were handed three years and six months by a youth court.
Now that al Moussa has been sentenced, the focus shifts to the final suspect, Mohammed Abou-Charka. The 32-year-old played in the poker tournament and purportedly provided information to his associates about when to begin the attack.
Get more on this story at hochgepokert.com (Google Translate is your friend).
Is the Big Game Drying Up?
Five years ago, the "Big Game" at Bobby's Room in Las Vegas was spreading limit games as big as $8,000/$16,000, attracting many of poker's most high-profile players.
Those days are long gone, according to Gus Hansen. The "Great Dane" visited Las Vegas this week and blogged that he was shocked at how much the high-stakes limits have shrunk at Bellagio's famous poker room.
"I know about Black Friday and I know that a lot of people lost a lot of money when all the banks f@&#ed up in 2008, but who would have thought that Highstakes Poker limits would have decreased that much," Hansen wrote. "Yeap, we are now playing $600/$1200 or $800/$1600 — approximately 20% of what we used to play for. Very sad if you ask me."
Maybe Hansen could find a better game at the new Jamie Gold Poker Room a little way down the Vegas Strip. Or, maybe not.
Hansen's blog can be found at gushansen.me.
Joe Hachem Leaves PokerStars
On Friday, PokerStars announced that it has parted ways with 2005 World Series of Poker Main Event champ Joe Hachem. The Aussie pro joined forces with PokerStars after his historic win in 2005, but the decision to end the relationship came after the expiration of Hachem's Team PokerStars contract this month.
"It's been a great run with PokerStars and I'm proud of my association with the people and the company," Hachem said in a PokerStars press release. "But it's time for me to pursue other career opportunities and it will be fun to have some down time to spend with my family. I look forward to the future with much excitement and anticipation and will always have fond memories of my time at PokerStars."
With more than $11 million in live tournament earnings, Hachem ranks ninth on poker's all-time money list. He joins the likes of Dennis Phillips, Greg Raymer, Tom McEvoy and JP Kelly in parting ways with PokerStars since Black Friday.
Read the full story at PokerNews.com.
German States Approve New Online Gambling Law
On Thursday, Germany took one step closer to a regulated online gaming market when 15 of the 16 federal stated approved a new gambling law. The law would allow for up to 20 sports betting licenses and a gambling sales tax of 5 percent to be introduced.
Schleswig-Holstein was the only state not to add its signature to the new law. In September, the state parliament in Schleswig-Holstein voted 46 to 45 to allow sports betting and poker sites to operate in the state, as long as they are established in the European Union. As a result, Schleswig-Holstein premier Peter Harry Carstensen told reporters Thursday that the state would need approval from the European Commission before approving the new law.
Reuters has more on the regulation situation in Germany.
PokerStars Protects the Players
PokerStars is doing everything in its power to make sure the catastrophe at Full Tilt Poker never happens again. On Friday, the world's leading poker room unveiled the PokerStars Player Protection Plan, which will protect player funds by using a third-party, independent trustee to oversee accounts in France.
"The security of player accounts and the integrity of online poker play are fundamental to the ongoing and future success of the industry," said PokerStars CEO Gabi Campos. "We are pleased to partner with the thought-leaders in European regulation to establish an industry-wide standard for ensuring player funds are protected."
PokerStars said it is working closely with regulators in additional European markets such as Spain, Italy and Belgium to extend its French Player Protection Plan and establish a Europe-wide standard for the gaming industry to follow.
Find out more at PokerNews.com.
Get Sports Betting Tips at SportMoose
If you've been struggling picking European football winners of late, SportMoose.com recently examined several factors that should be considered when placing a wager.
The online gambling information site advises bettors to spend time researching the players involved in both teams, recent form, past results between two teams and anything at all you think could influence the result. Another thing to consider is whether a team is playing for a place in the postseason.
Says SportMoose, "If a team simply has to win to either avoid relegation or qualify for a European competition you should tend to bet on the 2.5 or more goal market as they will not only be attacking more during the match but in doing so they will leave their defence open at the back and be more prone to concede goals.
In addition to its European football coverage, the writers at SportMoose provide daily betting tips for the NFL, college football, college basketball, hockey, and even tennis and MMA. You can also find the latest odds on up to 20 sports and reviews for a number of online sports books at SportMoose.com.
Smappsoft Updates Chinese 13 Card Poker App
If you're a fan of Smappsoft's Chinese 13 Card Poker App for the iPad/iPhone/iPod, then you'll be happy to hear that the company has recently released Version 2.1. The latest update adds Twitter functionality that will allow players to match up easier, tweet their GameCenter ID, brag about hand, Tweet scores, and tweet from within the app itself.
The latest version of the app comes just months after the release of 2.0, adding online play technology. The 2.1 update is designed to complement the on-line play experience.
"The addition of Twitter functionality solves these needs and provides the user with an even more enjoyable platform to play Chinese 13 Card Poker," said Mark Rubin, Smappsoft's chief engineer.
If you already have the Chinese 13 Card Poker app, the update is available free of charge at the iTunes App Store.
Are you following PokerNews on Twitter? Like us on Facebook while you're at it, and sign up for the newsletter. You know you want to.