The Nightly Turbo: Galfond Leaves BlueFire, French Gambler Sues Government, and More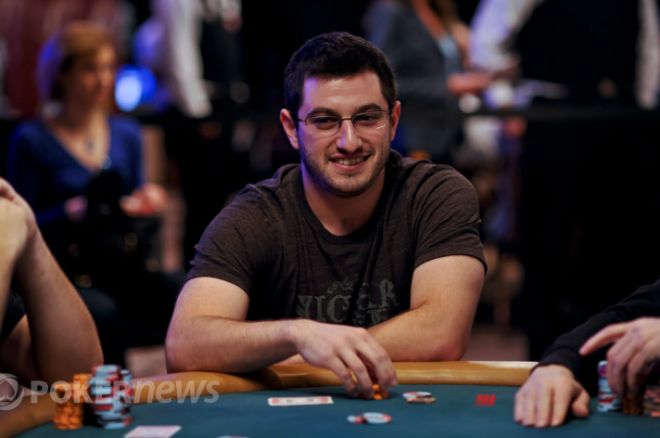 The Nightly Turbo brings you all the news from the poker world as it happens. It was a busy weekend and to get you started, we'll bring you Phil Galfond's departure from BlueFire Poker, the latest on the MGM trademark infringement lawsuit, and more.
In Case You Missed It
What does it feel like to win your first World Series of Poker bracelet? Mike Sexton explains his experience in the latest edition of My First.
James Dempsey denied Antonio Esfandiari a chance at history by winning the 2011 World Poker Tour Doyle Brunson Five Diamond World Poker Classic. Get the final table results in our daily recap.
How did McLean Karr become a regular in poker's biggest tournaments? Find out that and more in Part 2 of the latest Seat Open series.
Only 20 players survived Day 2 of the 2011 World Series of Poker Circuit Main Event at Harrah's Atlantic City. Several notables fell short of the money, and Tuan Phan emerged as the chip leader heading into the final day of action.
How did the Sunday Majors play out on PokerStars? Who took home the biggest win? Find out in the Sunday Briefing.
Phil Galfond Leaves BlueFire Poker
In a blog posted on Saturday, Dec. 10, high-stakes cash game specialist Phil Galfond announced he has parted ways with BlueFire Poker, the online training and coaching site he helped build into one of the premier learning tools in the industry.
Galfond was one of the founders of BlueFirePoker.com and provided more than 150 training videos during his three years as an instructor. Galfond also played a key role in the site's content management and the hiring of the BlueFire instructors. His reasons for leaving weren't disclosed in his final blog, leaving users to speculate about the site's future.
"As of today, Bluefirepoker.com and I are parting ways," Galfond wrote. "It's very hard to walk away from something I helped build from the ground up, but the most difficult aspect of this is the fact that I'll miss the community ... the members and my fellow coaches. Please know that it was a very difficult decision that I struggled with for a long, long time. I'm sorry that I can't elaborate further."
Galfond's full blog can be found at BlueFirePoker.com.
French Poker Player Sues Government
A French poker player is suing his government for €100,000, claiming that it failed to block him from accessing online poker sites.
According to the attorney of the 37-year-old gambler, whose name was not released, his client registered with the interior ministry last year to prevent him from entering casinos and logging into online gambling sites. Lawyer Emmanuel Ludot told Agence France-Press (AFP) that the man was registered under the wrong address, which allowed him to continue gambling online.
"It's all well and good to moralize about online games but we all know that they rely on the addiction and sickness of players," Ludot told AFP.
French gambling laws permit citizens with gambling problems to register with the ministry, which is supposed to prevent them from any sort of gambling activity. There are currently more than 36,000 gambling addicts registered.
Get the full story at the Sydney Morning Herald.
Defendant Files Motion to Dismiss MGM Trademark Infringement Lawsuit
One of the defendants named in a trademark infringement lawsuit by MGM Resorts International has filed a motion to dismiss, according to a report by VegasInc.com. Adam Majewski, who has owned the rights to the domain name excaliburpoker.com since 2005, claims that his site doesn't infringe on MGM's Excalibur Hotel Casino trademark.
Earlier this month, MGM Resorts International filed suit against Majewski and five other defendants for trademark infringement. The lawsuit claimed that each of the defendants registered poker-related websites between 2002 and 2005 that used names of MGM properties.
Majewski's court filing says that the Excalibur mark is not distinctive and thousands of businesses use the name, including Excalibur Bowling, Excalibur Taxi and even Excalibur Condoms. "Recent changes in Nevada law have opened up the prospect for Internet gambling," Majewski's response said, according to the report. "Late to the feeding frenzy, MGM wants to leverage the well-known names of its hotels in Las Vegas."
The other sites listed in the trademark infringement lawsuit are ariapoker.com, bellagioonlinepoker.com, circuscircuspoker.com, luxorpoker.com, mandalaybayonlinepoker.com and mgmpoker.com.
More on this story can be found at PokerNews.com.
Micro Players Win Big at PokerStars
PokerStars handed out more than $100,000 to players dealt into the 72 Billionth Mega Milestone hand on Sunday, Dec. 11, with "Kozlicek_x" from the Czech Republic taking home nearly $25,000.
Traditionally, PokerStars only runs the milestone hands promotion for every 5 billion hands, but more than 1,000 players earned cash prizes leading up to hand No. 72 billion this month as part of PokerStars' 10th Anniversary celebration. "Kozlicek_x" was one of six players at a $.02/.05 ring game dealt into hand No. 72 billion. The Czech player flopped a set of sevens to win a $27 pot plus another $24,300 in prize money, while each other the other five players received a minimum of $12,100.
Read more about the 72 Billionth Hand winners here at PokerNews.com.
APPT Adds Seoul to 2012 Schedule
The PokerStars.net Asia Pacific Poker Tour will make its return to Seoul, South Korea, in Season 5. PokerStars announced Monday that it will return to the country's capital after a two-year hiatus. The five-day series will be highlighted by a KRW 3,000,000 (US $2,600) buy-in Main Event.
The APPT hit Seoul in Seasons 1 and 2, but was forced to cancel plans for a Season 3 stop because of renovations at the host casino. The upcoming series will take place from March 7 through 11, 2012, at the Paradise Walkerhill Casino. Satellites are running daily at PokerStars.com.
You can find the full APPT Seoul schedule at PokerNews.com.
Former "Friend of Full Tilt" Discusses FTP, UIGEA
Acclaimed writer and poker player James McManus is the latest to examine Black Friday in depth. The author of Positively Fifth Street recently posted a column at Grantland.com, titled Full Tilt Boogie: The UIGEA and You, which takes a look at his dealings with Full Tilt Poker, the Unlawful Internet Gambling Enforcement Act, and U.S. Senator John Kyl, among other topics.
McManus' stance as an admittedly biased poker player is that poker is a skill game and should be recognized as such by lawmakers. Says McManus, "To lump poker together with suckers' games like blackjack and craps, lotteries and bingo is to simply betray your ignorance of how these games work — of who wins, by how much, and why."
McManus also gives his take on the FTP debacle, including the battle between Phil Ivey and his former employer at the onset of the World Series of Poker. "It was sort of like watching Berkshire Hathaway and Warren Buffett sue each other, or your dad sue your mom for the exact amount of your college fund, or … whatever it was like, it was Kodiak bearish news for all Tilters," McManus wrote in the column.
We highly recommend you read the article and even share it with friends who may not understand the underlying circumstances of the situation at Full Tilt Poker. Check it out at Grantland.com.
Highlights From EPT Prague
A new European Poker Tour champ was crowned in Prague over the weekend. PokerNews' Kristy Arnett takes a look at the highlights from the record-setting event.
Are you following PokerNews on Twitter? Like us on Facebook while you're at it, and sign up for the newsletter. You know you want to.