The Nightly Turbo: Peter Eastgate's Prop Bet, Phil Ivey Divorce Details, and More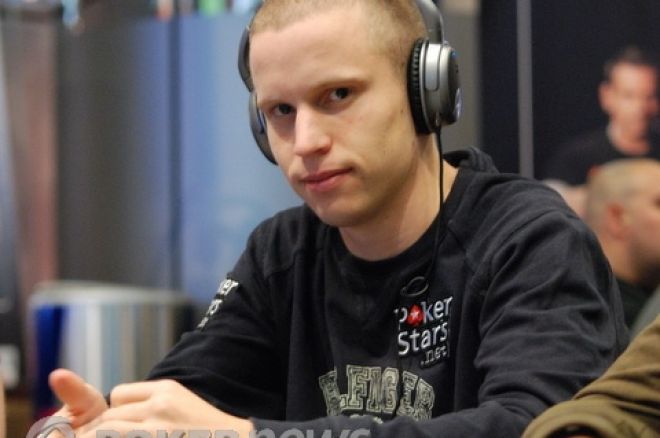 The death of North Korean leader Kim Jong Il dominated the headlines on Monday. We hope you weren't among the many who thought it was actually rapper Lil' Kim who perished. In poker news, we learned that Phil Ivey's ex-wife collected millions of dollars in assets from the couple's 2009 divorce settlement, and former world champ Peter Eastgate is a sick, sick human. All those stories and more in this edition of the Nightly Turbo.
In Case You Missed It
The Epic Poker League crowned its third Main Event champion on Sunday. Find out which player emerged from the star-studded field in our final table recap.
Did you miss Sunday's coverage of the World Series of Poker Europe on ESPN 2? Check out our recap for the details.
How did Kevin "ImaLuckSac" MacPhee get his start in poker? Find out that and more in Part 1 of the latest Seat Open series.
One lucky player earned a seven-figure payday by winning PokerStars' 10th Anniversary Sunday Million. Find out who it was in our recap.
The 2011 World Poker Tour Venice Main Event came to a close on Sunday. Edoardo Alescio defeated Steve O'Dwyer for the title and more than €200,000.
How did the Sunday Majors play out on PokerStars? Who took home the biggest win? Find out in the Sunday Briefing.
A Purse Collection That Would Make Beth Shak Jealous
On Monday, the Las Vegas Review-Journal reported some interesting details about Phil Ivey's ugly divorce case. The eight-time World Series of Poker bracelet winner filed a response to his wife's petition back in November in which she claimed there was judicial bias in their 2009 divorce settlement.
According to Phil Ivey's attorneys, Luciaetta Ivey received a purse collection worth over $1.2 million and jewelry valued at over $1 million, along with her car, her life insurance policy, a down payment for a new residence, and several other assets, as part of the couple's divorce settlement. Phil Ivey also accepted around $170,000 in credit card debt and over $15.1 million "in gambling and other debt," according to Ivey's attorneys.
Ivey's response also refutes his ex-wife's claims that he ceased providing her with alimony agreed upon in the settlement. According to Ivey's attorneys, alimony for Luciaetta was taken from money Phil Ivey received from Tiltware, the parent company of Full Tilt Poker. However, if the payments from Tiltware to Ivey ended, Luciaetta's alimony would cease. Luciaetta Ivey alleged in her petition that her ex-husband ceased paying spousal support in April 2011, around the same time the Full Tilt Poker domain name was seized by the U.S. Department of Justice.
"Luciaetta ended up with no debt, with millions of dollars worth of property, and with specific unambiguous alimony provisions," Phil Ivey's attorneys said in the response.
More on the story can be found at PokerNews.com.
Peter Eastgate Has Ice Water in his Veins
What would you do for $6,000? What if you were already a millionaire?
We've learned in the past that many poker players are willing to put their health at risk to win a prop bet. The latest occurrence involves Peter Eastgate, a near-freezing body of water and a 2.6-mile run in his native Denmark.
Eastgate, who won the 2008 World Series of Poker Main Event for more than $9 million, was offered $6,000 by fellow poker pros Peter Jepsen and Kasper Cordes to jump into the Island Brigge harbor in Copenhagen, and then run 2.6 miles (in his wet clothes) to Cordes' home in Nørrebro. The bet took place over the weekend while several Danish pros were attending their annual Christmas party.
Eastgate ultimately won the bet, telling Pokernyhederne.com that the run took around 20 minutes. That's a pretty nice hourly rate. Probably not sustainable, though — unless you enjoy pneumonia.
You can find a video of the bet and a short write-up at Pokernyhederne.com.
Get Your All-In Button Ready!
On Monday, PokerStars announced creation of the Turbo Championship of Online Poker (TCOOP), which will feature 50 fast-paced events in a variety of games. The inaugural series will kick off on Thursday, Jan. 19, 2012, and will close on Sunday, Jan. 29, with a $2,100 High Roller and a $700 buy-in Main Event.
Players can participate in the inaugural TCOOP for a buy-in as little as $5, with at least four events running every day until the series' completion. Satellites are already running for every event in the PokerStars lobby.
You can find the full schedule of TCOOP events at PokerNews.com.
888 Finishes Strong in 2011
888 Holdings Plc announced Monday that it expects 2011 core profits to be significantly above market expectations, citing the recent growth of its poker business as the primary reason for the company's success.
As of Dec. 12, 888poker had shown a larger traffic increase (up 76 percent) over the previous year than any other poker site in the world, climbing all the way to No. 4 in PokerScout.com's Online Traffic Rankings. As a result of the massive growth in its poker and casino brands, 888 said on Monday it would begin investing in several newly regulated markets in Europe.
"This significant strategic investment, along with the increases in gaming duty, will have an impact on the group's profit expectations. However, the board still expects results for the year ending Dec. 31 2012, to be slightly ahead of current market expectations," 888 said in a statement.
Read more at Reuters.com.
Cameras Love Liv Boeree
Liv Boeree photo shoot. Need we say more? Check out a sneak peek of the stunning Team PokerStars Pro's photo shoot for the February issue of World Poker Tour magazine:
Are you following PokerNews on Twitter? Like us on Facebook while you're at it, and sign up for the newsletter. You know you want to.