The Nightly Turbo: Rise and Fall of Bitar, Epic Poker Partners with USA Today, & More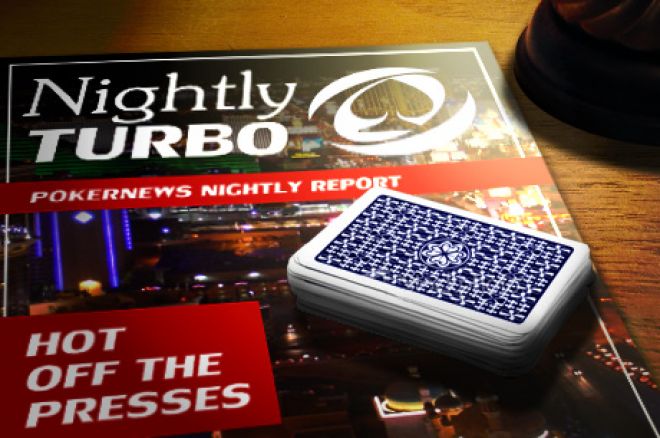 If you missed the biggest news stories today, you've come to the right place. It was a busy Wednesday in the poker world as Epic Poker signed a content deal with a major nationwide publication, Facebook is planning to offer real-money gambling in the United Kingdom, and much more.
In Case You Missed It
Poker players are always looks for easy, quick snacks to consume during their daily grind. Lynn Gilmartin reveals some popular recipes in the latest Stay Stacked piece.
It was a bad week for casino operators in Las Vegas. Get the latest on the Hooters and Hilton properties in Inside Gaming.
Need a new book to read at the tables? Check out our review of Andrew Seidman's Easy Game 3rd Edition.
The Rise and Fall of Ray Bitar
As you already know by now, Ray Bitar was the one of the key figures behind the operations at Full Tilt Poker for many years. He helped guide the startup online poker room into a billion-dollar gambling giant and signed some of the most famous pros in the game to represent his budding brand.
However, even still to this day, not much is known about Bitar. He worked behind the scenes at Full Tilt and, unlike fellow board members Chris Ferguson and Howard Lederer, always shied away from the spotlight.
On Tuesday, Wicked Chops Poker published a lengthy feature story about Bitar called In Other's Words: The Rise and Fall of Ray Bitar. The story, written by Dave "F-Train" Behr, includes anonymous interviews with former Full Tilt employees, sponsored pros and associates that had business relationships with Bitar.
The feature takes some time to get through, but it is certainly worth your time if you're even a little interested in the inner-workings of the Full Tilt business model. Here's one interesting excerpt from a former employee of Full Tilt Poker:
"Ray Bitar was not an especially impressive executive. When Howard Lederer was president of Tiltware, it was hard to tell that Ray was CEO [for early hires like myself] as most people assumed that Howard was in charge and Ray took his orders from Howard. At the very least Ray seemed careful not to make any decision, no matter how trivial, without getting Howard's input and buy-in. Part of this is that Howard was far more technically oriented than Ray, and in a company that is primarily a software development company, Howard was able to better understand the technology."
You can find the full story in the Insider section of Wicked Chops Poker.
Epic Poker Partners with USA Today
On Wednesday, Epic Poker announced a content partnership with the USA Today Sports Media Group and Big Lead Sports that will see the Global Poker Index (GPI) published weekly in both the print and online editions of USA Today.
The GPI, which ranks the top 300 live tournament players in the world on a weekly basis, will be presented to readers as the "USA Today Global Poker Index." In addition, Epic Poker will be the exclusive content provider for Big Lead Sports.
"Our work with the USA Today Sports Media Group and Big Lead Sports will help drive poker deeper into the mainstream news cycle and further position the game right alongside other professional sports content," said Jeffrey Pollack, executive chairman of the Epic Poker and Federated Sports + Gaming.
The first season of the Epic Poker League has crowned two Main Event champions thus far, with the third event beginning on Dec. 14, 2011 at the Palms Casino Resort in Las Vegas. David "Chino" Rheem won the first event in August for $1,000,000, and Mike "Timex" McDonald took down the second event in September for $782,410.
Read the full Epic Poker press release at marketwatch.com.
Facebook Considers Real-Money Gambling
According to a report by eGamingReview, social media giant Facebook is developing plans to offer real-money gambling in the United Kingdom as early as 2012.
Facebook, which currently hosts the free-to-play Zynga Poker, has already begun exploratory talks with U.K. operators to launch real-money online gambling and is already in discussions with 888poker and Gamesys. EGR says the plan is for Facebook to offer eight licenses to U.K. operators who want to offer their gambling platform on Facebook.
PokerNews contacted Facebook for a comment and received a response from a company spokesperson. "We're always in discussions with companies about lots of different ideas, but we don't comment on future plans or speculation."
Read more at PokerNews.com.
Bodog Unveils Anonymous Tables
Earlier this year, Bodog announced plans to "bring the fun back to poker" for the casual player by implementing a Recreational Poker Model. The growing poker room took a major step in that direction this week by introducing new poker software that will, among other things, prevent players from accessing any data on how opponents play.
Bodog's all-site anonymous tables will protect the casual player from opponents picking up information via the use of HUDs and other data mining sites. The software change comes two months after Bodog began removing full tables from the lobby and thus stopping data sites from accessing statistical information on players.
Among the other features included in the new software include a rabbit cam, several new tournament formats, and the ability to play up to 20 tables at the same time.
"We believe that introducing these features makes the Bodog Recreational Poker Model a pioneer in the online poker world and offers all players of all abilities the fairest place to play," said Bodog VP Jonas Ödman. "To my mind the software and Bodog's Recreational Poker Model is a genuine game changer."
Read more about Bodog's new software at CalvinAyre.com.
Martin Staszko Signs with PokerStars
2011 World Series of Poker runner-up Martin Staszko is the newest member of Team PokerStars. Staszko, 35, joins Martin Hruby as the only players from the Czech Republic on the PokerStars roster.
"I'm really happy to sign for PokerStars and join such a talented team of poker players, said Staszko, whose contract will officially begin on Dec. 1. "I'm playing in my home country at EPT Prague as a Team PokerStars Pro and looking forward to playing many big live and online tournaments in 2012 like the PCA and WCOOP. My main focus is to win a mixed game event at the next WSOP, becoming the first Czech player to win a bracelet."
PokerStars will officially introduce Staszko as part of the team on Dec. 4, 2011 at the Prague Hilton Hotel as part of the 10th Anniversary Guinness World Record celebration. His first tournament as a PokerStars Pro will come the following day, Dec. 5, at the European Poker Tour Prague Main Event.
More on this story can be found right here at PokerNews.com.
Qualify for the 2012 Aussie Millions
Looking for a way to qualify for the 2012 Aussie Millions? Crown Poker and several online poker rooms are offering a wide variety of satellites into the $10,000 Main Event on Jan. 22, 2012.
Crown Poker, which hosts the Aussie Millions each year, is offering a handful of different avenues to the Main Event: a direct entry event; a "Fast Track Satellite; a $550 Deepstack qualifier; or a Phase 3 Supershot Satellite. With the Phase 3 qualifiers, players can parlay a $65 Phase 1 buy-in into a Main Event seat by advancing through each of the steps.
Each qualifier will run daily at Crown from the end of November, and online players can also win Main Event seats at PokerStars, PartyPoker, 888poker, Titan Poker, Mansion Poker, Winner Poker, and Poker770.
Learn more about the satellites to the 2012 Aussie Millions at PokerNews.com.
Lederer, Furst File Claims for Seized Bank Accounts
On Wednesday, PokerNews discovered that Full Tilt Poker board members Howard Lederer and Rafe Furst had filed claims with the U.S. District Court of the Southern District of New York asserting title and interest to various seized bank accounts.
In September, the FBI was authorized to seize assets belonging to Chris Ferguson, Ray Bitar, Lederer and Furst for their involvement in the fraud and money laundering allegations in the amended civil complaint originally unsealed on Black Friday. Bitar and Ferguson had already filed claims with the United States District Court Southern District of New York, and Lederer and Furst followed suit this week.
The amount of money in the bank accounts was not revealed, but each claim lists the names of the bank accounts that were seized. The account belonging to Furst was held in Switzerland, while Lederer's claim listed an account with Wells Fargo Bank and another in the Isle of Mann.
Get the full story at PokerNews.com.
Follow PokerNews on Twitter for up-to-the-minute news.