The Weekly Turbo: Full Tilt Poker News, Bodog Leaves the U.S., and More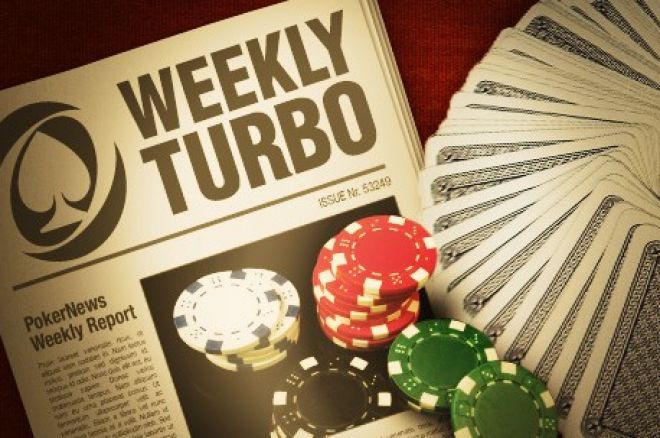 The Weekly is a roundup of the week's top poker news stories from India and around the world. In this edition of the Weekly Turbo, we bring you the latest news from Full Tilt Poker and Groupe Bernard Tapie, the Bodog brand leaving the U.S., and more.
Online Poker News
Bodog Rebrands to Bovada
As was planned in July, Bodog has left the U.S. market as of Wednesday, Dec. 14, and its licensee has rebranded the online gambling website under a new name. The new site, Bovada.lv, went live Wednesday morning and will be operated by the Morris Mohawk Gaming Group going forward.
According to a Bodog press release, U.S. residents are no longer able to access Bodog.eu or any other Bodog branded website. Accounts for existing players were automatically transferred to the new website and player can log in to the site using their existing account details and password.
"The Bodog brand is confident MMGG's customer account information and funds will continue to remain safe and secure, as it has done since MMGG entered its original agreement with the Bodog Brand in 2006 and we would like to wish MMGG the greatest success in its new venture," Bodog said in a statement.
Read more at PokerNews.com.
Phil Galfond Leaves BlueFire Poker
In a blog posted on Saturday, Dec. 10, high-stakes cash game specialist Phil Galfond announced he has parted ways with BlueFire Poker, the online training and coaching site he helped build into one of the premier learning tools in the industry.
Galfond was one of the founders of BlueFirePoker.com and provided more than 150 training videos during his three years as an instructor. Galfond also played a key role in the site's content management and the hiring of the BlueFire instructors. His reasons for leaving weren't disclosed in his final blog, leaving users to speculate about the site's future.
"As of today, Bluefirepoker.com and I are parting ways," Galfond wrote. "It's very hard to walk away from something I helped build from the ground up, but the most difficult aspect of this is the fact that I'll miss the community ... the members and my fellow coaches. Please know that it was a very difficult decision that I struggled with for a long, long time. I'm sorry that I can't elaborate further."
Galfond's full blog can be found at BlueFirePoker.com.
Micro Players Win Big at PokerStars
PokerStars handed out more than $100,000 to players dealt into the 72 Billionth Mega Milestone hand on Sunday, Dec. 11, with "Kozlicek_x" from the Czech Republic taking home nearly $25,000.
Traditionally, PokerStars only runs the milestone hands promotion for every 5 billion hands, but more than 1,000 players earned cash prizes leading up to hand No. 72 billion this month as part of PokerStars' 10th Anniversary celebration. "Kozlicek_x" was one of six players at a $.02/.05 ring game dealt into hand No. 72 billion. The Czech player flopped a set of sevens to win a $27 pot plus another $24,300 in prize money, while each other the other five players received a minimum of $12,100.
Read more about the 72 Billionth Hand winners here at PokerNews.com.
Business News
Full Tilt Poker, Groupe Bernard Tapie Back in the News
Subject:Poker reported Thursday that a deal has been reached to allow for the transfer of assets Full Tilt Poker (FTP) and French investment firm Groupe Bernard Tapie (GBT).
Sources told Subject:Poker that Full Tilt Poker shareholders ratified an agreement that would allow Groupe Bernard Tapie to purchase the forfeited FTP assets from the DOJ for $80 million. GBT would then be responsible for the repayment of non-U.S. players, and the Department of Justice would repay U.S. players.
Attorneys for Full Tilt Poker and Groupe Bernard Tapie declined comment to PokerNews on Thursday.
Additionally, Spanish News site Poker-Red reported Thursday that Groupe Bernard Tapie was among 61 companies to apply for a Spanish online gaming license before the new regulated market opens in early 2012. PokerStars, bwin.party and 888 were among the other operators to submit applications, but Poker-Red reports that GBT would be forced to replay all Spanish customers at Full Tilt Poker before it could reopen for business.
More on both stories can be found at PokerNews.com.
Defendant Files Motion to Dismiss MGM Trademark Infringement Lawsuit
One of the defendants named in a trademark infringement lawsuit by MGM Resorts International has filed a motion to dismiss, according to a report by VegasInc.com. Adam Majewski, who has owned the rights to the domain name excaliburpoker.com since 2005, claims that his site doesn't infringe on MGM's Excalibur Hotel Casino trademark.
Earlier this month, MGM Resorts International filed suit against Majewski and five other defendants for trademark infringement. The lawsuit claimed that each of the defendants registered poker-related websites between 2002 and 2005 that used names of MGM properties.
Majewski's court filing says that the Excalibur mark is not distinctive and thousands of businesses use the name, including Excalibur Bowling, Excalibur Taxi and even Excalibur Condoms. "Recent changes in Nevada law have opened up the prospect for Internet gambling," Majewski's response said, according to the report. "Late to the feeding frenzy, MGM wants to leverage the well-known names of its hotels in Las Vegas."
The other sites listed in the trademark infringement lawsuit are ariapoker.com, bellagioonlinepoker.com, circuscircuspoker.com, luxorpoker.com, mandalaybayonlinepoker.com and mgmpoker.com.
More on this story can be found at PokerNews.com.
Joe Hachem Leaves PokerStars
On Friday, PokerStars announced that it has parted ways with 2005 World Series of Poker Main Event champ Joe Hachem. The Aussie pro joined forces with PokerStars after his historic win in 2005, but the decision to end the relationship came after the expiration of Hachem's Team PokerStars contract this month.
"It's been a great run with PokerStars and I'm proud of my association with the people and the company," Hachem said in a PokerStars press release. "But it's time for me to pursue other career opportunities and it will be fun to have some down time to spend with my family. I look forward to the future with much excitement and anticipation and will always have fond memories of my time at PokerStars."
With more than $11 million in live tournament earnings, Hachem ranks ninth on poker's all-time money list. He joins the likes of Dennis Phillips, Greg Raymer, Tom McEvoy and JP Kelly in parting ways with PokerStars since Black Friday.
Read the full story at PokerNews.com.
Tournament News
Aussie Millions to Host $250,000 Super High Roller
According to a source at Crown Poker, the Aussie Millions will be hosting another $250,000 buy-in Super High Roller event in January 2012. The source told PokerNews on Tuesday that a handful of top pros have already confirmed their participation in the highly-anticipated event, including defending champion Erik Seidel, who collected $2.5 million by defeating a tough field of 20 earlier this year.
Several others such as Dan "Jungleman" Cates, Tom "durrrr" Dwan and Dan Shak have shown interest but are working on finalizing travel plans, according to the source. Numerous Chinese businessmen also plan to participate.
We expect this to be as big a hit as last year's Super High Roller events in Melbourne. We also expect Seidel to be hoisting the trophy again when it's all said and done — unless Jason Mercier shows up.
Find out more at PokerNews.com.
EPT Berlin Robbery Mastermind Faces Prison Time
The alleged mastermind behind the 2010 robbery at the PokerStars European Poker Tour Berlin Main Event was sentenced to six years and four months in jail on Thursday. The Berlin District Court found that Ibrahim al Moussa planned the attack on the poker tournament and then served as the getaway driver after four gunmen raided the Grand Hyatt Hotel and escaped with €242,000.
Police arrested the six suspects shortly after a robbery took place in March 2010. Four men who executed the attack were each given prison sentences of at least three and a half years. One of the men, 21, received a three-year and nine-month sentence; the others, 19 to 20, were handed three years and six months by a youth court.
Now that al Moussa has been sentenced, the focus shifts to the final suspect, Mohammed Abou-Charka. The 32-year-old played in the poker tournament and purportedly provided information to his associates about when to begin the attack.
Get more on this story at hochgepokert.com (Google Translate is your friend).
Doyle Brunson Offered EPL Lifetime Membership
On Tuesday, Doyle Brunson was honored with the first lifetime membership card by the Epic Poker League, making him eligible for every future $20,000 Main Event regardless of his recent achievements on the felt.
"He just has this secret sauce of every accomplishment you can imagine, big generosity to the poker community, incredible longevity, amazing ambassadorship," Epic Poker League Commissioner Annie Duke told the Associated Press. "And then on top of that he's just an easy guy to really like."
Brunson, who earned a two-year player card with the Epic Poker League this year, didn't participate in the Epic Poker League's first two $20,000 Main Events this year. The third EPL Main Event kicks off Wednesday, Dec. 14, at the Palms Casino Resort in Las Vegas. We're not sure whether Doyle intends to play that tournament.
Read more at PokerNews.com.
LAPT Heads Back to Brazil in Season 4
On Wednesday, PokerStars announced the destination for the Season 4 Latin American Poker Tour Grand Final. The final stop on the tour will take place in Sao Paulo, Brazil, from Feb. 17 through 20, 2012, at the Sheraton World Trade Center Sao Paulo. Coincidentally The dates conveniently coincide with Carnival. We're sure that has nothing to do with the fact that PokerStars loves throwing parties.
The R$4,000 buy-in LAPT Grand Final will attempt to break yet another attendance record on the LAPT in Season 4. The season began in Sao Paulo in February and has since made stops in Chile, Peru, Uruguay and Colombia. The first stop in Sao Paulo attracted the largest LAPT field, 536 players, but that record was broken in Chile and then again in Colombia in October when 681 players participated in the Main Event in Medellin.
In addition to the 2012 LAPT Grand Final Main Event, there will be a variety of side events to take part in. Take a look at the schedule at PokerNews.com.
Marianela Pereyra joins the World Poker Tour
The World Poker Tour announced Thursday that anchor Kimberly Lansing is headed for maternity leave, which means former Poker After Dark hostess Marianela Pereyra will take over Lansing's duties beginning with the WPT Venice event in February 2012.
In addition to her hosting role for the now-defunct Poker After Dark, Pereyra has also covered events for ESPN, CBS Sports and Fox Sports. She also served as a sideline reporter for the 2007 World Series of Poker Main Event final table.
"I'm thrilled to be given such an incredible opportunity," Pereyra said of joining the WPT. "It's an honor to be filling in for Kimberly Lansing and I'm really looking forward to being part of the World Poker Tour."
Read more at PokerNews.com.
Legislation News
Adelson Has Many Concerns Regarding Online Poker
Las Vegas Sands CEO Sheldon Adelson became poker's latest villain after saying he is "morally opposed" to the legalization of online poker in the United States. An excerpt from Adelson's interview for the January issue of Global Gaming Business (GGB) leaked to Las Vegas Sun columnist Jon Ralston, who blogged about Adelson's stance last week.
Adelson told GGB that his chief concern is that it will be too easy for underage children to gamble for real money on an Internet poker site. However, he's also confused by the urge of many casino execs to grab a share in the space.
"PokerStars is the biggest and most successful online gaming entity in the world and the most they made in a year was $440 million," Adelson said. "Now, how is $440 million divided up amongst several other players going to make a difference? It ain't going far."
Adelson says he's also concerned that online poker could lead to gambling problems for young adults, especially if the operators expand to other gambling avenues. "Poker will absolutely lead to full casinos," Adelson told GGB.
Read more about Adelson's opposition to online poker at the Global Gaming Business website.
Operators Granted Online Gambling Licenses in Denmark
On Thursday, PokerStars, 888, bwin.party, PKR and Unibet were among 38 operators to be granted licensed by the Danish Gambling Authority. Each gambling company will be permitted to offer online gambling services to residents of Denmark when the new regulatory framework goes into effect on January 1, 2012.
"From January the gambling market will be orderly and we will ensure that holders of a betting and online casino license to operate on the Danish market also contribute to the society," said Thor Möger Pedersen, Denmark's Minister of Taxation. "Danes as well as the many associations supported by the gambling market can be joyful."
Read more about Denmark's online gambling licenses at PokerNews.com.
Are you following PokerNews on Twitter? Like us on Facebook while you're at it, and sign up for the newsletter. You know you want to.