The Weekly Turbo: WSOP $1 Million Buy-in, Sands CEO Opposes Online Poker, and More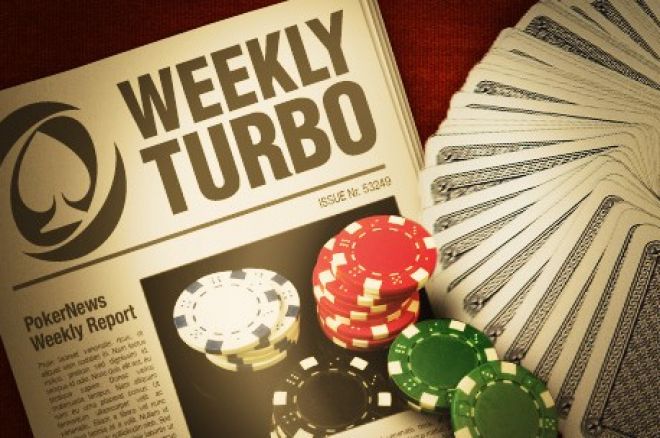 Here's a roundup of all the top poker news stories from India and across the world in this edition of the Weekly Turbo. Here we bring you the latest announcement regarding the upcoming $1 million buy-in event at the World Series of Poker, a Las Vegas casino mogul voicing his opposition to online poker, and more.
Tournament News
22 Players Confirmed for $1 Million Buy-in at WSOP
The world's richest poker tournament is closer to becoming a reality. On Monday, Caesars Interactive Entertainment announced that 22 players have already committed to the Big One for One Drop, the $1 million buy-in tournament taking place at the 2012 World Series of Poker. The event will run from July 1 through 3, 2012, at the Rio All-Suite Hotel and Casino in Las Vegas, and will award the first-ever platinum WSOP bracelet to the winner.
ONE DROP Chair and Cirque du Soleil founder Guy Laliberté introduced the historic tournament in June with a goal of raising enough money for a project that will see an impoverished country receiving access to clean water. Of the $1 million buy-in, $111,111 will be donated to ONE DROP, leaving $888,889 of each entry fee going directly into the rake-free prize pool.
Among players that have committed to the event so far include Patrik Antonius, Gus Hansen, Daniel Negreanu, Johnny Chan, Tom Dwan, Tony Guoga, Jonathan Duhamel, and Bertrand "ElkY" Grospellier.
More information on the Big One for One Drop can be found at PokerNews.com.
DeepStacks Announces DeepStacks Poker Tour
On Monday, DeepStacks announced it will be launching the DeepStacks Poker Tour in 2012, and PokerNews will be at every stop providing live updates as the official media partner.
The tour kicks off at Seneca Niagara Casino in Niagara Falls, N.Y. from Feb. 15 to 19. The $1,500 DeepStacks Poker Tour Western New York Poker Championships offers a $200,000 guarantee prize pool and will see Team DeepStacks Pros such as Michael Mizrachi, Mike Matusow, Justin Smith and Randal Flowers take part in the action.
Season 1 of the DeepStacks Poker Tour will include at least six total stops in California, Nevada, Oregon, New York and Quebec. All of the events will be televised with commentary provided by Joe Stapleton alongside Team DeepStacks Pro Tristan "Cre8ive" Wade.
Read more about the DeepStacks Poker Tour at PokerNews.com.
Legislation News
Las Vegas Sands CEO Opposes Online Poker
According to Jon Ralston of the Las Vegas Sun, Las Vegas Sands CEO Sheldon Adelson is opposed to legalizing online poker, putting him in the vast minority of Nevada casino operators who believe Congress should license and regulate poker on the Internet.
Adelson told the American Gaming Association that he is "morally opposed" to web gaming. A source told Ralston that Adelson believes the technology to prevent minors from logging on to an online poker site is untested, and the issue will be an "unnecessary distraction" in 2012.
Adelson's sudden stance differs greatly from his views of online poker earlier this year. An August article in the New York Post stated that Adelson was in full support of online poker at the federal level, telling a source that he saw the move as a "window of opportunity to grow sales."
The Las Vegas Sands Corporation owns and operates properties such as The Venetian and The Palazzo on the Las Vegas Strip.
For more, read Ralston's blog at the Las Vegas Sun.
Online Poker Won't Affect State Lotteries
A study released by online poker advocacy group Fair Play USA has found that legalizing online poker in the United States would not have a damaging effect on state lottery sales or revenues. The study, named "An Evaluation of the Effects of Online Poker on State Lotteries," concludes that lotteries and poker are different products with different consumers.
"This study will be an important tool in Fair Play USA's ongoing efforts to educate and create public momentum for effective law enforcement, consumer protections and regulation surrounding the legalization of online poker," said Tom Ridge, advisor of Fair Play USA.
The study explains that online poker wouldn't affect lottery sales for several additional reasons, one being that Internet gambling games of all kind are already available today and any substitution effect has already been experienced by state lotteries.
Read the full report at FairPlayUSA.com.
Online Poker News
PokerStars Sets Another Guinness World Record
PokerStars shattered its own Guinness World Record Sunday when 200,000 players took part in a $1 no-limit hold'em tournament, besting the previous mark for most players to ever compete in a single online tournament.
The previous record of 149,196 players, set in 2009, was cleared easily on Sunday as the cap of 200,000 players was reached nearly four hours before the tournament even started. Guinness World Record Adjudicator Gaz Deaves was on hand for the celebration in Prague to certify that PokerStars had established an official new world record.
Russian player "sokoluk1991" ultimately took down the title after a three-way chop saw each player collect at least $25,000. "Sokoluk1991" earned $40,258, while Estonia's "Kaitz20" earned $34,000 and the U.K.'s "King-2-Z" found $25,741 in their account after it was all said and done.
The world record marked the official launch of PokerStars' 10th Anniversary celebration, which will continue through Dec. 18 and include a $10 Million Sunday Million tournament, a chance to win one of 100 trips to the PokerStars Caribbean Adventure, and several other prizes.
Get more info on the 10th Anniversary promotions at PokerStars.com.
Bodog Software Compromised
Last week, Bodog Poker released a software update that featured anonymous poker tables designed to hide each player's identity to protect the "casual poker player" from the sharks. The objective was to prevent opponents from picking up information via the use of HUDs and other data-mining sites.
It appears, though, that Bodog's anonymous tables aren't so anonymous after all. HHSmithy.com reports that not only is each player's ID exposed, but also the new software is a huge security risk for players.
Have a look:
In response to emails about the security breach, Bodog sent the following email to concerned players:
Thank you for contacting Bodog Poker Customer Service.
It's very understandable if our players are very concerned about the security of their accounts because of this video that has been posted on the Internet but we are assuring all of our players that all your account information is secured. We are aware of this video and we are investigating looking into this.
As per the anonymity of our poker tables, for the vast majority of our players, they will not know who they are playing against as they can't see a screen name or account number while at the tables; however, if someone wants to and has the technical skills to develop the software you saw on the forum they are able to — we are confident this will only be pursued in very isolated cases between now and a future upgrade that will prevent it from working.
If you are worried about the security of your account, having access to an account number is similar to having a screen name in the past. You still must have a password or the answers to your private security questions to access any personal or banking information.
The full explanation of how HHSmithy cracked Bodog's software can be found at HHSmithy.com.
UB Responds to Data Leak
The CEREUS Network is back in the news, and it has nothing to do with the repayment of player funds. Last week, personal data from UB.com player accounts was publicly leaked anonymously on the TwoPlusTwo poker forums, causing panic among poker pros who worried that their credit card or social security numbers would be compromised.
Subject:Poker was able to take a look at the data and discovered that no social security numbers or financial account numbers were released. Still, players were concerned. And to our surprise, someone at UB actually began responding to emails this week.
According to a reply sent to The Examiner, UB said it is aware of the data leak and conducting an investigation. The spokesperson added that the company was able to confirm that the published information did not include players' personal banking or credit card details, and if an actual theft of UB and Absolute Poker data occurred, it will do everything possible to bring the criminals to justice.
You can read the full UB response at Examiner.com.
Business News
GSN Removes High Stakes Poker from 2012 Schedule
It appears GSN's High Stakes Poker is the latest victim of Black Friday. The popular cash game will not return for an eighth season according to a report by BuzzerBlog.com, which revealed that High Stakes Poker is not included in the network's 2012 schedule.
High Stakes Poker initially survived Black Friday in April 2011 as it continued airing on GSN for its seventh season. However, ratings plummeted with new host Norm MacDonald and a diluted lineup of players and businessmen, and a large amount of advertising was lost from PokerStars and Full Tilt, which pulled their presenting sponsorships brand integrations from the program.
HSP now joins the likes of Fox's PokerStars Big Game and NBC's National Heads-Up Poker Championship and Poker After Dark as Black Friday casualties. It will be replaced by Catch 21 and Lingo in the 3 a.m. Saturday slot on GSN, in case you're interested.
Read more at BuzzerBlog.com.
AGCC Launches Independent Review of Full Tilt Poker Debacle
The Alderney Gaming Control Commission has announced it will be launching an independent external review of its processes leading up to the suspension and eventual revocation of licenses owned by Full Tilt Poker. The upcoming review will be conducted by former Chairman of the British Gambling Commission Peter Dean, who will focus on the "appropriateness, timeliness and fairness of the actions undertaken" by the AGCC.
The AGCC says the decision has been taken to provide full transparency of the actions taken against Full Tilt Poker, which had its license revoked on Sept. 29, 2011, and still owes as much as $330 million to customers.
"As soon as we became aware that there were possible irregularities in relation to FTP's operational integrity AGCC acted to discharge fully our statutory obligations," said André Wilsenach, AGCC's executive director. "We believe we acted appropriately and fairly at all times but, following our own internal assessment and the inevitable questions that have been raised by third parties, the Commission decided that it is in the best interests of players, license holders and AGCC itself to commission an independent review and to make the outcome public."
Get more on the story at PokerNews.com.
Steve Wynn, Robert Kraft Pitch Casino Project
A joint venture from casino mogul Steve Wynn and New England Patriots owner Robert Kraft could see a $1 billion casino report built across from Gillette Stadium, the home of Kraft's NFL franchise. The Boston Globe reports that the Foxborough-based resort would include a luxury hotel, gambling hall, shops, restaurants, and convention space, but it would be built on a scale that's appropriate for Foxborough, unlike Wynn's high-rise casinos in Las Vegas.
Wynn and Kraft met with the media on Monday to assure residents that the project would generate business activity and tax dollars for the community while protecting what they called Foxborough's rural feel. Foxborough residents would have to approve by a two-thirds town-meeting vote the zoning changes needed to allow casino plans to move forward.
"We see this as a destination resort that will attract people from all over America and all over the world that will want to come here and have conventions and have meeting spaces and have a good time," Kraft said.
"Visitors would leave a lot of revenue here that will spill over to both Foxborough and the surrounding towns."
Get more on the story at the Boston Globe.
Jamie Gold Honored With Poker Room
2006 World Series of Poker Main Event champion Jamie Gold has joined the likes of Bobby Baldwin and Phil Ivey to have a Las Vegas poker room named in his honor.
Tropicana Las Vegas announced Friday that it has named its newly renovated poker room "The Jamie Gold Poker Room." Gold will serve as the Tropicana's poker spokesperson and ambassador, and he will make daily appearances until the poker room's mid-January official launch and on a monthly schedule thereafter.
"This deal with Tropicana covers everything I could have ever wanted in a relationship with a major Las Vegas Strip resort and it will serve as my anchor and the conduit to all of my future poker and philanthropic endeavors," said Gold. "I really couldn't be more excited!"
Find out more at PokerNews.com.
Are You Qualified?
Tony G is.
Are you following PokerNews on Twitter? Like us on Facebook while you're at it, and sign up for the newsletter. You know you want to.