Unibet Size Does Matter Freeroll Final Delayed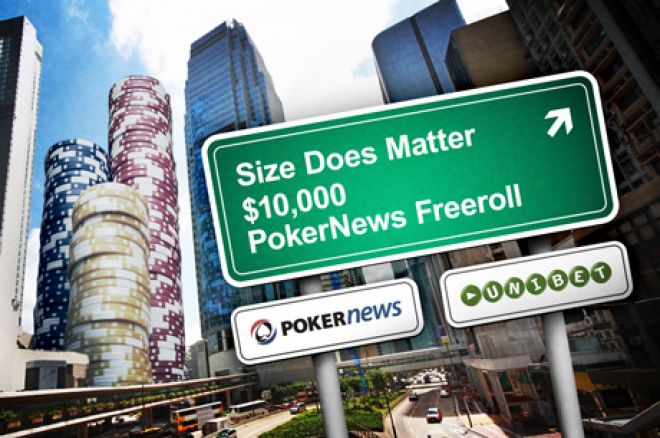 The qualification period for the Unibet Size Does Matter promotion is over as the $10,000 freeroll final has been delayed
The Unibet Size Does Matter promotion was a huge success which saw over 100 players qualify to take part in the $10,000 final freeroll.
We must announce to our players that the date of the freeroll has been delayed due to technical difficulties. Please note that the the new date for the freeroll is Dec. 27 at 19:00 CET.
The freeroll will go ahead and still will award a huge $10,000 to the qualifying players. This is a huge value promotion, so make sure you don't miss out the next time we run a similiar initiative.
Of the players who were lucky enough to take part in the Unibet Size Does Matter promotion, 21 have qualified with the largest possible stack. See below for a list of those names who will start with a 3,000-chip stack.
SuckyWizard
thak1ng
udrostm
SkylinerLT
Storm76
MadmanEk
antipraslak
ChickoNorris
Yogurina
geguzis41
MrRothschild
GT_varo
vivalongo
Satyr
Gringo
LX7
xtcrider
ikala
luckyluckbox
LizaLipps
mathistuta
The special freeroll will be played as a deep-stack freezeout tournament and will give players the best chance to weave their way to a big finish and the top 20 percent of finishers who will earn a share of the $10,000 prize pool.
If you don't have a Unibet Poker account, make sure you don't miss out on the next great exclusive promotion by signing up to Unibet Poker through PokerNews India. Also, remember to utilize our massive €1,000 bonus welcome bonus.
To find out more, head to our Unibet Welcome Bonus page and then download Unibet.
If you experience any problems with this or any of our promotions, please contact our Ticketed Promo Support System.