Win a Share of $15,000 Just in Time for Christmas at Poker770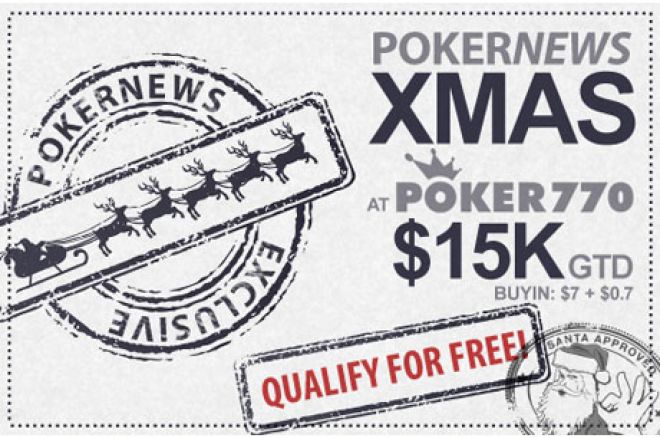 Make sure you Download Poker770 now and you could celebrating this holiday season with a share of $15,000!
The $15,000 Xmas Tournament on Poker770 will take place just a couple of days before Christmas on Dec. 23 at 20:00 CET and is exclusive to PokerNews India players.
Merry Xmas from Poker770
There is only a few days before the $15,000 Xmas Tournament, so make sure you give yourself the best chance at celebrating this Christmas with a huge amount of cash.
Entry into the event is exclusive to PokerNews players and any depositing players will be able to buy in for only $7.70. The field is capped at 3,000 players and will run as a rebuy event with rebuys limited to 10 per player. Each rebuy will cost only $7.70 and there will be one optional add-on available for the same cost as the first break.
Like the last two events PokerNews hosted on Poker770, the $15,000 Xmas Tournament is set to offer tremendous value yet again, and an overlay is almost a certainty.
In July, PokerNews hosted The PokerNews Giant which was a similar tournament which ended up featuring a $15,000 overlay. Just a few months ago, PokerNews and Poker770 again offered similar value yet again as the Pokernews $25K Showdown concluded with a similar overlay.
The $15,000 Xmas Tournament is looking set to offer another huge overlay so make sure you don't miss out on this event!
Win Your Seat For Free
In addition to being able to directly buy-in to the $15,000 Xmas Tournament, there are also plenty of opportunities to win your way into the event for less than a dollar or even for free.
Players from Australia will also be privy to two weekly freerolls, which will take place every Tuesday and Saturday.
PokerNews $15K Xmas Satellite
Monday through Sunday at 1700 CET — 5 seats guaranteed; Minimum of 10 players to start.
PokerNews $15K Xmas Satellite for Australian Players
Tuesdays and Saturdays at 1100 CET — 5 seats guaranteed; minimum of 10 players to start.
PokerNews $15K Xmas Cash Satellites
$0.77+$.07, Monday through Sunday at 2000 CET — 10 seats guaranteed
Remember that the tournament is an exclusive event, so make sure you sign up to Poker770 through PokerNews and use the bonus code "inpnews" when making your first deposit to receive our massive 200% up to €1,400 first-deposit bonus.
Not only will this make you eligible for the tremendous value on offer in the $15,000 Xmas Tournament, but you will also be eligible for any of inevitable exclusive promotions in the future!
If you experience any problems with this or any of our promotions, please contact our Ticketed Promo Support System.