$10,000 To Be Won In The Victor Chandler MaxStack Promotion!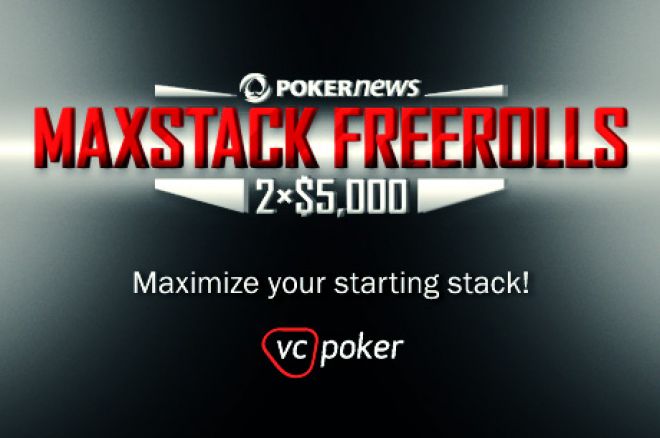 PokerNews and Victor Chandler have come together to bring you an amazing promotion that will see $10,000 given away across two freerolls in the $10,000 MaxStack Promotion. Download Victor Chandler now to be part of this PokerNews exclusive promotion!
The Victor Chandler MaxStack promotion could be one of the best value promotions PokerNews run all year due to the fact it is only available to PokerNews customers, so the fields are expected to be small. This is almost certainly your best chance of walking away with a share of the $10,000 that is up for grabs across the two exclusive freerolls.
The first freeroll takes place on Sunday, Jan. 29, with the qualifying period running from Jan. 1 through Jan. 26. The second freeroll is on Sunday, Feb. 26, with the qualifying period spanning from Jan. 30 through Feb. 23.
First $5,000 MaxStack Freeroll

| Date | Qualification Period |
| --- | --- |
| Sun 29 Jan | Jan 1-26 |
Second $5,000 MaxStack Freeroll

| Date | Qualification Period |
| --- | --- |
| Sun 26 Feb | Jan 30-Feb 23 |
Maximize Your Stack
Your starting stack size for each freeroll will be determined by the number of VIP Points you earn during the qualification periods. Each player will be awarded a starting stack of 1,000 chips for every 10 VIP Points earned. The minimum starting stack will be 1,000 chips, but players could start the freerolls with the maximum of 30,000 in chips and blinds will start at 50/100!
The Victor Chandler MaxStack promotion has a great twist thrown in which will see entrants start with different size starting stacks depending on how many VIP Points they have earned during the qualification period! Each player will start with a minimum of 1,000 chips but for every 10 VIP Points earned their stack will grow by 1,000 chips up to a maximum of 30,000!
The blinds will start at 50/100 so players who begin the freeroll with the full 30,000 chips will have a huge advantage over the rest of the field, especially when the field is expected to be small due to this exclusivity of this promotion. If that does not spur you on to grind out the VIP Points over the next couple of months then we do not know what will!
MaxStack Freeroll Starting Stack Amounts

| VIP Points | Starting Stack |
| --- | --- |
| 10-19 | 1,000 chips |
| 20-29 | 2,000 chips |
| 30-39 | 3,000 chips |
| 40-49 | 4,000 chips |
| 50-59 | 5,000 chips |
The above pattern continues all the way up to 300 VIP Points, which awards a starting stack of 30,000 chips! Although the maximum starting stack will be 30,000 there is still incentive to continue grinding out the VIP Points even when the magic total of 300 has been reached thanks to the €1,000 Welcome Bonus and the Great Merchandise Giveaway
VIP Points earned during the $10,000 MaxStack Promotion will count towards clearing the 200% match up to €1,000 Welcome Bonus and can be used to enter three daily freerolls that will see players walk away with items such as plastic playing cards, Victor Chandler chip sets and even solid silver card protectors!
The Two Decks One Cup Freeroll will see the top three finishers win two packs of VC Poker branded high-quality plastic playing cards and a VC Poker coffee mug, whilst the winner of the Home Game Freeroll will walk away with a VC Poker branded chipset complete with cards, 300 chips and an aluminium carry case! The third freeroll, the Sterling Silver Freeroll, awards the winner a solid sterling silver Victor Chandler card protector of which only 200 were ever made! The second and third place finishers in the Sterling Silver Freeroll will win a bronze replica of the same card protector.
The Great Merchandise Giveaway freerolls will run every day until Feb. 15 at the time shown in the table below:
| Freeroll Name | Time | Entry |
| --- | --- | --- |
| Home Game Freeroll | 2045 CET | 10 VIPP |
| Sterling Silver Freeroll | 2115 CET | 25 VIPP |
| Two Decks One Cup Freeroll | 2145 CET | 1VIPP |
Remember that the MaxStack promotion is exclusive to our players so if you don't already have an account, make sure you download Victor Chandler through PokerNews India. Not only will this make you eligible to take part in the $10,000 MaxStack promotion but you will also be able to take advantage of a very generous 200% up to €1,000 welcome bonus.
To keep an eye on your progress during each of the promotions, check out the PokerNews MaxStack leaderboard.
Please note that Victor Chandler does not accept players from the following countries: USA, France, Israel, Canada, Norway, Russia, Turkey, Denmark and Spain.
For more information and full terms and conditions, visit the Victor Chandler Max Stack promotion page.
If you experience any problems with this or any of our promotions, please contact our Ticketed Promo Support System.