2012 PokerStars Caribbean Adventure Main Event Day 5: Jaka Heads a Tough Final Table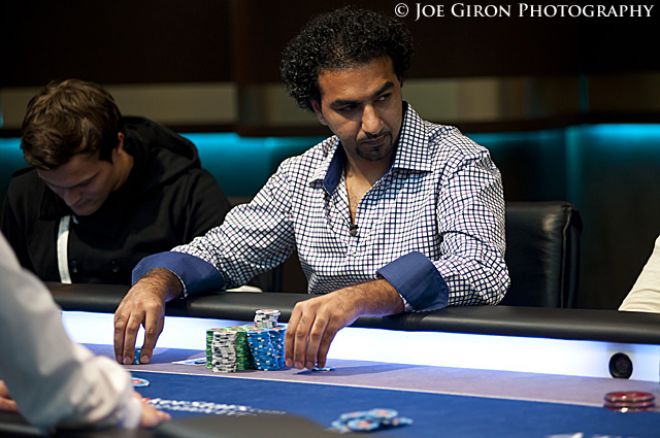 Last weekend, 1,072 players walked into the Imperial Ballroom in the Atlantis Resort with $10,000 in their pockets and a longshot wish to make it deep in the PokerStars Caribbean Adventure Main Event. On Thursday, the final 24 of them returned with updated goals of making it all the way to the final table and eventually, possibly, hopefully hoisting that trophy in due time. There's also a $2million first prize that goes along with it. After the longest day of the tournament thus far, Faraz Jaka has amassed the biggest stack of 6.47 million to set the pace for the final table. It's quite a tight race atop the chip counts, but more on that later.
Aussie Danny Chevalier was the short stack to start the day, and he was the first to fall when his
ran into the
of Daniel Shiff. A third king on the flop all but ended it, and the last remaining Aussie was out in 24th place. Alex Venovski and David Peters followed him out in short order, but the 21 who remained would stick around together for a long while. Finally, the feeling-out period seemed to be expiring, and the slow drip of eliminations turned into a fairly regular trickle.
Corey Burbick went out in 21st place when his pocket sevens lost a flip to David Bernstein's ace-queen, and Maksim Semisoshenko and Charles Furey fell out a few minutes thereafter. Next to go were Byron Kaverman — who ran pocket sizes into pocket aces — and Daniel Schmieding, and just like that, the field was reduced to two tables of eight.
The stacks had begun to work towards even, and the Dutch former Team PokerStars Ruben Visser had pipped into a small chip led by that point. David Granados lost a coin flip of his own to fall to Anthony Gregg, and the 2009 runner-up suddenly had some fighting' chips for the first time in a long time. Start-of-day chip leader Jaka had dropped a big chunk by running Big Slick into pocket aces, but he got some of those losses back when he sent Sam Greenwood off in 15th place.
Next to go was one of the betting favorites coming into the day, Alex "Assassinato" Fitzgerald. He had the poor fortune of dealing with Xuan Liu on his direct left, and it was she who snapped him off in a chip-lead pot. Fitzgerald four-bet shoved for about 2.1 million with
, and Liu looked him up with the bigger stack and
. Two more aces on the flop left Fitzgerald stone dead, and Liu was suddenly the biggest stack in the room with just about 4.5 million.
The thirteen players retired for dinner with Liu in front, but the after-dinner session would shake up everything. Nikolaos Alafogiannis was all in several times over the course of the day, and he managed to find a few adventurous double-ups to stick around through dinner. But he was next to exit when his
couldn't get over the hump against Martin Jacobson's
. Visser and Kyle Julius were both closing in on the chip lead by that point, and it was Julius who became the first to cross the 5-million-chip mark. As soon as he did, though, Liu won a huge pot to climb to almost 6 million and back into the lead, but Julius snatched it right back a few minutes later.
It was Shiff who became Julius' next victim, and his
was no good on the
board. Julius showed down the winning
, and he became the only player to crest the 7-million-chip mark.
A short while later, a huge cooler of a pot erupted between Gregg and Phil D'Auteuil. The French-Canadian went with
, but Gregg woke up with
to take most of D'Auteuil's stack. The remainder went to Faraz Jaka when the biggest pot of the tournament unfolded just after a break. D'Auteuil had to go with
, and Anthony Gregg tried to isolate with a re-shove holding
. But Jaka woke up with
in the big blind, and D'Auteuil's exit was part of the 5.5-million chip pot that skyrocketed Jaka back into contention.
From that point on, the big stacks took control, and the chip counts started to become polarized once again. Perennial EPT finalist Martin Jacobson just missed out on another final table when his
fell to Liu's
in 10 place, and the final nine players were redrawn for the final time at the unofficial final table. By that point, the chip average was around 30bb, and Lee Goldman was more than happy to get his nine remaining big blinds into the middle with
. He was even happier to see John Dibella call him down with
, but the cruel
rivered to send Goldman on his way and mark the end of Day 5.
The final eight players will return to the final table tomorrow to play it out to a winner. Play is scheduled to commence at 13:00 EST, and our coverage will begin along the live stream at 13:40. When the bags come back up, the table will be laid out like so:
| Seat | Player | Chips |
| --- | --- | --- |
| 1 | Mark Drover | 1,430,000 |
| 2 | Anthony Gregg | 1,160,000 |
| 3 | David Bernstein | 1,960,000 |
| 4 | Ruben Visser | 4,400,000 |
| 5 | Faraz Jaka | 6,470,000 |
| 6 | John Dibella | 3,465,000 |
| 7 | Xuan Liu | 6,355,000 |
| 8 | Kyle Julius | 6,450,000 |
As you'll notice, the top three players are separated by less than 1bb, and the level of talent remaining hints at a fantastic Day 6 on the horizon. It's worth mentioning that Xuan Liu is the first lady to appear at the PCA final table in the Main Event's history, and the 2009 runner-up Anthony Gregg has a bid for retribution here in 2012. First place is worth $2 million and a spot in PCA history, and our Live Reporting team will be back inside the ropes to bring you all the action from what promises to be a memorable final table on Friday.
Follow us on Twitter for the rest of the poker news from all the world around.