On the Button with Nick Shepherd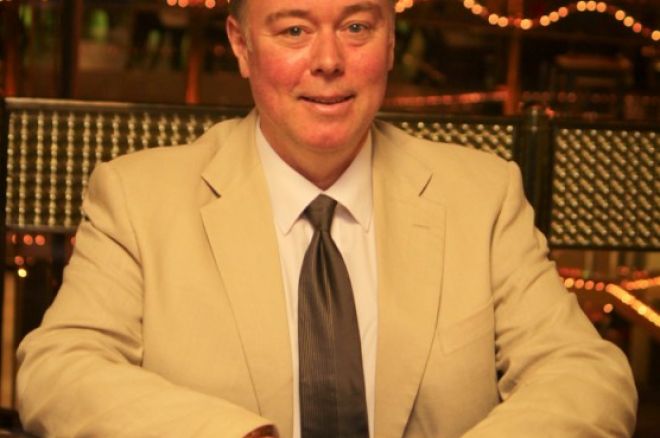 In the first edition of On the Button, we sat down with Nick Shepherd, the newly appointed Director of Poker at the Pride Poker room, to talk about his new role, plans for the Pride Poker room and his strangest experience at the felt.
Nick, Thanks for taking the time out to talk with PokerNews India. Please tell our readers a bit about yourself.
I was originally born in Birmingham England in 1961 but I now live on the Isle of Man where I own a restaurant together with my wife. I was taught to play the classic forms of poker such as 'Draw' and 'Stud' at a very early age by my grandfather, a successful bookmaker and inveterate gambler, and one of my earliest recollections as a child was dealing poker games to him and his friends above one of his shops in Stirchley. I first became aware of Texas Hold'Em in 1982 and visited a casino for the first time that year to take part in a tournament. Driven by the pace and excitement of the games and the casino environment I enrolled on a casino dealers training course at the Rainbow casino in Birmingham and embarked on a casino career which has since taken me all over the world.
I now have 30 years worldwide gaming experience which includes working with high net worth clients in Asia, (Hong Kong, Singapore, Philippines and Myanmar) Russia, Europe and the USA, and of running VIP gaming rooms for extremely high stakes.
How long have you been here in India? How much of a shift is it working in India as compared to the previous countries you've worked?

I have only been here in India for just over a month though I was here previously for three months at the beginning of the year working for an online company. The job is easy enough so far not too many problems though they do allow smoking here which is banned in Europe and is something that I hate.
Some of your past/current professional achievements
Amongst my many accomplishments I have been being involved in the setting up and development of major gaming operations around the world including the first legal casino in the USSR in Latvia, where I also set up the first ever poker table. The Las Vegas inspired Mimosa casino in the Philippines which at the time was the biggest and best casino in Asia and of VIP gambling cruise ships out of Singapore.
Your opinion about the quality of poker players in India
I was surprised to find that India has some sophisticated and knowledgeable poker players and some have now got a lot of tournament and cash game experience. Indians generally have a history of playing card games such as Rummy and Teen Patti so they have an affinity for playing cards and this certainly helps with their love of the game.
What are your plans for the Pride Poker Room?
Many things depend on the law here in India relaxing to allow card rooms on land as that would open up the poker scene tremendously in India. Eventually I would like to see the Pride name be a major player in card rooms all over India. I have been working on an idea to create a fully functional card room run completely on an Apple iPad, including cash desk, tournaments and registration, but as my own iPad was stolen just before Christmas that will have to wait for some time.
How is India's poker scene in comparison to the other places you've been at?
Poker as a game has exploded in popularity over recent years due mainly to the internet so it is now played widely all over the world. India has a long way to go before it is anywhere near as popular as it is in Europe, but the people who promote the game here in India seem to be both dedicated and professional in their outlook which is good.
Are more tournaments a good thing?
Yes, definitely. I would run tournaments every day if I could. The only thing stopping me from doing this is Government restrictions and the high price of entry the casinos here are forced to pay.
What is your favorite variation of poker?
I am very much a purist so I love 36 card Draw Poker and have been largely unbeatable at the game for much of my career, but by far Texas Hold'em has given me the most success due to it being the game most played in Europe.
What do like to do on your day off?
Eat and sleep!
Now for some fun - Your favourite vacation places in India and the world?
Well to be honest I haven't had much opportunity for travel since being here in India so it is difficult to say though I am told Kerala and Rajasthan are places I must visit. Russia was great and I really loved my time there, but I also love South East Asia, Thailand, Malaysia, Myanmar are great places to visit. If I am honest though major European cities such as Brussels, Paris and Berlin are hard to beat as tourist destinations.
Your take on Indian food and if you have any favourite dishes.
I like Indian food, it is very popular in the UK. My favourite dish has to be chicken Madras, although I haven't found that dish yet so far in Goa.
Something crazy/fun/interesting thing/s which happened to you in Goa or India.
Gosh! I haven't been here long enough to have had any major experiences though I was here at the festival for John the Baptist where everybody throws themselves down Wells in celebration. I met up with a group of young guys who tried to get me to also climb down into a Well but it wasn't for me as I thought I may never be able to get back out again!
My strangest ever poker experience though, was playing poker in a brothel in Paris. It was full of African girls and you could hear the 'action' coming from the room next door as you were playing. It didn't put me off though as I still walked out with more money than I walked in with and how many guys can say that after visiting a brothel!