Maximize Your Stack at Victor Chandler in the MaxStack Promotion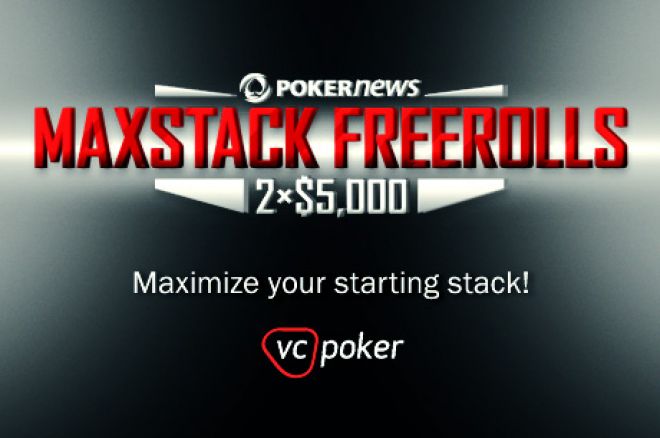 Download Victor Chandler now to take part in the $10,000 MaxStack promotion and you could have two chances at huge cash!
The Victor Chandler MaxStack promotion is a fun initiative from PokerNews which will allow our players two chances to take down a share of $10,000.
This unique promotion will see two $5,000 freerolls take place early in 2012 as a total of $10,000 is awarded thanks to Victor Chandler. The event is exclusive to PokerNews players and could be one of the most valuable promotions we run all year.
The first freeroll will take place on Jan. 29 and the qualification period will be Jan. 1 to Jan. 26, while the second freeroll will take place on Feb. 26 with a qualification period spanning Jan. 30 to Feb. 23.
Both of the freerolls will played in a unique format which will see players challenging for a special ticket where the starting stacks are determined by how many VIP Points are earned during the respective promotion period for each freeroll.
First $5,000 MaxStack Freeroll

Date: Jan. 29
Qualification: Jan. 1 - Jan. 26
Second $5,000 MaxStack Freeroll
[/LIST]
[*]Date: Feb. 26
[*]Qualification: Jan. 30 - Feb. 23[/LIST]
Players will need to qualify separately for each freeroll and their stack in each free will be totally dependent on how many VIP Points they earned during each freeroll. The best part about this promotion is that you can give yourself the best chance of winning the tournament by starting the freerolls with a huge chip stack
Maximize Your Stack
Each player will be awarded a starting stack of 1,000 chips for every 10 VIP Points earned. The minimum starting stack will be 1,000 while players could start the freerolls with a huge 30,000 in chips.
Size Does Matter Final Starting Stack Amounts

10-19 VIP Points: 1,000-chip starting stack
20-29 VIP Points: 2,000-chip starting stack
30-39 VIP Points: 3,000-chip starting stack
40-49 VIP Points: 4,000-chip starting stack
50-59 VIP Points: 5,000-chip starting stack
Above pattern continues in 1,000 chip increments until…
300+ VIP Points: 30,000-chip starting stack!
Each freeroll is going to be played as a deep stack freezeout tournament with starting blinds of 50/100. This ensure that every player will have a good chance at playing tough poker during the freeroll, regardless of how many chips they start each tournament with.
Players are encouraged to earn the maximum 300 VIP Points to start the tournament with a massive 30,000 in chips. This should be enough chips to weave your way through your opponents and pick up as much of the big prize pool as possible.
Remember that event is exclusive to our players so if you don't already have an account, make sure you sign up to Victor Chandler through PokerNews India. Not only will this make you eligible to take part in the $10,000 MaxStack promotion but you will also be able to utilize a very generous 200% up to €1,000 welcome bonus.
If you experience any problems with this or any of our promotions, please contact our Ticketed Promo Support System.