The Nightly Turbo: Alan Meltzer's Generous Gift, Antonius' Big Mac Challenge, and More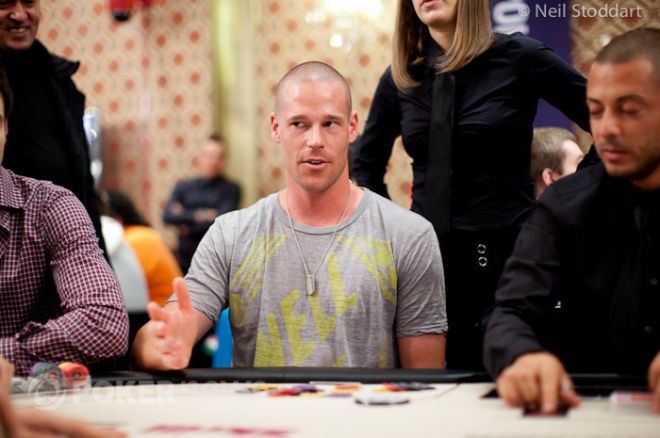 The 2012 Aussie Millions Poker Championship came to a close over the weekend, but not without an amusing prop bet involving Patrik Antonius and about 1,600 calories. We'll bring you that story, as well as a heartwarming report about Alan Meltzer, in this edition of the Nightly Turbo.
In Case You Missed It
On Sunday, David "betudontbet" Emmons defeated Chris "ImDaNuts" Oliver to win the inaugural PokerStars TCOOP Main Event. Read about all the big winners in the Sunday Briefing.
Day 2 of the World Series of Poker Circuit Caesars Palace Main Event wrapped up on Sunday. Nicholas Wilbur was leading the way with 15 left, but Jeff Madsen and some other notables were still in contention.
Tom Koral took down the final event of the 2012 Aussie Millions Poker Championship. Details on that event can be found in our last Aussie Millions recap of 2012.
How did Team PokerStars Pro Celina Lin get her start in poker? Find out that and more in Part 1 of the latest Seat Open series.
The Generous Alan Meltzer
Who said being a limo driver or a doorman wasn't lucrative?
According to a report in the New York Post, former music mogul and recreational high-stakes poker player Alan Meltzer left a total of $1.5 million to his chauffeur and doorman when he passed away last October. Meltzer, who lived in a luxury apartment building on New York's Upper East Side, left $1 million to his chauffeur, Jean Laborde, and $500,000 to his doorman, Chamil Demiraj.
"I appreciate it," Demiraj told the Post. "He was a generous guy. He was a really good friend of mine, and I was a good friend of his. It's a surprise. Peace and rest to him. That's all I can say."
"I don't know what to do exactly with the money, but one thing I know for sure — every year, I'm going to bring the guy some flowers at his grave," Laborde said.
Meltzer was a wealthy music executive who made regular trips to Las Vegas to compete in some of the toughest cash games in the world. In 2009, Meltzer made an appearance on High Stakes Poker and played against the likes of Tom Dwan, Phil Laak, Eli Elezra and Doyle Brunson. You might recall this pot Meltzer played with Dwan on HSP:
Read more about Meltzer's generous gift at the New York Post.
Get Ready for PokerStars' 75 Billionth Hand
It feels like just yesterday we reported the winner of the 72 Billionth Hand promotion at PokerStars. Nonetheless, the world's leading poker room recently announced it will be dealing its 75 billionth hand in the next couple of weeks, and the winner will collect at least $20,000.
PokerStars will be giving away up to $1 million during the duration of the promotion, with prizes being awarded to players dealt into every one-millionth hand from 74,700,000,000 to 75,000,000,000. Our calculator tells us that's 300 winners.
For a real-time count on the number of hands dealt, along with more information on the promotion, visit PokerStars.com.
Teen Charged with Murder at Charity Poker Event
On Monday, a 15-year-old boy was charged with second-degree murder in the shooting death of 28-year-old Kearn Nedd at a charity poker tournament last April. The incident occurred when Nedd attempted to stop two masked men carrying guns from robbing the event at the Rozz Banquet Hall in Brampton, Ontario.
Nedd, considered an emerging mixed martial arts fighter, was shot in front of 130 people participating in the tournament. The boy, who was 14 at the time, escaped in a waiting vehicle. Nedd died after being taken to a hospital.
It was second arrest in Nedd's death in less than a week. Samir Abdelgadir, 30, was charged earlier this month with accessory after the fact to murder.
CBC.ca has more.
Patrik Antonius Scarfing Down Big Macs
It's pretty obvious that Patrik Antonius didn't get his athletic physique by eating fast food every day. However, upon learning that the Crown Casino had scooped a couple of tickets for the 2012 Australian Open final between Novak Djokovic and Rafael Nadal, Antonius accepted a challenge that would make even Morgan Spurlock cringe.
During the $250,000 Aussie Millions Super High Roller, Antonius asked Crown Media Manager Natasha Stipanov if he could get tickets to the highly anticipated match. Stipanov, knowing Antonius' taste for healthy food, told the poker superstar that he could have the tickets if he ate three Big Macs. The two shook on it and the next day, Antonius paid up. Naturally, our video team was there to record the debauchery.
On Monday, we spoke with Stipanov, who said Antonius got a good laugh from the bet, and told her he could have eaten two more. Patrik, please don't eat any more, you have an image to uphold — TwoPlusTwo depends on it.
Follow PokerNews on Twitter for up-to-the-minute news.