The Nightly Turbo: Ira Rubin Pleads Guilty, Caby Finds Success with DraftDay, and More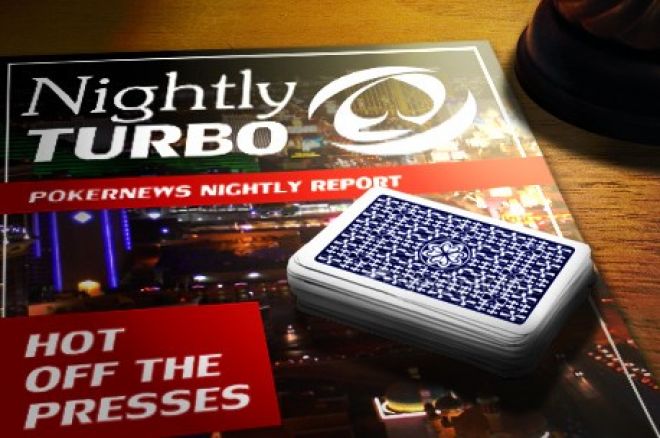 Tuesday was chock-full of poker headlines as alleged Black Friday payment processor Ira Rubin pleaded guilty to conspiracy, and eight poker pros filed a RICO complaint against the former owners of Ultimate Bet. We'll bring you those stories and more in this edition of the Nightly Turbo.
In Case You Missed It
Jonathan Duhamel had a stormy finish to 2011. However, as Rich Ryan explains, things have taken a turn for the better for Duhamel in 2012.
In January 2011, David Gorr deafeated a stacked final table to become the 2011 Aussie Millions Main Event champions. Chad Holloway recently caught up with Gorr to see what he's been up to since his big win.
Ira Rubin Makes Plea Bargain
Black Friday payment processor Ira Rubin is set to face 18 to 24 months in prison after pleading guilty to conspiracy on Tuesday in court in Manhattan, N.Y.
Rubin, 53, had been charged with nine counts in assisting PokerStars, Full Tilt Poker and Absolute Poker with deceiving banks by disguising payments as transactions with phony Internet merchants. Rubin has been jailed since last April when he was arrested in Guatemala while supposedly attempting to flee to Thailand.
Rubin's plea bargain could potentially shave decades off his maximum prison sentence because he pleaded guilty to only three of the nine charges.

Read more at PokerNews.com.
Taylor Caby Enjoying New Venture
Taylor Caby is arguably one of the most influential figures in the growth of online poker. However, after the Department of Justice killed "40 percent" of his business at CardRunners and Hold'em Manager on Black Friday, Caby has branched out to exercise his business expertise in a new venture: fantasy sports.
In September 2011, Caby launched DraftDay.com, a daily fantasy sports site that awards prizes similar to the payouts you'd find in an online poker tournament. Users can find daily games across each of the major sports in the U.S. with buy-ins ranging from freerolls all the way up to $500.
Caby told Mashable.com that while he wishes the online poker crackdown had never happened, it allowed the chance for his newest venture to succeed. The site has already attracted more than 10,000 users, and 2,500 of them play the games regularly.
Read the full story about Caby at Mashable.com.
Poker Pros vs. UB
Poker pros Brad Booth, Tom Koral and Dustin "neverwin" Woolf were among eight plaintiffs to file a RICO complaint against Excapsa Software, the former owners of Ultimate Bet. The players claim that the online poker site stole $20 million from players in a hole-card scam perpetrated by former employees.
The defendants in the complaint are 6356095 Canada Inc. (Excapsa Software), and 10 John Does. The players are seeking an injunction and damages for RICO conspiracy, conversion, interference with prospective economic advantage, intentional infliction of emotional distress, unfair business practices, and fraud and negligence, according to the complaint.
Booth has been very vocal about how the UB cheating scandal ruined his life. The Canadian pro told DonkDown Radio last February that he had about $2 million stolen from him during the super-user incident and lost even more money that he borrowed from his peers.
You can find the full complaint against Excapsa at PokerNews.com.
L.A. Poker Classic Under Way
The L.A. Poker Classic kicked off Tuesday with the first of 50 events on the 2012 schedule. The 45-day poker festival began with a $100 casino-employees event, and culminates on Feb. 29 when a champion is crowned at the $10,000 World Poker Tour LA Poker Classic Main Event.
The series includes a variety of buy-ins across several games, including no-limit hold'em, pot-limit Omaha, deuce-to-seven triple draw, H.O.R.S.E, and seven card stud. The schedule features re-entry tournaments, knockout bounties, turbos, rebuy events, and even an "All-in or Fold" event in which players only have two options: move all-in or fold.
Last year's L.A. Poker Classic Main Event drew 681 players to generate a prize pool of more than $6.5 million. Greg Brooks bested a tough final table of pros that included Carlos Mortensen, Vivek Rajkumar, Steve Gross, Amir Lehavot and Daryll Fish to collect $1,654,120 and his first WPT title.
For the full list of tournaments, visit the L.A. Poker Classic website.
The Price of Addictive Behavior
Do you or someone you know have an addiction to gambling? PokerWorks' Linda Geenen has offered several tips to get help in her latest column titled, The Price of Addictive Behavior.
While most online gambling sites offer a "self-exclusion" option to their customers, Geenen notes that the same doesn't apply to most brick-and-mortar casinos.
"Remember that you are another face in the crowd when you walk through the door and unless you use a slot card when you play, no one will know you are in jeopardy of losing your money and most importantly, your self-control," she says.
Geenen suggests that addictive gamblers check with land-based casinos to see whether they offer a self-exclusion program. She also recommends joining Gambler's Anonymous and speaking with family, friends or a church group for advice on how to limit addictive tendencies.
Check out the full column at PokerWorks.com.
Online Poker Traffic Report
On Monday, PokerScout.com released its online poker traffic rankings for the previous week. The tracking site reported an overall drop of 0.1 percent, but four of the top five sites saw an upsurge.
PokerStars was the only site among the top five to see a traffic decline. The world's leading online poker room is still miles ahead of its competitors in terms of overall traffic, but traffic has now dropped in each of the first two weeks of 2012. Sister sites PokerStars.it and PokerStars.fr also saw declines from the previous week.
The Merge Gaming Network gained 3 percent because of a climbing bad-beat jackpot that exceeded $1 million last week. The jackpot was hit on Sunday afternoon, and we can only assume the network's traffic numbers will take a sizable hit this week.
As for year-over-year numbers, PokerScout's ACES indicator reports that online poker traffic (with the exception of Italy) decreased by 32 percent in the past year. Full Tilt Poker and the CEREUS Network can be blamed mostly for that number, but the Entraction Network (down 53 percent) and the International Poker Network (down 43 percent) have seen significant drops since last year. The biggest climbers since January 2011 are the Merge Network (up 94 percent), 888poker (up 69 percent) and Bodog (up 50 percent).
Read the full report at PokerScout.com.
Can I Get a Do-over?
Everyone loves bloopers, right? Well, our very own Kristy Arnett and Sarah Grant provided us with some funny moments during the PokerStars Caribbean Adventure this month.
Follow PokerNews on Twitter for up-to-the-minute news.