The Nightly Turbo: Randy Lew's Record Attempt, Nevada Casinos Lose $4B in 2011, and More

PNI Editorial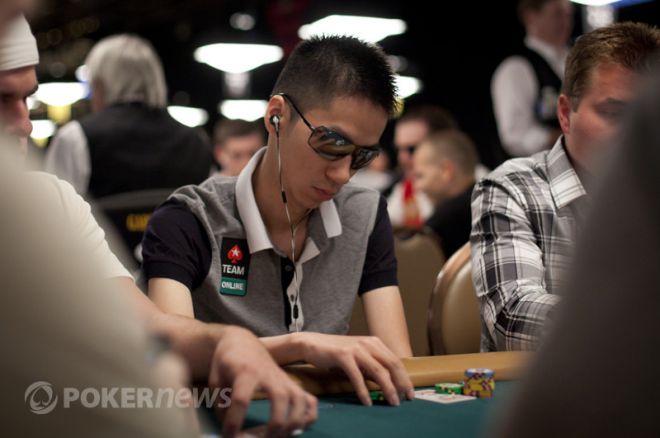 Now that the work week is over, what better way to kick off the weekend than catch up on all of Friday's biggest poker stories? In this edition of the Nightly Turbo, we're bringing you Randy Lew's Guinness World Record attempt, bad news for brick-and-mortar properties in Nevada, and more.
In Case You Missed It
Thirty players threw down $100,000 for the High Roller event at the PokerStars Caribbean Adventure. Ike Haxton was the chip leader after Day 1, but Viktor "Isildur1" Blom, Erik Seidel and many others were lurking.
How was the high-stakes action at the PokerStars tables this week? Read the Online Railbird Report to find out the week's biggest winners and losers.
The first-ever World Poker Tour Main Event in Ireland kicked off with a bang on Thursday. Find out which notables survived Day 1 in our daily recap.
The weekend is almost here and that means football. Check out our picks for Week 1 of the playoffs in the latest Pigskin Diaries.
Miss anything this week? Sarah Grant and Kristy Arnett get you caught up on the latest news, views and gossip in the PokerNews Weekly.
Randy Lew to Attempt Guinness World Record
Team PokerStars Online's Randy "nanonoko" Lew has been dubbed the fastest poker player in the world by many of his peers. On Sunday, Jan. 8, he'll get a chance to prove it.
During the festivities at the PokerStars Caribbean Adventure, Lew will attempt a Guinness World Record for the most online poker hands played in eight hours (while remaining profitable). Up until now, Lew and several others have been limited to playing a maximum of 24 cash game tables at once at PokerStars, but for this record attempt, the site will be increasing the tables limit.
The online community will be able to follow Randy's progress at nanonoko.com, which will be launched on Sunday exclusively for the world-record attempt. The event will run from 1 p.m. EST until 9 p.m. EST, and anyone in the Bahamas can watch live from the Battleship area in the main tournament room at the PCA.
In the meantime, you can find all the updates from the PCA at PokerNews.com.
Nevada Casinos Suffer Another Disastrous Fiscal Year
On Friday, a report by Nevada gaming regulators revealed that Nevada's highest-grossing casinos recorded a net loss of almost $4 billion in the fiscal year ending June 30, 2011.
The Nevada Gaming Control Board reported that a total of $3.99 billion was lost between 256 casinos across the states, all of which had to gross $1 million or more in gaming revenue to be classified as one of the highest-grossing casinos. That represents a 12.5 percent drop from 2010's fiscal year, when the 256 highest-grossing properties lost $3.4 billion on total revenues of almost $20.9 billion.
Las Vegas Strip casinos reported a net loss of $2.2 billion on revenues of $14.4 billion. Total revenue is the money spent by patrons on gaming, rooms, food, beverage, and other attractions.
Read more at the Las Vegas Review-Journal.
California Governor Skeptical Regarding Online Poker
For states in dire need of revenue, intrastate online poker has become a hot topic, but California Gov. Jerry Brown said Thursday he doesn't believe legalizing Internet poker will solve the state's current budget problems.
"I would be skeptical that there's huge amounts of revenue in that, although there certainly could be some," Brown said during a news conference. Brown's budget seeks to eliminate a threatened budget deficit of more than $9 billion, which could result in major cuts in school funding. A group of California casino operators estimate that online poker could bring the state treasury $1.4 billion over 10 years.
The L.A. Times has more.
M Resort Exec Opposes Online Poker
Another corporate villain has revealed his face to the online poker world. M Resort President Anthony Marnell III told Nevada Newsmakers last week he agrees with Las Vegas Sands CEO Sheldon Adelson's opposition to online poker because he fears that operators won't be able to prevent underage minors from gambling.
"I just can't see a scenario where you can truly secure that from young children," Marnell said on Dec. 28. "Once it becomes legalized, it's taking it too far. I think you start to create addictive behaviors in the home that we can't see as operators. We have problem gambling initiatives on the casino floor."
Marnell's comments raise suspicion that his real concern is falling behind Caesars and MGM in preparing for a new online poker market. The two gambling giants have already joined forces with various operators to have a platform in place as soon as online poker is given the green light.
Read more at PokerNews.com.
PokerRoom.com Returns
One of online poker's original operators returned this week after a three-year hiatus from the industry. PokerRoom.com was reopened by the OnGame Network on Thursday and will offer real-money games to players located outside the U.S.
"PokerRoom is proud to announce its return to the world of online poker," the company said on its website. "We have opened our doors again to real money players. Whether you're a PokerRoom veteran from the past, or a new player just starting out in poker, we look forward to welcoming you at our tables."
PokerRoom opened in 1999 but was forced to close its doors in 2009 in the wake of the Unlawful Internet Gambling Enforcement Act. PokerRoom.com had since remained dormant, but the site was included in the merger deal between bwin and Party Gaming last year.
Get more information at PokerRoom.com.
Exploring the Lost City
The PokerStars Caribbean Adventure is under way, and PokerNews hostesses Kristy Arnett and Sarah Grant are already living it up in the Bahamas. The ladies did some sightseeing around the Atlantis Resort on Thursday.
Follow PokerNews on Twitter for up-to-the-minute news.